The Team USA women competed today in Italy at the 2012 City of Jesolo Trophy meet. They dominated the competition, taking first in both the junior and senior team competitions, and sweeping the senior all around.
Here is the meet recap, courtesy of USA Gymnastics:
The U.S. Women's Team, competing under the direction of National Team Coordinator Martha Karolyi, won the junior and senior team titles, swept the senior all-around and also won the junior all-around at the 2012 City of Jesolo (Italy) Trophy on March 31. Kyla Ross of Aliso Viejo, Calif./Gym-Max, won the senior all-around crown, with Lexie Priessman of Cincinnati, Ohio/ Cincinnati Gymnastics, earning the junior all-around title. The USA also won 17 individual event medals for the juniors and seniors combined.
The U.S. Team easily won the senior team title, scoring a total of 236.950. Italy was second at 224.250 and Russia finished third at 217.800. The nine members of the senior U.S. Team are: Rebecca Bross, Plano, Texas/WOGA; Brianna Brown, West Chester, Ohio/Cincinnati Gymnastics; Brenna Dowell, Odessa, Mo./ GAGE; Sarah Finnegan, St. Louis, Mo./GAGE; McKayla Maroney, Long Beach, Calif./All Olympia; Elizabeth Price, Coopersburg, Pa./Parkettes; Alexandra Raisman, Needham, Mass./Brestyan's American Gymnastics; Mykayla Skinner, Gilbert, Ariz./Desert Lights Gymnastics; and Ross.
Ross had the top senior all-around score with a 59.850. Completing the all-around sweep, Raisman finished second with a 59.050, Finnegan was third with 58.650 and Maroney was fourth with a 57.950.
2011 World Championships vault gold medalist Maroney had the top score for the vault with a 16.000, the highest score of the meet. Price was second on vault with a 15.70 and Ross was third with 15.550.
Ross won the uneven bars title with a score of 15.050, followed by Dowell in second with a 14.600 and Raisman in third with a 14.450. Dowell is from the U.S. but was competing in a mixed group.
Ross also won beam with a score of 15.500, followed by Italy's Carlotta Ferlito in second with a 15.200 and Russia's Anastasia Grishina with a 15.050.
Grishina won the floor exercise title with a score of 14.800, with Raisman finishing second with a 14.650 and Finnegan a close third with a score of 14.600.
In the junior division, the U.S. Team posted a 226.850 to Italy's 217.200 and Russia's 215.900. The five members of the junior squad are: Madison Desch, Lenexa, Kan./GAGE; Bailie Key, Coppell, Texas/Texas Dreams Gymnastics; Amelia Hundley, Cincinnati, Ohio/Cincinnati Gymnastics; Katelyn Ohashi, Plano, Texas/WOGA; and Priessman.
Priessman won the all-around title with her score of 56.950, followed by Italy's Enus Mariani with a 56.000 and Key with a 55.650. The U.S. women earned three of the four event titles. Priessman won vault with a 15.850 and was also second on bars (14.700) and third on floor (14.200). Ohashi won both of the events she competed -- bars (15.150) and beam (15.100). Russia's Maria Kharenkova won the floor title with a score of 14.300.
Other U.S. medals earned include Key's second on vault (14.900) and second on floor (14.250). Hundley took third place on vault with a score of 14.650.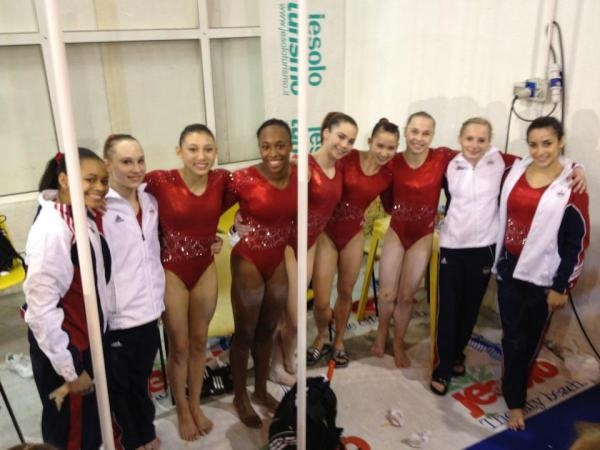 Team USA Seniors. L to R: Brianna Brown, Brenna Dowell, Kyla Ross, Elizabeth Price, McKayla Maroney, Sarah Finnegan, Rebecca Bross, Mykayla Skinner, and Aly Raisman. Photo from USA Gymnastics twitter.
Senior Team Results:
1. USA 236.950
2. ITA 224.250
3. RUS 217.800
Senior All Around Results:
1. Kyla Ross (USA) 59.85
2. Aly Raisman (USA) 59.05
3. Sarah Finnegan (USA) 58.65
4. McKayla Maroney (USA) 57.95
5. Anastasia Grishina (RUS) 57.85 (with a fall on bars)
view full senior results here
Individual events
In the junior competition, the US team won with a score of 226.850.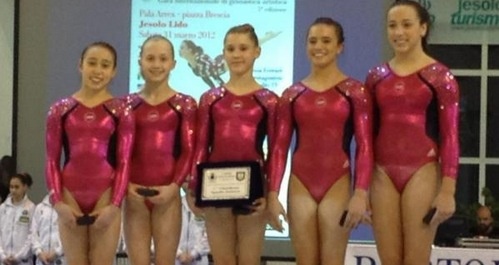 Team USA Juinors, L to R: Katelyn Ohashi, Bailie Key, Madison Desch, Lexie Priessman, Amelia Hundley. Photo via USA Gymnastics twitter
Junior Team Results:
3. Russia 215.800
4. Romania 208.400
Junior All Around Results:
1. Lexie Priessman (USA) 56.950
2. Enus Mariani (ITA) 56.00
3T. Bailie Key (USA) & Maria Kharenkova (RUS) 55.650
Individual events
3. Enus Mariani, ITA, 14.650
Gympower
was there tweeting live at the event. Check out their tweets
@GymPOWER1
.
A few tidbits from the senior competition:
The US again showed its incredible depth of amanars (2.5 twisting yurchenkos) on vault. Defending World vault champ
McKayla Maroney
scored a 16.00 to win the event.
Elizabeth Price
of Parkettes vaulted an amanar for the first time in international competition and scored a big 15.70 for 2nd place!
Kyla Ross
,
Aly Raisman
,
MyKayla Skinner
and
junior
Lexie Priessman
also hit their amanars.
First year senior
Brenna Dowell
of GAGE scored a 14.60 on bars, nice! Still awaiting a video of that routine...

Rebecca Bross
only competed bars (13.950) and beam (14.150). She fell on her shaposhinkova 1/2 on bars. Her beam was a tad shaky but she stuck her Patterson dismount. This was her first competition since dislocating her knee cap in August at the Visa Championships.
The only event not won by an American was floor, won by first year senior
Anastasia Grishina
of Russia with a 1.5 step out through to triple full first pass and beautiful balletic choreography, scoring 14.80 (5.80/9.0).

Sarah Finnegan
, 1st year senior from GAGE, proved she is a true contender for the US Olympic team and showed an upgraded floor routine.
Updated on May 18, 2013, 10:20am