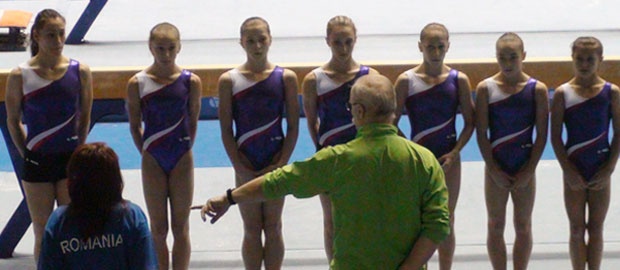 Teams are taking shape for the 2012 European Championships in Brussels from May 9th to 13th. A total of 36 countries (34 for seniors and 29 for juniors) with 252 gymnasts (138 seniors and 114 juniors) will compete in these European Women's Artistic Gymnastics Championships.
As last big international event before the Olympic Games in London next August, this competition will allow the best European gymnasts' to measure themselves.
As the runner up to Team USA at the most recent World Championships, Team Russia will be the likely favorites for the team title. They're welcoming back 2010 World Champion Aliya Mustafina who suffered her season-ending knee injury at this very competition one year ago.
The Russian roster currently shows reigning World floor Champion Ksenia Afanasyeva who will miss the Championships will a bad case of tonsillitis according to national team coach Alexander Alexandrov. I suspect reigning European all around Champion Anna Dementyeva may fill her spot.
The Russians will face stiff competition from Romania who has overcome their lack of depth with a few big routines on key events, and the fact that Larisa Iordache is at last senior age-eligible.
Below are the nominative entries for top teams women's at the 2012 European Gymnastics Championships. Each of the below teams has advanced a full squad to the 2012 London Olympic Games. You can also find their world team ranking based on the order in which they qualified to the Olympic Games (for senior teams only). Remember that these teams are nominative entries only - team members can be changed from now through the start of competition.
Seniors
Aliya Mustafina
Viktoria Komova
Anastasia Grishina
Anastasia Sidorova
Ksenia Afanasyeva
Juniors
Evgeniya Shelgunova
Maria Kharenkova
Yulia Tipaeva
Ekaterina Baturina
Viktoria Kuzmina
Seniors
Sandra Izbasa
Catalina Ponor
Larisa Iordache
Diana Maria Chelaru
Diana Bulimar
Juniors
Maria Rauta
Christina Tudorache
Alina Stanila
Paula Ciobanu
Silvia Zarzu


Seniors
Hannah Whelan
Jennifer Pinches
Danusia Francis
Imogen Cairns
Rebecca Tunney
(Beth Tweddle is out, replaced by first year senior Tunney. More on that here.)
Juniors
Gabrielle Jupp
Charlie Fellows
Angel Romaeo
Raer Theaker
Georgina Hockenhull
Seniors
Kim Bui
Oksana Chusovitina
Lisa Hill
Nadine Jarosch
Elisabeth Seitz
Juniors
Alina Ehret
Nicole Ster
Pauline Schaefer
Sophie Scheder
Nadia Schulze
Seniors
Vanessa Ferrari
Erika Fasana
Francesca Deagostini
Giorgia Campana
Carlotta Ferlito
Juniors
Elisa Meneghini
Enus Mariani
Lara Mori
Tea Ugrin
Martina Rizzeli
Seniors
Mira Boumejmajen
Youna Dufournet
Anne Kuhm
Valentine Sabatou
Sophia Serseri
Juniors
Clara Chambellant
Claire Martin
Valentine Pikul
Maelys Plessis
Louise Vanhille
Updated on May 13, 2013, 8:01pm