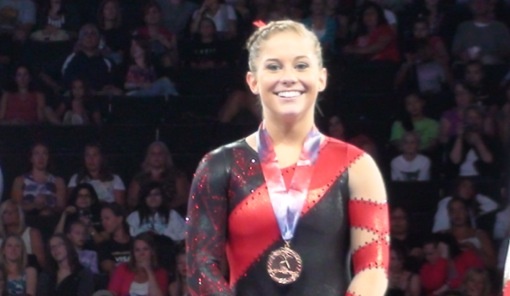 One year after her much anticipated comeback to gymnastics competition at the 2011 US Classic, Shawn Johnson is still having trouble with her left knee which she tore in a 2010 skiing accident.

Everything she's worked for in her comeback is quickly approaching, but she may not be physically ready. Her 2012 season could be over before it started.

Nearly all of the Olympic hopefuls will be heading to Chicago next weekend for the Secret Classic but Johnson will be absent. Next on the calendar is the Visa Championships, USA Gymnastics' National Championships, held from June 7-10 in St Louis. The Championships also serve as the qualifier for the 2012 US Olympic Trials. For Johnson to be eligible to fight for a spot on the five member 2012 Olympic team, she must compete at Visa Championships. However, her status for that event is uncertain.

According to the Des Moines Register, Johnson's personal coach, Liang Chow, said Johnson "is still recuperating from a knee injury, and said he wasn't sure if she'd be able to compete in St. Louis."


Her chances in making a second Olympic team are looking more and more challenging.
Updated on May 15, 2013, 5:21pm