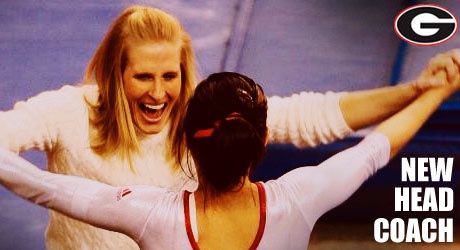 Georgia will name California head coach and former Nebraska assistant Danna Durante as the new head coach of the 10-time national champion Gym Dogs, according to the Red and Black.
Durante spent just one season at Cal and received verbal commitments from big name recruits such as elite gymnast and former JO National Champion
Prior to Cal, Durante was associate head coach at the University of Nebraska. She spent nine seasons coaching the Cornhuskers as their beam coach and choreographer and helped them to a 4th place finish at Nationals in 2011, her final season with the team.
Durante was the 2007 National Assistant Coach of the Year, 2002 West Regional Assistant Coach of the Year, and 1999 West Regional Assistant Coach of the Year. Before joining the Nebraska coaching staff, Durante was a five-year assistant on Bob Levesque's staff at the University of Washington.
As a gymnast Danna was a standout elite and collegiate gymnast. As Danna Lister, she was a USA elite National Team member and Olympic Trials participant from the state of Oklahoma. She went on to be an All Pac-10 gymnast at Arizona State University.
Durante is replacing Jay Clark who resigned two weeks ago after three seasons as head coach and seventeen years as an assistant. Clark took over for Suzanne Yoculan who retired after winning 5 straight, and 10 total, NCAA National Championships in 2009. Clark's wife and assistant coach Julie Ballard-Clark also resigned.


Updated on May 24, 2013, 9:39am