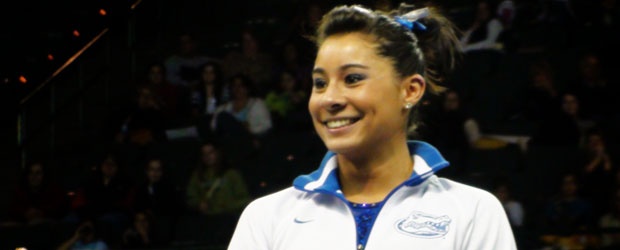 University of Florida standout
Marissa King
is making a bid to represent Great Britain at the 2012 Olympics this summer, returning to elite competition at the 2012 British Team Championships in Guilford, England. Marissa King competed on vault, beam and floor.
Marissa King was a 2008 Olympian, helping the British women to a ninth-place finish. King then went on to compete for the University of Florida, winning the NCAA vault title in 2011. Most recently, King led the Gators to an SEC Championship and a second-place finish at the NCAA Super Six Finals.
The British Team Championships also saw returns to competition from Rebecca Downie and Imogen Cairns, two of King's Olympic teammates from Beijing. Downie impressed on bars (14.45) and beam (14.4) while Cairns finished in the top 5 on both vault (14.2) and floor (13.35).
The team from Liverpool won the meet, scoring 162.2 to top The Academy (160.9) and Notts (160.3). Liverpool gymnast and first-year senior Rebecca Tunney won the all-around (56.55) and bars (14.7) titles, continuing her success from this year's European Championships.
Danusia Francis placed second in the all-around (55.1) and on beam (14.2) while also picking up the floor title (13.55).
Liverpool's Beth Tweddle was absent, still recovering from a minor knee surgery. Tweddle is a favorite to win the uneven bars in London, her third Olympics.
The next event on the British gymnastics calendar is the British Senior Championships on June 22, where Marissa King and the other Olympic contenders will look to earn a spot on the London team.
Updated on May 11, 2013, 9:59am