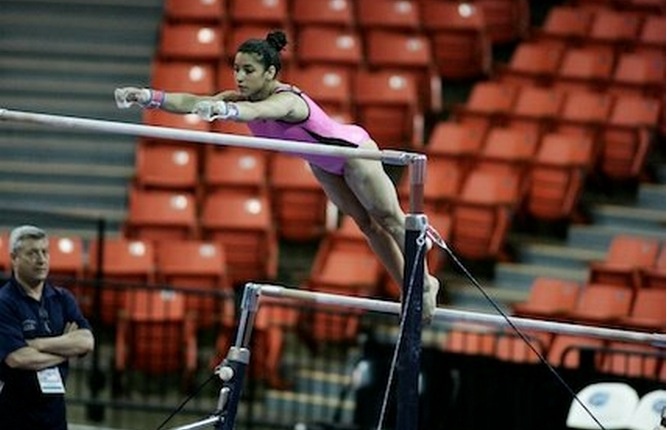 2011 World Team member and defending U.S. Classic Champion Aly Raisman successfully defended her all-around title on Saturday at the Secret Classic in Chicago, Ill.

Raisman hit a total of 60.35 to top first-year senior Kyla Ross (59.8), who was last year's junior Classic winner. Raisman's highest score came as the result of her Amanar on vault (15.65), a skill she has become more consistent on this year.

Raisman also impressed on floor exercise, scoring a meet-best 15.35 with her powerful tumbling lines (1 1/2 to double arabian punch layout; double arabian pike to split jump). Raisman shared top honors on beam with Jordyn Wieber, scoring a secure 15.0 in the last rotation to clinch the title.

Kyla Ross had an up-and-down day to finish second, starting out with a tentative routine on the balance beam (14.7). Ross competed well on floor (14.35) but stumbled sideways on the landing of her Amanar on vault (15.3). Ross finished the meet with a tidy uneven bars set for a big 15.45, the second-highest score of the night on the event.

Finishing in third was Kennedy Baker of Texas Dreams (56.8), whose solid work on bars (14.6) and beam (14.35) pushed her ahead of 2011 World Team member Sabrina Vega (56.4).

2011 World All-Around Champion Jordyn Wieber competed on two events, tying with Raisman for the beam title with a 15.0. Wieber began the meet with a sluggish set on the uneven bars (14.25), missing a pirouette and jumping forward out of her double layout dismount.

Nastia Liukin, Olympic all-around champion in 2008, made her comeback official with a gutsy routine on the balance beam. Liukin scored 14.9 for a set that included a switch half-Onodi-sheep jump connection and a 2 1/2 twisting dismount.

U.S. bar stud Gabby Douglas started out the night with a stuck routine on her best event (15.7), winning the bars title. Douglas ran into trouble on beam, however, reaching down and grabbing the apparatus after her flight series. On floor exercise, she hit her tumbling lines and scored 14.85 with a deduction for going out of bounds. Douglas sat out of vault, after reports of repeated failed Amanar attempts in podium training.

Newcomer Sarah Finnegan also skipped vault, but made the most of the other three events, putting up big numbers on beam (14.9) and floor (15.2). Finnegan charmed the arena on floor exercise, tumbling a double arabian pike and whip immediate double arabian to finish in second on the event.

2011 World Vault Champion McKayla Maroney stole the show on vault, debuting a solid Mustafina (15.6) in addition to her usual lofty Amanar (16.1). Elizabeth Price of Parkettes also showed a dynamic Amanar, but lacked a bit of control on her landing (15.65). Price finished fifth in the all-around standings (55.45).

Rebecca Bross struggled out of the gate, sitting down her Patterson dismount off beam (13.2), but came back strong on bars in the last rotation, hitting her new routine (including a Maloney 1/2 transition) to score 15.3.

It was a tough night for veteran gymnasts Chellsie Memmel and Anna Li. Memmel competed only on the balance beam and fell twice in her routine, resulting in a disastrous 11.95. Li successfully debuted a new skill, a hop 1 1/2, but came off the bar on the jaeger she did in connection with it (14.15). Li came back well on the balance beam, but balked on a pair of tumbling passes to score only 11.85 on the floor exercise.

As of now, Memmel's petition to next month's Visa Championships has been denied, meaning this is most likely the end of the road for the veteran of three Olympic cycles.

The qualified gymnasts now have only two short weeks to prepare for the next major test in the 2012 Olympic selection process, the Visa Championships, which take place June 7-10 in St. Louis, Mo.

RESULTS

All-Around
1. Aly Raisman- 60.35
2. Kyla Ross- 59.8
3. Kennedy Baker- 56.8
4. Sabrina Vega- 56.4
5. Elizabeth Price- 55.45
6. Brandie Jay- 55.0
7. Brianna Brown- 54.05
8. Anna Li- 53.5

Vault
1. McKayla Maroney- 16.1
2. Raisman/Price- 15.65
3. Kyla Ross- 15.3

Uneven Bars
1. Gabby Douglas- 15.7
2. Kyla Ross- 15.45
3. Rebecca Bross- 15.3

Balance Beam
1. Wieber/Raisman- 15.0
2. Liukin/Finnegan- 14.9
3. Kyla Ross- 14.7

Floor Exercise
1. Aly Raisman- 15.35
2. Sarah Finnegan- 15.2
3. Douglas/Vega- 14.85

Full results can be found HERE.



Updated on May 21, 2013, 3:08am