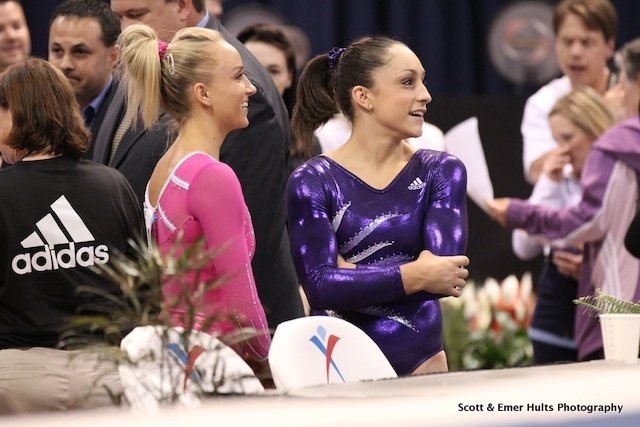 USA Gymnastics has released the list of women expected to compete at next week's Visa Championships in St Louis. Shawn Johnson is on the list for now, though her status is still unknown. More on that here. Absent from the list is Chellsie Memmel whose petition to USAG was denied after an uncharacteristic one event performance at Saturday's Secret Classic. More on that here.

Information from USAG is below.
Gymnastike's coverage from St Louis will begin Wednesday with podium training videos and interviews.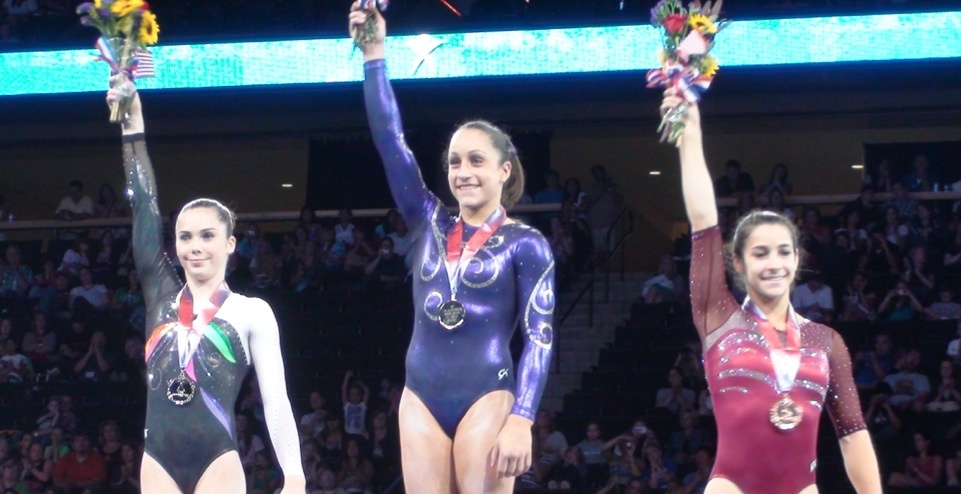 Last year's senior all around top 3: Wieber, Maroney, and Raisman


INDIANAPOLIS, May 30, 2012 – The road to the 2012 Olympic Games in London continues next week in St. Louis, Mo., with the 2012 Visa Championships, June 7-10 at Saint Louis University's Chaifetz Arena. Twenty-four senior women, representing 15 states, are scheduled to compete, including 2011 U.S. and World all-around champion Jordyn Wieber of DeWitt, Mich./Gedderts' Twistars USA. Performances at the Visa Championships, which serve as USA Gymnastics' national championships, will determine the gymnasts who advance to the 2012 U.S. Olympic Trials – Gymnastics in San Jose, Calif., June 28-July 1.
Wieber is joined by fellow 2011 World team champions Gabrielle Douglas of Virginia Beach, Va./Chow's Gymnastics and Dance; McKayla Maroney of Laguna Niguel, Calif./AOGC, who is also the World vault champion; Alexandra Raisman of Needham, Mass./Brestyan's American Gymnastics, floor exercise World bronze medalist; Alicia Sacramone of Winchester, Mass./Brestyan's American Gymnastics; Sabrina Vega of Carmel, N.Y./Dynamic; and Anna Li of Aurora, Ill./Legacy Elite, alternate.
Four members of the 2008 Olympic team, including 2008 Olympic all-around champion Nastia Liukin of Parker, Texas/WOGA, and 2008 Olympic balance beam champion Shawn Johnson of West Des Moines, Iowa/Chow's Gymnastics and Dance, who combined for eight medals in Beijing, have qualified to compete. Sacramone, the 2010 World vault champion, and Bridget Sloan of Pittsboro, Ind./Sharp's Gymnastics, 2009 World all-around champion, are also expected in St. Louis.
Brandie Jay of Colorado Springs, Colo./GK Gymnastics, and Grace McLaughlin of Allen, Texas/WOGA, who along with Johnson and Sloan won the team gold medal at the 2011 Pan American Games, are expected to compete.
The 2012 Visa Championships will showcase first-year seniors Kyla Ross of Aliso Viejo, Calif./Gym-Max Gymnastics, junior all-around champion at the 2009-10 Visa Championships, Kennedy Baker of Flower Mound, Texas/Texas Dreams, who finished third in the all-around at the 2012 Secret U.S. Classic; Sarah Finnegan of St. Louis, Mo./Great American Gymnastics Express, runner-up at the 2012 Secret U.S. Classic; and Elizabeth Price of Coopersburg, Pa./Parkettes.
In the junior division, reigning U.S. junior all-around champion Katelyn Ohashi of Plano, Texas/WOGA, is back to defend her title. Ohashi is joined by fellow 2012 Kellogg's Pacific Rim Championships team gold medalists Amelia Hundley of Hamilton, Ohio, and Lexie Priessman of Cincinnati, Ohio, both of whom train at Cincinnati Gymnastics Academy. 2012 Secret U.S. Classic junior all-around champion, Simone Biles of Spring, Texas/Bannon's Gymnastix, and junior national team members Madison Desch of Lenexa, Kan./Great American Gymnastics Express, and Bailie Key of Coppell, Texas/Texas Dreams, have also registered for the event.
The Visa Championships determine the U.S. champions and the national team for both the junior and senior elite levels for men's and women's gymnastics. NBC Sports and Universal Sports will broadcast and webcast the action from St. Louis.
2012 Visa Championships Competition Schedule (all times are Central)
1 p.m. Junior Men Competition – Day 1
6:30 p.m. Senior Men's Competition – Day 1
1 p.m. Junior Women's Competition – Day 1
6:30 p.m. Senior Women's Competition – Day 1
11:30 a.m. Senior Men's Competition – Final Day
6 p.m. Junior Men's Competition – Final Day
10 a.m. Junior Women's Competition – Final Day
2:30 p.m. Senior Women's Competition – Final Day

The ladies of the 2012 Secret US Classic. Photo by Scott and Emer Hults
Women's field for the 2012 Visa Championships
Listed by alphabetically by state
As of May 30; subject to change

Arizona
Mykayla Skinner, Gilbert, Ariz., Desert Lights Gymnastics, senior
Lacy Dagen, Pleasanton, Calif., San Mateo Gymnastics, junior
McKayla Maroney, Long Beach, Calif., All Olympia AOGC, senior
Kyla Ross, Aliso Viejo, Calif., Gym-Max Gymnastics, senior
Jessica Wang, Chino Hills, Calif., Winner's Academy of Gymnastics, junior
Brandie Jay, Ft Collins, Colo., GK Gymnastics, senior
Polina Shchennikova, Arvada, Colo., T.I.G.A.R., junior
Amanda Huang, Roswell, Ga., Northwind Gymnastics Center, junior
Megan Skaggs, Marietta, Ga., Gymnastics Academy of Atlanta, junior
Shawn Johnson, West Des Moines, Iowa, Chow's Gymnastics & Dance Institute, senior
Anna Li, Aurora, Ill., Legacy Elite, senior
Bridget Sloan, Pittsboro, Ind., Sharp's Gymnastics Academy, senior
Madison Desch, Lenexa, Kan., Great American Gymnastics Express, junior
Alexandra Raisman, Needham, Mass., Brestyan's American Gymnastics, senior
Alicia Sacramone, Winchester, Mass., Brestyan's American Gymnastics, senior
Jordyn Wieber, DeWitt, Mich., Gedderts' Twistars USA, senior
Maggie Nichols, Little Canada, Minn., Twin City Twisters, junior
Brenna Dowell, Odessa, Mo., Great American Gymnastics Express, senior
Sarah Finnegan, St. Louis, Mo., Great American Gymnastics Express, senior
Ashley Foss, Towaco, N.J., North Stars Gymnastics Academy, junior
Lauren Hernandez, Old Bridge, N.J., Monmouth Gymnastic Academy, junior
Sabrina Vega, Carmel, N.Y., Dynamic Gymnastics, senior
Alexis Beucler, Findlay, Ohio, Cincinnati Gymnastics, junior
Brianna Brown, West Chester, Ohio, Cincinnati Gymnastics, senior
Nia Dennis, New Albany, Ohio, Buckeye Gymnastics, junior
Amelia Hundley, Hamilton, Ohio, Cincinnati Gymnastics, junior
Amanda Jetter, Milford, Ohio, Cincinnati Gymnastics, senior
Lexie Priessman, Cincinnati, Ohio, Cincinnati Gymnastics, junior
Elizabeth Price, Coopersburg, Pa., Parkettes National Gymnastics Center, senior
Meredith Sylvia, Macungie, Pa., Parkettes National Gymnastics Center, junior
Kennedy Baker, Flower Mound, Texas, Texas Dreams Gymnastics, senior
Simone Biles, Spring, Texas, Bannon's Gymnastix, junior
Mackenzie Brannan, Austin, Texas, Capital Gymnastics, senior
Rebecca Bross, Plano, Texas, WOGA. Gymnastics, senior
Peyton Ernst, Coppell, Texas, Texas Dreams Gymnastics, junior
Ariana Guerra, League City, Texas, Texas Dreams Gymnastics, junior
Veronica Hults, Allen, Texas, Texas Dreams Gymnastics, junior
Bailie Key, Coppell, Texas, Texas Dreams Gymnastics, junior
Ashton Kim, Westlake, Texas, Texas Dreams Gymnastics, junior
Nicole Lehrmann, Cedar Park, Texas, Capital Gymnastics / Texas, junior
Nastia Liukin, Parker, Texas, WOGA, senior
Grace McLaughlin, Allen, Texas, WOGA, senior
Shannon McNatt, Houston, Texas, Stars Gymnastics Training Center, junior
Abigail Milliet, Denton, Texas, Denton Gymnastics Academy, senior
Katelyn Ohashi, Plano, Texas, WOGA, junior
McKenzie Wofford, McKinney, Texas, Zenith Elite Gymnastics Academy, senior
Updated on May 19, 2013, 1:05pm