Svetlana Boguinskaia was born on February 9, 1973, in the city of Minsk, Belarus. She went on to a long and illustrious gymnastics career after finding success at an early age when she burst on to the competition scene and walked away with the All-Around title at the 1986 Junior European Championships. Svetlana is one of only a few athletes to compete in three separate Olympic Games and one of even fewer who have competed on three different Olympic teams representing the Soviet Union in Seoul in 1988, the Unified Team in Barcelona in 1992, and Belarus in Atlanta in 1996.
With her trilogy of Olympic showings and numerous other competitions, her medal count is impressive. In Seoul, she won the Gold medal with the team, the All-Around Bronze medal, the Gold medal on vault, and the Silver on floor. She won the 1989 European title, the 1989 World All-Around title, and swept all five Golds at the 1990 European Championships. Svetlana retired after leading her team to the Olympic Gold medal in 1992, but made a comeback in 1995. Remarkably, she won the All-Around Silver medal at the 1996 European Championships a decade after her junior victory. Svetlana was inducted into the International Gymnastics Hall of Fame in 2005.
When Svetlana Boguinskaia competed as a gymnast, she preferred leotards with a dark color on the bottom and a light color on top to create stand-out contrast. Being a study in contrasts herself on the competition floor, the combination suited Svetlana well.
Svetlana's gymnastics were a contrast of graceful artistry and intense drama. That same grace and drama served as inspiration for her 2012 GK Legends Collection Leotard. Her design inspiration comes to life with Black Mystique throughout the body and Charcoal Mystique and Berry Mystique near the neckline in a rolling flame design on the front and back. Svetlana said the "berry, silver and black combination looks great together and makes a perfect leotard for gymnasts of all ages."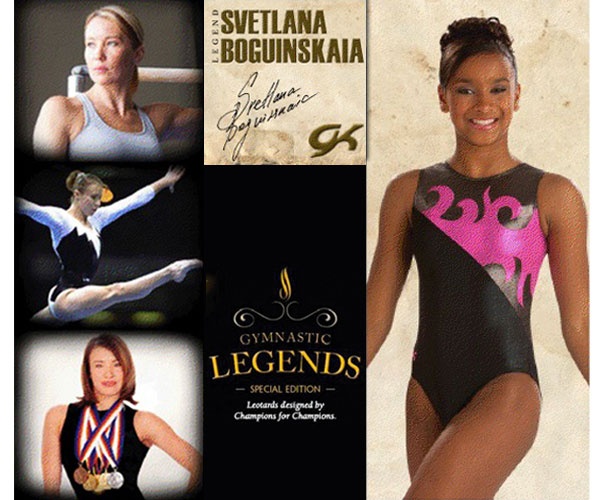 Presently, Svetlana lives in Houston, Texas with her husband and two children, daughter Ania, 12, and son, Brandon, 8. She is owner and founder of Olympia Gymnastics Camps where she inspires young gymnasts as a choreographer and coach. She has hosted the Svetlana Invitational since 2001. She also sits on the Board of Directors for the Discover Fitness Foundation, a non-profit organization that awards athletic scholarships to children fighting obesity, children with special needs, and children with financial need wishing to participate in recreational and competitive level gymnastics. Svetlana also spends time as an independent consultant and choreographer for gymnastics clubs, universities and summer camps.
Svetlana offers the following words of wisdom for young gymnasts… "To become a champion, give 100% every day, practice like you compete, and never give up on your dream!"
Updated on May 11, 2013, 3:17am