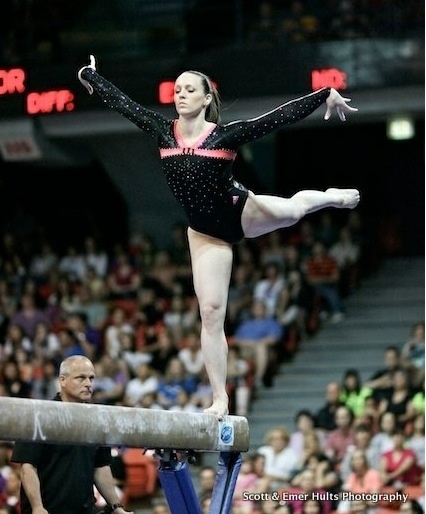 While looking at the competitors list for the 2012 Visa Championships, you may notice a few names missing, including comeback queen Chellsie Memmel. Due to one lackluster beam performance at the Secret U.S. Classic, Memmel will not be given the chance to show her fans what could possibly be one of the best comebacks of her career. Failing to execute her beam routine earned her a low score of 11.95. Looking sharp in warm-ups was no help to Memmel, as she fell twice during her competitive routine. Needing to score a 14.0 or higher to advance, the chance for one last Olympic run was crushed as Martha Karolyi denied Memmel's petition to compete at this week's Visa Championships.

The one hope left of possibly seeing a second Olympic stage was an online petition started the Sunday after the Secret U.S. Classic. By Thursday night the petition had accumulated more than 2,500 signatures from Memmel's supporters. However, the accumulation of signatures and harsh criticism from fans didn't help her case. With Visa Championships this week, it appears the decision will not be overturned. In an article from the Milwaukee Journal Sentinel, President and CEO of USA Gymnastics, Steve Penny, explained why no exceptions would be made.

"It's the national championships, a prestigious competition, and there's a qualifying structure for that," Penny said. "It's not an all-comers meet. You should not rely on a petition process to qualify. That's not what the petition process is set up to do."

Fans have not only criticized USA Gymnastics, but Martha Karolyi as well. Before the Secret U.S. Classic competition started, Karolyi had decided that any gymnast competing in only one event must achieve a 14.0 or higher. Aside from all the controversy surrounding the issue, Karolyi believes she made the right choice.

"I get a lot of criticism left and right, but I have to do my job," Karolyi said. "I would not be able to sleep at night if I felt like I did not make the right decision."

Despite the criticism Karolyi seems to find herself under, she has time and time again proven to create a competitive, successful team. Since she took over in 2001, Karolyi has produced 19 individual World/Olympic Champions, which is more than any other country. She has also brought home team silver in the 2004 and 2008 Olympics. Karolyi's list of previous accomplishments serve as justification for tough decisions like this one.

While having to deal with what could be a career-ending decision, Memmel has handled the situation with grace. Through the media she has shown disappointment, but has also used it as a tool to express her understanding. In an interview with Inside Gymnastics Magazine, Memmel explains her thoughts on the decision.

"I think they were pretty set on their decision. And, you know, I get it from a business standpoint. You can't overturn every decision. You can't make an exception."

Though she is still a hot topic within the media, Memmel has tried to maintain a normal schedule by training in the gym and maintaining her fitness level. She has even expressed interest in becoming a judge in the future. Regardless of the disappointing end to her Olympic campaign, Memmel has not let it tarnish her love for the sport.
Updated on May 22, 2013, 7:49am