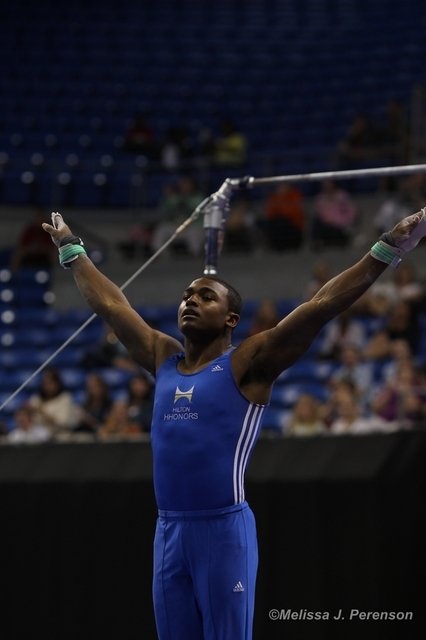 Halfway through the final day of the men's competition, it looked as though defending champion
Danell Leyva
was going to run away with his second Visa Championship title.
John Orozco
quietly chipped away at Leyva's lead of over two points, coming back with a near-perfect floor exercise (15.5) to steal the win away from Leyva, 184.85-184.8.
Orozco delivered on every routine, scoring 15.0 and higher on every event. He started the day by posting a team final worthy 15.0 on pommel horse, followed up by an equally impressive 15.35 rings showing.
Orozco muscled a 15.9 on vault, and showed superior swing and technique on parallel bars (15.45) and high bar (15.85) to give himself a shot at the title in the last rotation. Orozco stuck his passes, giving away only a slight shuffle on his dismount to score 15.5 on floor exercise, edging past Leyva by the smallest of margins.
Orozco's win is made all the more impressive by the fact that Leyva also had an incredible day, scoring above 16.0 on parallel bars (16.0) and high bar (16.35). In the end, it was Leyva's weak events, pommel horse (14.7) and rings (14.55) that gave Orozco room to challenge.
Third-place
Sam Mikulak
(182.85) also celebrated a great performance, hitting all six routines to pass the veteran,
Jonathan Horton
(181.7). Mikulak overcame a scary moment on parallel bars, as one bar was not tightened at the start of his routine. His coach ran up to tighten the bar, and Mikulak never wavered, finishing the routine for a score of 15.6.
Mikulak's best number came on vault (16.2) for his difficult Kasamatsu double full. Like Orozco, he started the day on pommel horse and hit a great routine (14.65), setting the tone for his remaining events.
2008 Olympian Jonathan Horton finished fourth, notching the win on still rings (30.9 over two days). Horton lagged behind the leaders on most events, but showed readiness on floor (15.4), parallel bars (15.75) and high bar (15.65) along with rings. Horton overcooked his Roche vault (15.05), but intends to add a half twist onto that vault at the Olympic Trials.
Roleplayer
Jake Dalton
finished in a tie for fifth with
Chris Brooks
(179.0), after Brooks gave away big deductions on vault (15.25) and high bar (13.7). Dalton was weak on pommels (12.75), but hit his best events, capturing the title on floor (31.5) and a second-place finish on vault (32.4), making a strong case for London.
Paul Ruggeri
(175.55) enjoyed a much better day than in prelims, posting high scores on vault (16.25; half on, double full off), high bar (15.55), and floor (15.2), finishing second overall on the floor exercise and earning a spot on the national team.
Glen Ishino
finished eighth all-around (174.95), but his second-place finish on pommel horse (29.85) keeps his Olympic dream well alive. 2011 World team member
Alexander Naddour
placed first on pommels (30.15), hitting the high score on day two, 15.35.
Steven Legendre
suffered a disastrous day two performance to finish tenth (173.9), perhaps costing him a spot on the national team. Legendre put his hands down on his Dragulescu (double front-half) vault, still managing a 15.7 score. He also fell on his other major strength, the floor exercise (14.8) in the first rotation, and missed a Kolman on high bar (12.75).

David Sender
ended up in eleventh, struggling through high bar (13.45; Kolman caught close) and watering down his tumbling on floor (14.4; double full dismount). Sender steadied himself on pommels (of all events) and finished strong on rings (14.9) and vault (15.9) to return to the national team.
At the conclusion of the meet, ten athletes were named to the U.S. National Team, earning a spot at the Olympic Trials later in June. Five additional gymnasts (Legendre, Josh Dixon, C.J. Maestas, Ishino, Naddour) received invitations to compete at the Olympic Trials.
U.S National Team:

Chris Brooks, Alex Buscaglia, Jake Dalton, Jonathan Horton, Danell Leyva, Sam Mikulak, John Orozco, Paul Ruggeri, David Sender, Brandon Wynn.
Olympic Trials Qualifiers:
National Team, plus Legendre, Dixon, Maestas, Ishino and Naddour.
Updated on May 14, 2013, 7:45am