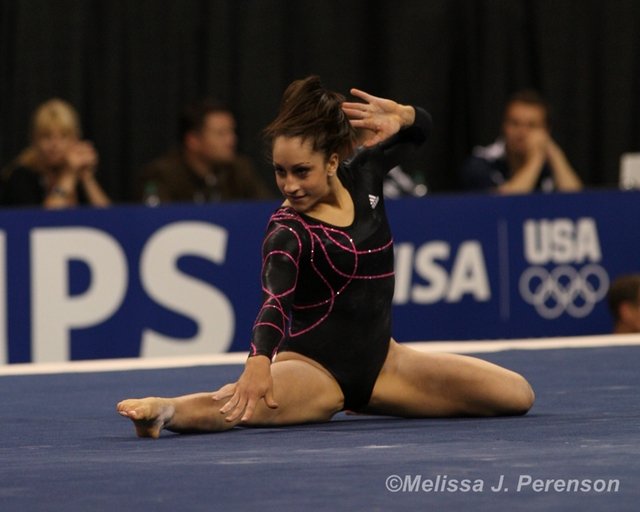 Jordyn Wieber successfully defended her all-around title at the 2012 Visa Championships fending off a dominant performance from Gabby Douglas.
Wieber scored 121.9 a mere .2 more than Douglas. The two were tied after night one and Douglas' fall on beam allowed Wieber to defend her title.
Wieber started the night on bars and made a few small errors, still scoring a 15.05. On beam, Wieber was tentative on several connections, but hit the majority of her skills for another 15.05.
She matched her score of 15.25 from the first day of competition on floor easily landing each of her four difficult passes.
With the pressure on, Wieber delivered a more secure Amanar than night one, scoring a 15.9, just enough to clench her second title.
Gabby Douglas could have unseated Wieber had she not fallen on beam in the first rotation.
However, Douglas was near perfect after the fall, posting a 15.3 on floor, a 15.8 for her Amanar vault and a 15.85 on the uneven bars, just shy of surpassing Wieber.
However, Douglas did walk away as the national bars champion.
Aly Raisman took third place, with her usual solid performances. Raisman put her Amanar to her feet, but had form issues, scoring a 15.3.
Raisman made it through bars with a 14.2 and won the balance beam title scoring a 30.65 over the two days of competition.
She also won the floor title (31.25) performing her difficult tumbling passes (1 1/2 to double arabian punch layout; piked double arabian to split jump)
Kyla Ross had a consistent day, placing her fourth in the competition (119.95). Her best event was bars, where she placed second (30.85). Ross was also solid on beam, despite missing a connection.
She was conservative on floor and vault (double twisting yurchenko), but her stability earned her a spot to trials.
Elizabeth Price had another great performance, placing fifth in the all-around (118.1) and second on vault (31.4).
On night two, Price scored an impressive 14.8 on floor and also hit a difficult bar routine (14.25).
Sarah Finnegan (117.6) made errors on night two missing the bar on her Gienger and grabbing the beam after her layout.
Despite the errors, Finnegan still placed second on balance beam (30.4). She also placed fourth on floor, with an elegant routine which featured big tumbling (piked double arabian; whip immediate double arabian).
All-around gymnasts Kennedy Baker and Sabrina Vega, tied for seventh (114.45). Both were consistent, but not spectacular on each event. Finnegan's teammate Brenna Dowell finished ninth (112.6) barely edging out 2008 Olympian Bridget Sloan (112.4).
Sloan again hit a brilliant bar routine (14.95), but had difficulty on the other events, falling on beam (13.15) and vaulting only a full twisting Yurchenko (14.15).
2011 World Vault Champion and Olympic favorite McKayla Maroney scratched the competition after suffering a mild concussion in warm-ups after landing a twisting pass to her back. Maroney petitioned to Olympic Trials and the petition was accepted.
In Maroney's absence, Alicia Sacramone won the vault title, showing a powerful Rudi, which she may be planning to upgrade to a front double full by trials.
Sacramone also placed third on beam, hitting two confident sets (30.3).
Sacramone's teammate in Beijing, Nastia Liukin, did herself no favors grabbing the beam after a side aerial (14.1) and struggling through a bar routine and dismouting with only a layout flyaway (13.65).
Anna Li and Rebecca Bross continue to stay in contention because of their excellent bar work.
Bross scored a 15.2 on day two of competition, while Li put one of the highest bar scores of the weekend, a 15.55 for a routine that included a Rybalko-Jaeger-Pak combination and a full twisting double layout dismount.
Updated on May 20, 2013, 9:11pm