Jordyn Wieber was the steadiest gymnast night one in San Jose, rolling to a .3 tenth lead over Gabby Douglas at the 2012 U.S. Olympic Trials, 61.7-61.4.
Wieber was strong from the start, scoring a 15.9 on her Amanar vault (landed slightly lock-legged). On bars, she surprised with a stuck routine that scored 15.35, higher than a few of the specialists on the event.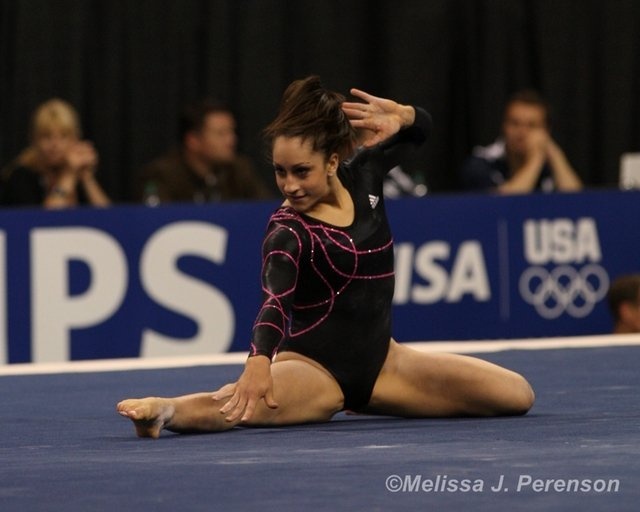 On beam, Wieber was hit-or-miss with her new connections, but she didn't let them rattle her performance, nearly sticking her dismount and scoring 15.05. Then on floor, Wieber capped off a great meet with a clean double-double and 1 1/2 through to triple full. She scraped the out-of-bounds line on her third pass, but came through with a 15.4 and the lead.
Douglas also celebrated a strong performance, suffering her only sizable mistake on bars, where she struggled on a pirouette, but muscled through it. Her 15.25 was well off her potential score, but she came back with three steady routines on beam (14.9), floor (15.45) and vault (15.8, solid Amanar).
In a distant third place was Aly Raisman (60.3) who hit all four of her routines with no major breaks. On vault, her Amanar showed improved dynamics and control (15.55). Beam was shakier than usual, with a wobble after her front pike (14.95). On floor, she took her amazing first pass (1 1/2 to double Arabian, punch layout) out of bounds, but hit the remainder of the set to score 15.6, the highest of the night.
Elizabeth Price gave a standout performance for fourth, not far behind Raisman (59.6). She showed one of the biggest Amanar vaults of the night (16.05), followed up by hit routines on bars (14.5) and beam (14.15). She finished strong on floor, landing difficult tumbling lines with precision (14.9, double-double, double layout).
Fifth-place Kyla Ross (59.4) never matched her great start on bars (15.5), missing a connection on beam (14.9) and sitting down her Amanar vault (14.5). She executed her floor routine well, but a low difficulty score kept her down at 14.5.
Sarah Finnegan (59.05) also had an up-and-down night, hitting her tricky beam set to win the event (15.1, standing arabian to swingdown, triple wolf turn), but barely saving a 2 1/2 twist gone awry on floor (14.55). She was solid on vault and bars. However, those are her less important routines.
Although she finished down in seventh, McKayla Maroney (58.3) hit her two best events confidently. Her vault was the highest score of the night (16.1) and on floor (15.2), she nearly stuck a 3 1/2 twist and kept her daring third pass in bounds (1 1/2 to double back, straight up and down).
Alicia Sacramone put up a high score for her Rudi vault (15.7), and also managed to break 15.0 on balance beam, despite a significant wobble after her punch front.
Her 2008 Olympic teammate Nastia Liukin was not as fortunate, suffering a disastrous routine on uneven bars, in which she bent her knees to save a handstand and landed a double front dismount to her back. She then nearly came off the beam after a switch ring leap, putting her chances at a second Olympics in jeopardy.
Fellow WOGA gymnast Rebecca Bross also struggled, falling not once, but twice from the balance beam. First she hopped off after a crooked Arabian salto. Then, for the third time since the Secret Classic, she sat down her Patterson dismount (12.05).
Bridget Sloan, a former World Champion and 2008 Olympian, announced her withdrawal shortly before the meet began, suffering a sprained elbow while warming up uneven bars.
The second night of the women's competition will take place Sunday at 9 p.m. EST. The men's and women's Olympic teams will also be announced Sunday.

For full results, click HERE.
For Gymnastike's video coverage of Trials, click HERE.
Watch more video of 2012 Olympic Team Trials on gymnastike.org
Updated on May 18, 2013, 5:19pm