Gabby Douglas was in a familiar spot heading into the second day of Olympic Trials. Trailing national champion Jordyn Wieber is a place that Douglas has found herself many times before. After four solid routines, she passed Wieber (123.450) and earned the one guaranteed spot to the 2012 Olympics in London.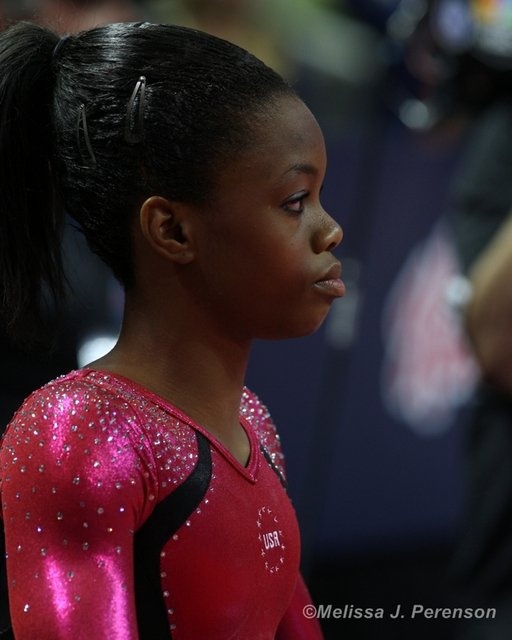 Douglas was the first competitor of the night, starting off with a huge 16.0 score on her Amanar vault. That was the highest score she has ever earned on the event. Moving into the second rotation, Douglas performed her crowd favorite uneven bar routine. After missing one of her hands on her Pak salto, she managed to get her grip and later stuck her double layout dismount earning her another huge score of 15.9. This score allowed her to tie with Kyla Ross for first place in the event with a total score of 31.150. Next, Douglas showed a few weaknesses on the balance beam. Although she had two close calls almost falling off the beam, she managed to stay on and score a 14.85. It came down to the wire between Douglas and Wieber in the last rotation.
Gabby finished off the night scoring a 15.3, just edging her ahead of Wieber by one tenth.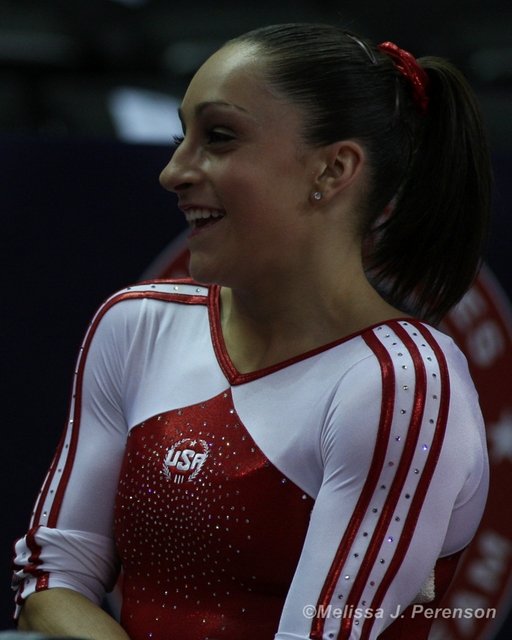 Wieber was also named to the 2012 Olympic Team which came as no surprise after her four usual solid performances scoring a 15.35 on the bars, 14.9 on the beam, 15.6 on the floor and 15.8 ending on the vault. Wieber continued to show consistency placing second in the all-around (123.350), easily proving why she should be part of the Olympic Team.

Distant from Douglas and Wieber was third place Aly Raisman (120.95). Raisman earned first place on the beam (30.350) and floor (31.100). Showing her consistency on the beam and floor made Raisman a lock for the Olympic team. Coming up a little short with a step on her Amanar vault, Raisman still scored a 15.3.

Elizabeth Price had another set of consistent performances to keep her in fourth place (120.100). She was named to the Olympic Team as one the three alternates. Price started off the second night of Olympic Trials with a solid scores on bars and beam, which set the tone for the rest of Price's night. She moved forward scoring a 14.95 on floor and a 15.7 on vault. Price's powerful tumbling passes and height on her Amanar vault reminded the crowd not to forget about her.

Placing fifth (120.00) right behind Price was Kyla Ross, who was named to the 2012 Olympic Team. She proved to Martha Karolyi that she can be consistent and display confidence. Earning a 15.65 on the uneven bars placed Ross in a tie with Gabby Douglas for first on the event with a total score of 31.150. Watering down her vault after falling on her Amanar during night one, Ross performed only a DTY scoring a 15.15.

Sarah Finnegan placed sixth in the all-around (118.500) and earned a spot as an alternate on the 2012 Olympic Team. She had a night of good performances, turning in scores of a 14.9 on vault, 14.75 on bars, 14.8 on beam and a 15.0 floor score.

2008 Olympian Alicia Sacramone had two great performances to end her 2012 Olympic run. Starting on the beam, she had a few small wobbles, but executed her routine well earning a 15.15. Finishing up the night Sacramone earned a 15.8 on her first vault and a 15.2 on her second vault.

She finished second to McKayla Maroney who was named the fifth member to the 2012 Olympic Team. Maroney overall had a good floor routine but landed out of bounds on her third pass ( 1 ½ through to double back). Holding her title as the best on vault, she scored a 16.15 and a 15.75 on her vaults, earning first place ahead of Sacramone.

Former 2008 Olympian, Nastia Liukin, finished her elite career tonight on a bittersweet note. After struggling on a pirouette and falling to the ground on her Gienger release during her bar routine, Liukin managed to land her double front 1/2 dismount for the first time since she has returned to competition. Liukin ended her career with a solid beam routine (14.95) and waved goodbye to the crowd, knowing that was the last routine she would perform in her elite career.

Rebecca Bross had a rocky start to her night falling three different times on her bar routine. She didn't finish her full routine, earning her a 10.55. Bross then rotated to the beam where she finished strong scoring a 14.9 on the event.

Former UCLA star, Anna Li was shocked when her named was announced as an alternate for the 2012 Olympic team. She placed third on the bars with a total score of 31.050 and earned a 15.55 on night two. Li's bar routine captivates and astounds the crowd. She also earned a decent score of 14.5 on beam, with well executed skills.

The U.S. 2012 Women's Olympic Gymnastics Team has been announced.
Updated on May 18, 2013, 11:05pm