BERKI WINS AGAIN!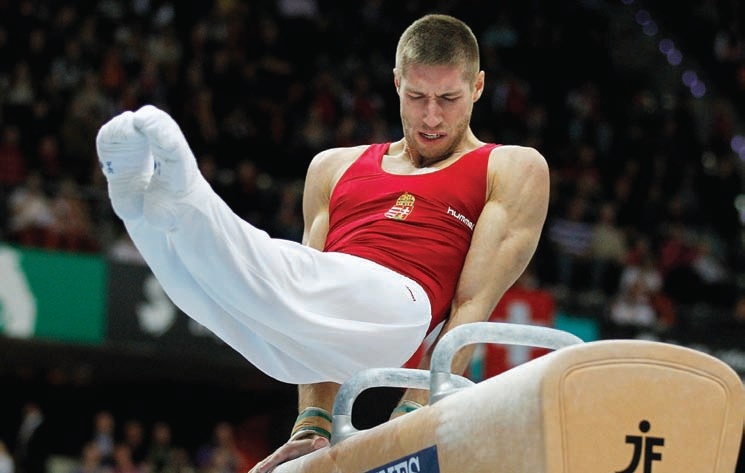 Two-time defending world champion Krisztian Berki of Hungary won his first Olympic title on his specialty, the pommel horse, with an execution score that gave him a slight edge over Great Britain's Louis Smith, whom he tied with scores of 16.066. Smith's young teammate, Max Whitlock, gave the performance of his life to win bronze (15.6).


The final began with strong routines from Cyril Tommasone of France (15.141) and Alberto Busnari of Italy (15.4). Hungary's Vid Hidvegi suffered the only fall of the final, hopping off for a score of 14.3.


Max Whitlock, who qualified in last place, took advantage of another opportunity to compete in front of his home crowd, delighting fans with a smooth and elegant set to take the early lead.


His stay at the top was brief, as veteran pommel horse specialist Berki was next to perform. After uncharacteristic errors qualified him in fifth, Berki looked sharp in the execution of his 6.9 difficulty routine, breezing through with lovely extension and toe point. His score of 16.066 set the bar high for Smith, his chief rival.


Vatalii Nakonechnyi of Ukraine and David Belyavskiy of Russia could not match the leaders in difficulty or execution, ending in sixth and seventh place, respectively.


Then Smith, last to go, showed focus and determination in his final routine of the London Games. A methodical worker, Smith soldiered through each difficult section and looked shocked as his score tied him with Berki. The difference came down to one tenth in execution score, as Berki would again capture gold on pommels.

Quotes:

On his mistake in the qualifying round:
"Physically I was okay but I saw I had to get myself together. That was my first Olympic performance iin the qualifications so my hands were a little bit shaky, but in the end everything was fine."
- Krisztian Berki
"My target for myself was to come in here and do well for the team and hopefully make an individual final. I've come away from my home Olympics, my first Olympics, with two bronze medals, so I can't be happier with that."

- Max Whitlock
Louis Smith Interview:

Thoughts on his 2nd place finish:
"I did not see his routine but Krisztian held his nerve and to come second against one of best pommel horse workers the world has ever seen, I am a happy bloke."
On his future plans:
"Max (WHITLOCK, GBR) is catching me up. When he does overtake me, I'm not sure how long I can keep on blagging it for (laughs). I'm 23 and my body feels like 40, but hopefully Krisztian (BERKI, HUN) will retire so I can win some gold medals (laughs)."
On scoring the same as Berki but coming second because of the tie-break:
"Gymnastics will remain like this for a long time and you have to take it with a pinch of salt. If you watch it back on slow motion, you'll usually see the best athlete won. But it's been great to have Great Britain second and third on the podium."
On why coming second isn't a failure:
"Our sport is different to other sports. If we needed to feed off the crowd to go faster, it'd be different. But I'm being judged and to be judged worthy of a silver medal at the Olympic Games is fantastic. Coming so close to gold is hard, but I like to look at the positives, and it's been historic for gymnastics in both Great Britain and Hungary. It's been a great day for the sport."
On having Kate Middleton in the stands for their final:
"I don't want to offend her, but if I'd seen the Duchess of Cambridge I probably wouldve blown her a kiss or something!"



POMMEL HORSE FINAL:
1. Krisztian Berki (HUN)- 16.066 (GOLD)
2. Louis Smith (GBR)- 16.066 (SILVER)
3. Max Whitlock (GBR)- 15.6 (BRONZE)
4. Alberto Busnari (ITA)- 15.4
5. Cyril Tommasone (FRA)- 15.141
6. Vitalii Nakonachnyi (UKR)- 14.766
7. David Belyavskiy (RUS)- 14.733
8. Vid Hidvegi (HUN)- 14.3
---------------------------------------------------------------------------------------------------
---
FINALS START LIST

TOMMASONE Cyril FRA
BUSNARI Alberto ITA
HIDVEGI Vid HUN
WHITLOCK Max GBR
BERKI Krisztian HUN
NAKONECHNYI Vitalii UKR
BELYAVSKIY David RUS
SMITH Louis GBR


2012 OLYMPIC POMMEL HORSE FINALISTS:
1. Louis Smith (GBR)- 15.8
2. Cyril Tommasone (FRA)- 15.333
3. Vid Hidvegi (HUN)- 15.1
4. Alberto Busnari (ITA)- 15.058
5. Krisztian Berki (HUN)- 15.033
6. Vatalii Nakonechnyi (UKR)- 14.933
7. David Belyavskiy (RUS)- 14.9
8. Max Whitlock (GBR)- 14.9

Reserves: Mykola Kuksenkov (UKR), Danell Leyva (USA) and Sebastian Krimmer (GER)


---

2004 Pommel Horse Champion Teng Haibin out

The Chinese Media is reporting that 2004 Olympic pommel horse champion and 2012 medal contender Teng Haibin has suffered an arm injury and will be replaced by alternate Guo Weiyang in London. Initially, Teng Haibin toughed it out in the training session, but after failing to perform up to expectations with his injury, the decision was made to call in the alternate. This will end his chances for the pommel horse final.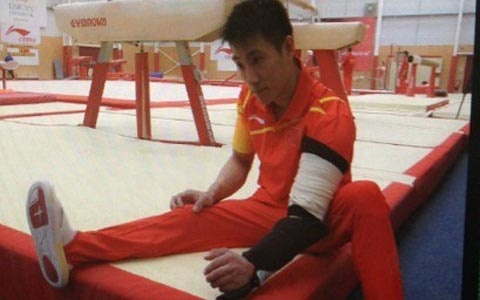 ---

Past World Pommel Horse Champions
2011 Krisztian Berki (HUN)
2010 Krisztian Berki (HUN)
2009 Zhang Hongtao (CHN)
2007 Xiao Qin (CHN)

Past Olympic Pommel Horse Champions
2008 Xiao Qin (CHN)
2004 Teng Haibin (CHN)
2000 Marius Urzica (ROM)
1996 Donghua Li (SUI)


---
2012 Olympic Medal Contenders

The pommel horse event is more open than in the past, considering that many top performers did not make it to London. Those include Daniel Keatings, Prashanth Sellathurai, Xiao Qin and Zhang Hongtao. Chinese favorite Teng Haibin also was forced to withdraw due to injury.




Krisztian Berki, Hungary
The hands down favorite in London will be two-time defending World Champion Krisztian Berki. A six-time European Champion on pommels, Berki has the second-highest D-score in the world (6.9), which he combines with effortless technique and flexibility to earn high scores.




Louis Smith, Great Britain
The world's highest difficulty score belongs to Britain's own Louis Smith, whose routine starts at a massive 7.0. Smith is also the high scorer thus far in 2012, scoring a 16.375 at the British Championships. With the home crowd behind him, Smith looks to dethrone Berki.


Cyril Tommasone, France
Aggressive and precise, Tommasone is a veteran on the pommel horse, advancing to the event final at each of the past three World Championships. Most recently, he won silver at the 2011 Worlds in Tokyo.


Filip Ude, Croatia
The silver medalist in Beijing, Ude has stuck it out to again represent his country at the Olympics. A Worlds finalist in 2010, Ude will need to overcome a lower D-score to earn a medal in London.

---

JUMP TO MORE EVENTS:
WAG: Team AA VT UB BB FX

MAG: Team AA FX PH SR VT PB HB
Updated on May 16, 2013, 6:54am