'Flying Dutchman' Prevails!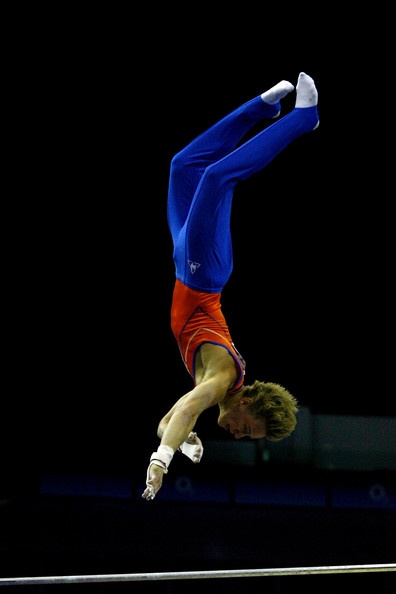 "The Flying Dutchman" lived up to his nickname, as Epke Zonderland dazzled the crowd with a release sequence of Cassina-Kovacs-Kolman to win gold in the Olympic high bar final.
With the audience behind him, Zonderland capped his routine with a beautiful stuck double-twisting double layout dismount to score a huge 16.533. The gold is Zonderland's first Olympic medal.
Germany's Fabian Hambuchen performed an elegant routine for silver (16.4), one place higher than he finished in Beijing. In his third Olympics, Hambuchen competed a textbook Kolman.
China's Zou Kai fell just short of a sixth Olympic gold, completing his haul with a bronze (16.366). His huge difficulty score could not overcome his execution errors, with messy form throughout and a step on the dismount.
Teammate Zhang Chenglong just missed a medal, executing an intricate routine and fighting to hold a clean landing on his dismount (16.266).
Americans Danell Leyva and Jonathan Horton could not compete with the top gymnasts, despite hitting their routines. Leyva scored a 15.833 for fifth, while Horton was just behind in sixth (15.466).
Russia's Emin Garibov's routine only scored well enough for seventh place, but his perfect form and smooth swing was a highlight of the final (15.333).
Last to go, Kim Jihoon of South Korea had a lovely routine going, until nearly falling on his dismount.

QUOTES

Olympic Champion Epke Zonderland:

On his overall performance:
"I was just in my own world, focusing on my own routine. I didn't know anything about the routines of the other gymnasts, so I didn't knew which score I needed to get a medal. I was just concentrating on my own routine. My routine wasn't that easy, but I sticked my dismount. I lost some points on my flight elements, so I didn't want to lose other (tenths of) points on my dismount. It was easy to stick my dismount though, it was a big relief."

On his nerves going into the final:
"I didn't expect to be so nervous. I had a good preperation and my training was good and I was ready for it. I was really happy that I came through my whole routine. It was a bit of fight to get through the routine, but I did everything I could and this is the result."

On winning the first Dutch gold medal in artistic gymnastics since the women's team gold in 1928:
"I still can't believe it. It's unique to be in a Olympic final if you're a Dutch gymnast, but winning the gold is bizarre. I worked so long to achieve a result like this. This is amazing.



Silver Medalist Fabian Hambuchen of Germany:


On his silver medal performance:
"I cannot describe this feeling, its just amazing. After such a long time and all the heavy training its great to get a silver medal."

On the gold medalist, Epke Zonderalnd:
"Epke performed a fantastic routine. We have been friends for over 10 years. I am very happy for him."

On how this experience compares to Beijing 2008 and Athens 2004:
"In Athens I was 16, everythinng was new and exciting. In Beijing I was the world champion and everyone expected me to get the gold, the pressure was intense. Now in London I was happy to recover and perform well after a big injury last year. I'm very happy."


Jonathan Horton, USA:
On Epke Zonderland's winning routine:

"I knew no one was going to beat that. That's the most incredible high bar I've ever seen!"


On his expectations:
"I had the lowest start value, and I played in the back gym for 5-6 days now just trying to put together something a little harder, but it jsut wan't consistent enough. So I kinda knew there was so chance I could medal if everyone hit. I just wanted to hit the cleanest, nicest routine I could. And, that was about the best routine I could do with the exception of the dismount where I took a big step on the landing. But I caught all my resleases perfect, all my spinning stuff was right where I wanted it. Coudn't have done it any better, and that was the best way to end my olympics right there."


Danell Leyva, USA:
"I can't summarize how competitive that high bar final was. These guys were amazing, just out of this world!

On his performance:
"My routine was great and I was super happy with that. I'm kind of upset I didn't stick my dismount, but 15.8 is a great score. I knew it wasn't really going to be medal worthy. My start value is only at a 7.20, and Epke and Zou Kai are 7.90, so that's just crazy."


2012 OLYMPIC HIGH BAR FINAL RESULTS:
1. Epke Zonderland (NED)- 16.533 (GOLD)
2. Fabian Hambuchen (GER)- 16.4 (SILVER)
3. Zou Kai (CHN)- 16.366 (BRONZE)
4. Zhang Chenglong (CHN)- 16.266
5. Danell Leyva (USA)- 15.833
6. Jonathan Horton (USA)- 15.466
7. Emin Garibov (RUS)- 15.333
8. Kim Jihoon (KOR)- 15.133
---
2012 OLYMPIC HIGH BAR FINALISTS:


1. Epke Zonderland (NED)- 15.966
2. Zhang Chenglong (CHN)- 15.933
3. Danell Leyva (USA)- 15.866
4. Fabian Hambuchen (GER)- 15.633
5. Jonathan Horton (USA)- 15.566
6. Emin Garibov (RUS)- 15.566
8. Kim Jihoon (KOR)- 15.5
Reserves: Kristian Thomas (GBR), Sam Oldham (GBR) and Alexander Shatilov (ISR)


---
EVENT HISTORY

Past World Champions
2011 Zou Kai (CHN)
2010 Zhang Chenglong (CHN)
2009 Zou Kai (CHN)
2007 Fabian Hambuchen (GER)

Past Olympic Champions
2008 Zou Kai (CHN)
2004 Igor Cassina (ITA)
2000 Alexei Nemov (RUS)
1996 Andreas Wecker (GER)


---
EVENT PREVIEW
2012 Olympic Medal Contenders

Zou Kai, China
The reigning World and Olympic high bar champion, Zou Kai is a master of intricate combinations, which helps him achieve a 7.9 D-score heading in to London. Difficulty, combined with consistency, make him a force to be reckoned with.



Epke Zonderland, Netherlands
Nicknamed the "Flying Dutchman," Epke Zonderland takes the exact opposite approach as Zou Kai, throwing jaw dropping and high flying release elements to reach his 7.9 difficulty total. At this year's Europeans, Zonderland debuted a huge three-release combination of Cassina, Kovacs and Kolman.




Danell Leyva, USA
Leyva hopes to deliver a high bar medal for the U.S., combining big release moves with execution and style. With a 7.2 D-score, he'll have to be near perfect to catch the big guns.




Fabian Hambuchen, Germany
The bronze medalist on high bar at the 2008 Olympics, Hambuchen finished fourth at the 2011 World Championships. With a D-score of 7.5, Hambuchen has scored as high as 16.4 this year, putting him in position to achieve more Olympic success in London.




Kohei Uchimura, Japan
High bar represents another medal opportunity for all-around favorite Kohei Uchimura in London. The bronze medalist at the most recent World Championships, Uchimura recently showed a super-difficult high bar dismount of triple-twisting double layout.




Zhang Chenglong, China
The 2010 World Champion on high bar, Zhang Chenglong will be a favorite in London. With a D-score of 7.7, he has scored as high as 16.675 this year with his routine.
---

JUMP TO MORE OLYMPIC GYMNASTICS EVENTS:
WAG: Team AA VT UB BB FX



MAG:

Team

AA

FX

PH

SR

VT

PB

HB

Updated on May 23, 2013, 6:29am