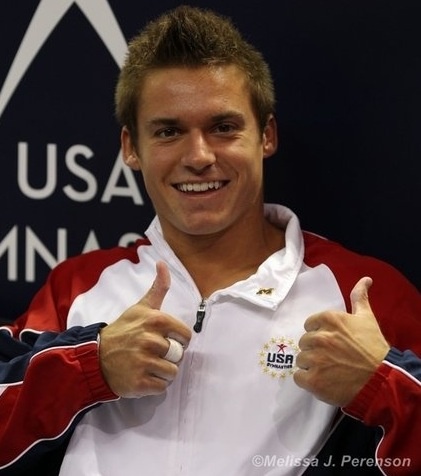 As if coming back from two broken ankles suffered one year ago wasn't enough adversity of overcome on his journey to his first Olympic Games, Sam Mikulak of Team USA was thrown another curve ball in San Jose at the 2012 Olympic Trials. During his dominating performance on night one of competition and posting the night's highest all around total, Mikulak landed short on his difficult tsukahara triple twist vault, re-injuring his ankle. The injury forced him to sit out every event but pommel horse on night two and hope that his past performances were enough to impress the selection committee. As it turns out, they were. Sam Mikulak was named to the 2012 USA Olympic Team.
Largely due to his "California cool" demeanor, his strength on the power events, and his ability to deliver a dependable score in the high 14's on pommel horse, Mikulak will be a valuable member of Team USA in London.
In the past few weeks, Mikulak has trained smart, giving his ankle time to heal. During today's podium training in London, Mikulak proved his ankle is ready to go, competing full routines on each event. We caught up with Mikulak after today's podium training session.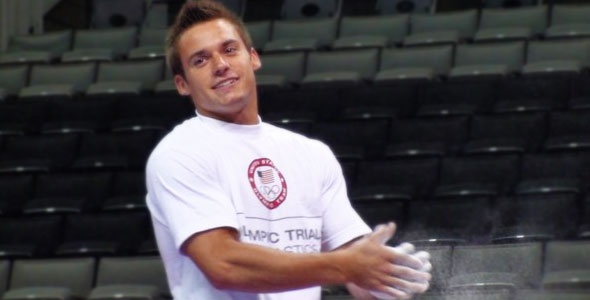 How are the ankles?
They're feeling great, they're 100% right now. I did a bunch of rehab and made it through today so and I'm feeling good for the Games.
What has your training been like the past few weeks?
After Trials I took a week off of floor routines. I built up to punching to one pass forward, then eventually to vault. I would pretty much do a regular one on six in training, but make up the events that I didn't do with pommel routines. And that was pretty good because I went out today and had an awesome pommel routine. You know, that's where most of the nerves will be, and I feel really comfortable up there.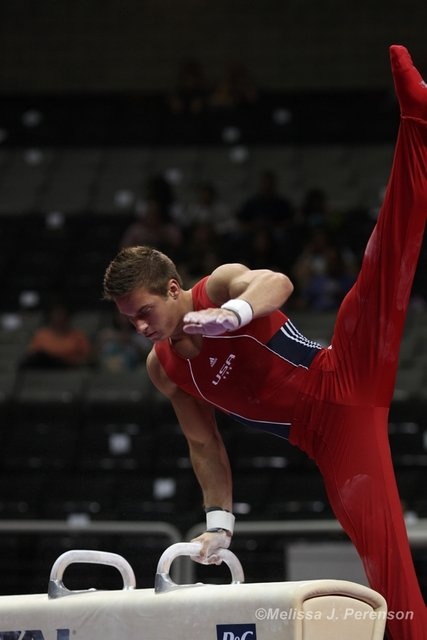 Are there any nerves with Team USA starting out on pommel horse on Saturday?
You know, I've started many times on horse and every time it seems to work out, so I feel pretty confident that we're all gonna kill it.

When you were named to the team you said you were shocked. Now that you're actually here does it feel right?
Yeah, I feel like I've earned a spot on this team. And I'm ready to go prove that I was the right choice.

Your father nearly made an Olympic team as a competitive gymnast. Did you parents want you to be a gymnast like him?
They were always on the side of not wanting me to do gymnastics. They know there's a lot of pain and injuries involved and my dad wanted me to do baseball but they let me choose which sport I wanted to do. I started out doing basketball, hockey, baseball, soccer, gymnastics, and eventually i was like, "you know what, I'm having more fun with gymnastics and this is what I'm doing". I love it.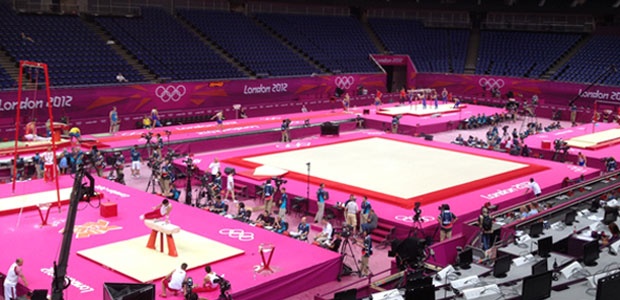 Lastly, what do you think of this hot pink Olympic arena?
I like to think it's purple, that's my favorite color, so I'm gonna keep that mindset. And nothing bad happens in pink, too. So, I'm gonna go with that!


More about Sam Mikulak heading into the London Olympic Games:
Updated on May 21, 2013, 5:02am