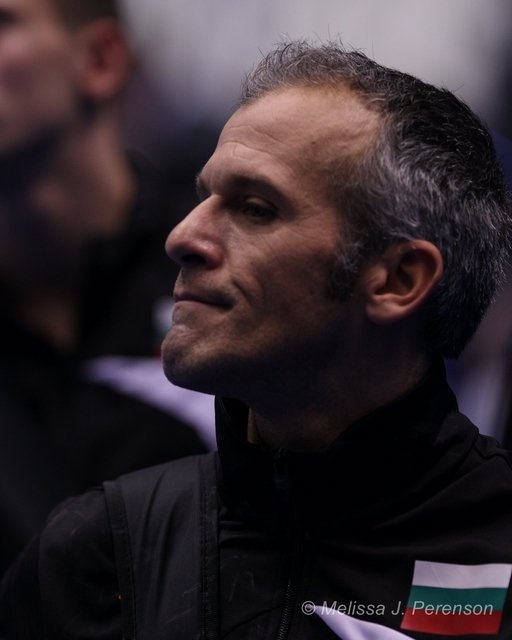 Jordan Jovtchev
of Bulgaria, competing in his SIXTH Olympic Games at age 39, made history once again tonight in London.
Competing in the second to last rotation in the final session of the qualifying competition, the 17-time World and Olympic medalist mounted the equipment for what he expected to be his final routine.
After nailing his difficult set, Jovtchev waved farewell to the appreciative crowd. It was a magical moment. Minutes later his score was flashed - 15.308 - good for 8th place and the final spot in the event final. The crowd went wild once again.
Jovtchev placed 8th in the Olympic Games less than 24 hours after carrying his country's flag and standing through the hours of the Opening Ceremony, and 20 years after his first Olympic appearance in Barcelona.
The first time Jovtchev won a World Championships medal was in 1995. It was silver. His first Olympic medals were clenched in 2000, winning two bronze (rings and floor). He repeated with two medals in 2004, but this time improved to silver on rings. He missed out on gold by one of the closest margins possible. After two decades of international competition, can Jordan Jovtchev add one more medal to his long list of accolades?
We chatted with Jovtchev moments after he exited the arena. As he walked into the mixed zone he was greeted by applause and cheers from his fellow athletes, most of them half his age.
What does it mean to make the final?
I actually didn't even hope that I'd make the final because I told the crowd that I was finished, but now I've got to go again! But, it's an exciting way to finish.
Are you hopeful it will be in a medal position?
No, no. Barely making finals doesn't look good for the medals.
In January you said you were keeping people employed in the federation by continuing in the sport.
Yes, you know we're getting better. We're building a new gym. The government is helping even more now. So it's an inspiration for the young guys, me hanging around.
I heard you have a torn bicep, is that correct?
Halfway torn, yes. It's gymnastics. And my wrist is halfway broken, you know. It's the last time. One more time.
Are you sure?
Yeah I'm pretty much.. Yeah I'm sure... on podium... Man, I'm 40. Well, almost 40!
Why did you continue to this point?
We are getting a better financial situation by doing it. For the young kids for camp. And we don't have anybody else making a name yet. We have good kids. I know that I will sad when I am done with sport. At the moment, I will be glad to be finished. But maybe in about 5 more months will be sad. I really like doing it, and while I was doing it, it looks like I always was doing good. So why stop when you're good at someething? And I haven't figured out what else I want to do. (laughs)
Do you have a group of young Bulgarians coming up?
We do, but they are too young. They are 12, 13. But we focused on the young people, so eventually.



WATCH: Jordan Jovtchev training rings at the 2010 World Championships

Updated on May 16, 2013, 8:12pm