Several falls and big errors derailed the U.S. men's team, which had qualified in first place to the team final. On Monday, the Americans settled for a fifth place finish and no medal in the team competition.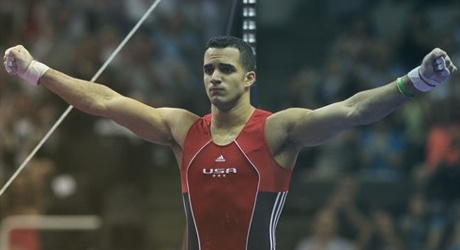 A young team, the inexperience showed early, with Sam Mikulak touching down after a triple full on floor. Pommel horse, the Americans' weakest apparatus, also got the best of them, with Danell Leyva hopping off and John Orozco giving away big points to score only 12.733. Later in the meet, Orozco sat his vault, getting poor block off the table.
The errors proved costly, as China, Japan and Ukraine put forth much better performances than in qualifying. Although the U.S. came back strong on parallel bars and high bar, it was too little, too late to earn a medal.
Team China rallied to win its second-straight Olympic title, after also taking gold in Beijing. The British men's team thrilled the home crowd, overperforming to earn a surprise bronze medal, the first team medal for their country in 100 years.

Originally, the Brits were announced as having won silver and Ukraine bronze. After enthusiastic celerabrations for the current top 3 teams, a last-minute score inquiry bumped up Japan from fourth place to second, reflecting a change in difficulty score to Kohei Uchimura's pommel horse routine. The score was adjusted from 13.466 to 14.166. The Ukrainian men, who were relishing an apparent bronze medal performance, were relegated to fourth place.

Quotes


"You know I felt, deep down inside, that this could be the day. And I kept telling the guys, 'You know, we could come back to the Olympic Village as Olympic Champions tonight.' And, maybe that was a little of my fault that I kept showing that. Maybe I should have kept everyone a little more relaxed. But I really feel like we're a good team, I'm proud of the guys. But yeah, I did think that we could have done it today. But, there's disappointment. There's no way to get rid of that. It's just gonna make me and the rest of the guys work harder."- Jonathan Horton, USA

"Medal or no medal, we're gonna fight until the last guy hits his dismount. Keep fighting, we need that USA Spirit...I think we really showed our heart then."- Jonathan Horton, USA
"It's easy to sit back and mope and be depressed. But we're about getting back up and fighting even more."- Danell Leyva, USA


On China and Japan:
"I never counted either of those teams out. They're phenomenal competitors. I know what they're capable of. They know how to put on the best performance at the right time. And I think it's gonna continue to take a lot of work to beat those two teams."- Danell Leyva, USA
"We could have fallen... ten times, and in my head, we could still do it. It's not over until the last person lands. It wasn't until before high bar that I knew this was going to be really, really tough."- Danell Leyva, USA
"For now, I'm just gonna go out there and perform to the best of my ability. This wont affect me in any way. I'm still glad that Im part of this team. This has been one of the best experiences of my life."- Sam Mikulak, USA

On John Orozco's struggles:
"We just want him to know that we're here for him. We're in no way at all upset with him. He's such a great gymnast. There's so much talent in him, and that kid is the best of guys and an amazing fighter."- Sam Mikulak, USA

On his pommel horse set:
"I was circling great, and I wanted to make it up on floor. I was real motivated. And I kept telling myself I've done this routine so many times. Let's just go through it and do it for Team USA. So, I'm glad I hit my set. That was probably the most nerve-wracking routine of my entire life."- Sam Mikulak, USA
"You know what, in two days I'm just gonna try to go out there and compete for Team USA. I'm not even thinking about myself. I just want to do a good performance for Team USA. Right now it's over, and I don't feel fantastic about it. All I can do is just look forward to the future."- John Orozco, USA
"I think our future's very bright. Four guys on the team are 19, 20 years old. It's an invaluable experience to compete in team finals. You can not replace this experience."- Kevin Mazeika, U.S. Team Coordinator


"It's a little bit upsetting going silver to bronze, but we've still got a medal. Thinking about the Ukrainian team and missing a medal, that's devastating."-
Daniel Purvis, Great Britain
"My floor routine at the end, that was probably the specialest routine I've done my whole life!"- Daniel Purvis, Great Britain
TEAM FINAL RESULTS
2. Japan (SILVER)- 271.952
3. Great Britain (BRONZE)- 271.711
4. Ukraine- 271.526

5. USA- 269.952
6. Russia- 269.603
Updated on May 11, 2013, 2:53am