USA WINS GOLD!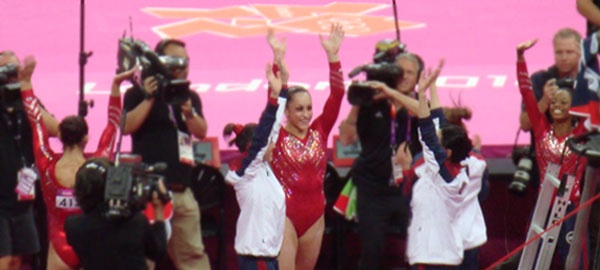 The
U.S. women's gymnastics team
left other teams in the dust in the women's team final, winning the gold medal for the first time since 1996. The Americans scored a total of 183.596, overtaking second-place Russia by more than five points. Romania earned bronze and China, the team champion from 2008, was shut out of the medals in fourth.
The Americans again made a statement on vault, posting three scores over 15.9 for incredibly precise Amanars. Jordyn Wieber led off with a 15.933, which Gabby Douglas bested for 15.966. That set up reigning World vault champion McKayla Maroney to stick her effortless Amanar, scoring an astounding 16.233 (9.733 E-score!).
The Russian team tried its best to keep pace, with Aliya Mustafina (15.233) sticking a double-twisting Yurchenko and Viktoria Komova standing up her Amanar (15.833). The last gymnast, Maria Paseka, took a large step to the side after her Amanar, recording a 15.30 to close.
The U.S. women led by nearly two points heading into bars, its weakest event. Wieber had a slight bobble in her routine (14.666), but Kyla Ross (14.933) and Douglas (15.2) finished with clean and exciting performances.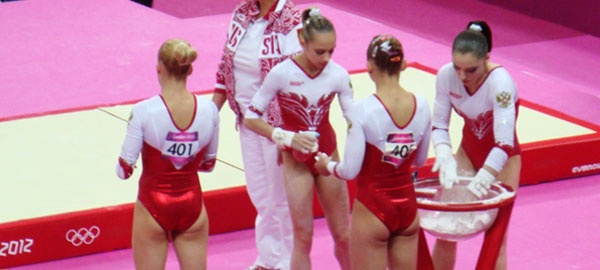 The Russians wasted little time making up ground, with Mustafina (15.7) and Komova (15.766) both coming through with hit routines and nailed dismounts (1 1/2-twisting double back and double-double, respectively). Russia had closed the gap to just under .5.
That would be the last moment of celebration for the Russian women.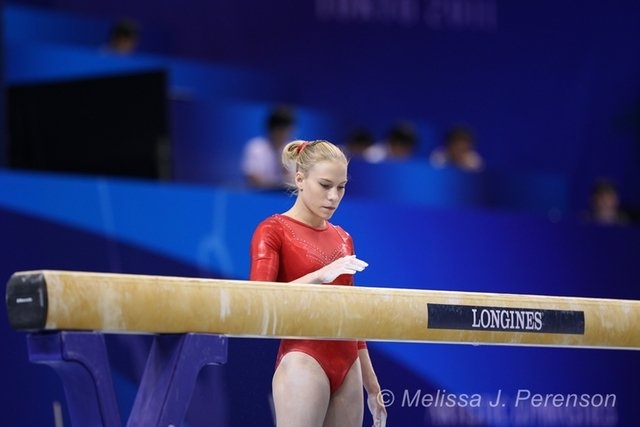 On beam, Mustafina led off with several large balance checks (14.533). The next gymnast, Komova, hit the interior of her set, but nearly sat down her Patterson dismount, still managing a 15.033 (6.5 D-score). Russia's finest gymnasts were buckling under the pressure.
Meanwhile, the Americans breezed through beam, with Ross leading off. The youngest member of Team USA showed a more confident routine than in prelims, hitting a sharp series of switch ring leap to back tuck (15.133). Douglas also showed improvement, cleaning up minor wobbles from Sunday and nailing her once troublesome flight series (15.233). And Raisman, last up, did her usual solid routine to carry the U.S. into the final rotation (14.933).
On floor, the situation worsened for the Russians, as young Anastasia Grishina bailed out of a planned 1 1/2 to triple full, failing to complete the pass and scoring a catastrophic 12.466. To make matters worse, veteran and World floor champion Ksenia Afanasyeva crumbled to the floor, short on her double pike dismount. She finished the routine in a heap on the floor, a powerful symbol of just how badly things had fallen apart for Russia in the last rotations.
The U.S. women took the floor knowing that gold was likely in their grasp and they delivered performances indicative of Olympic champions, correcting the out-of-bounds errors from prelims. Douglas led off with a 15.066, hitting a crisp double Arabian immediate stag leap. Wieber rebounded from a disappointing routine in prelims, sticking her tumbling and earning a 15.0.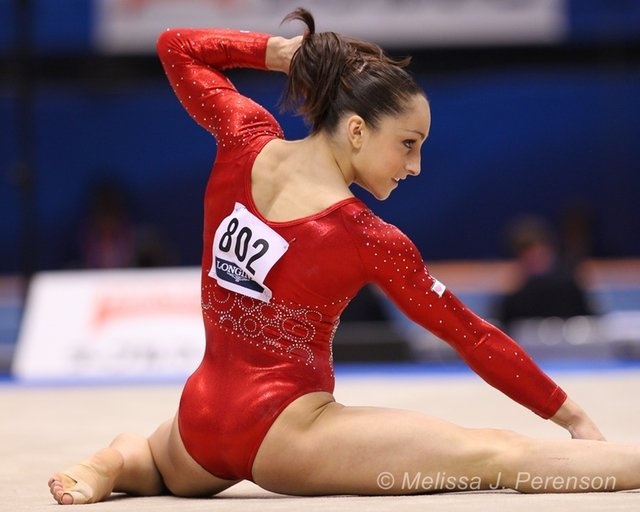 The team's captain, Aly Raisman, closed out the meet and secured the gold (15.3). Overwhelmed after nailing her last tumbling line, Raisman broke into tears as she finished the last seconds of dance in her routine.
Met with a roar from the British crowd, the U.S. women finally achieved gold. Expectations were met and dreams were fulfilled. And the team's goals, which trump all others, were realized in fantastic fashion.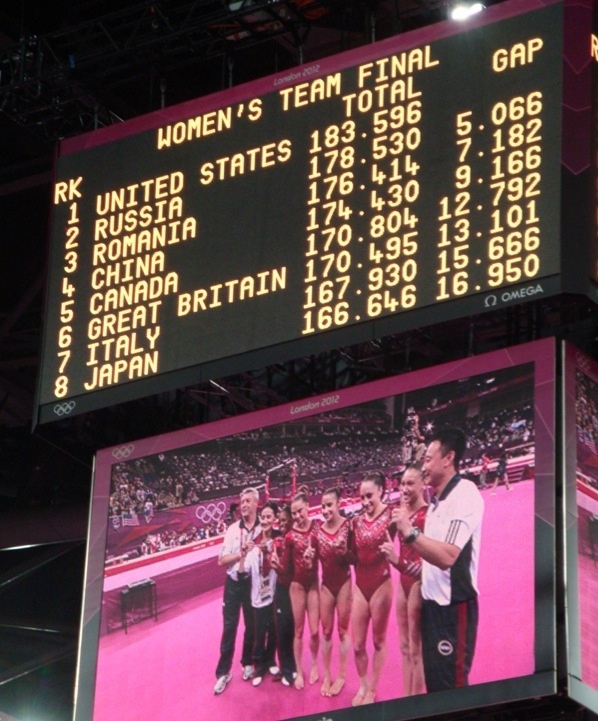 TEAM FINAL RESULTS:
1. USA- 183.596 (GOLD)
2. Russia- 178.530 (SILVER)
3. Romania- 176.414 (BRONZE)
4. China- 174.430
5. Canada- 170.804
6. Great Britain- 170.495
7. Italy- 167.930
8. Japan- 166.646
Quotes:

"I had no clue, I wasn't watching the scores at all. That was such a surprise to see we won by five points, thats huge. And I thought last year winning Worlds by four points was unheard of. So to be able to win by 5 is amazing."
-
Aly Raisman
"I'm so happy for her (Jordyn) that she could kind of get redemption. She didn't let it affect her and I really respect her for that. I know she'll be cheering me on in all around finals."
-
Aly Raisman
"They did an outstanding job. They were well prepared, well trained, and handled the pressure."

- Liang Chow, personal coach to Gabby Douglas
"I was screaming! On bars I think I almost passed out because I was screaming so much for them and I just wanted them all to do so well. And I'm just so proud of them. Then screaming for them on floor on the last event was exhilarating and scary but amazing at the same time and I don't' think I'll ever forget that moment."
- McKayla Maroney

"I know it was an important job to be first on vault. I really had to start off the team on a good note and get everyone else excited. Im happy that I ended up sticking that vault and I think that kind of kick started the whole competition."
- Jordyn Wieber

"
When the beam was over I had a feeling that we have the medal in our hands. We just have to go through the floor routines and possibly with even smaller mistakes we'd still have it."
-
Martha Karolyi, U.S. National Team Coordinator

More quotes and interviews coming soon.
Updated on May 21, 2013, 2:51am