GABBY GETS IT DONE!!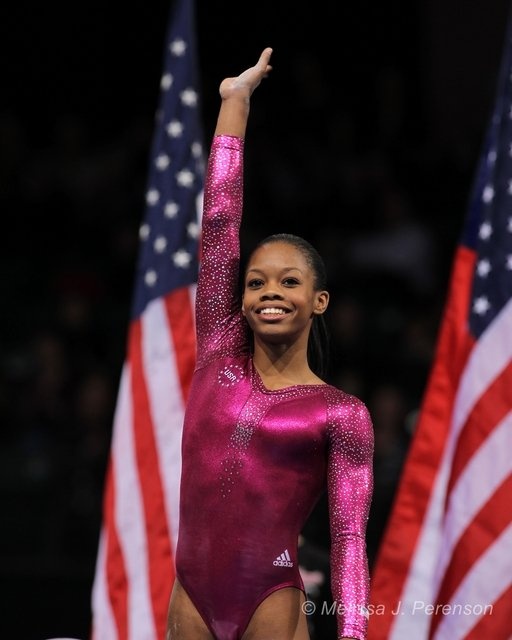 American Gabby Douglas displayed another energetic and error-free performance in the women's all around to win the gold medal over Russia's Viktoria Komova, who stumbled sideways on vault in the first rotation. 2010 World Champion Aliya Mustafina took bronze, winning a tiebreaker with Aly Raisman.
Champion Douglas started on vault, where she fought to keep her landing in line with the table (15.966). That kind of determination would characterize her night and lead her to gold.
On bars, Douglas competed her best routine so far in London, floating through her release moves and nailing her double layout dismount (15.733). On beam, she attacked, shaking off any small waver throughout her routine. The resultant score of 15.5 is the highest awarded at these Games on beam.
It came down to the final routine between Douglas and Komova, who each performed one of their finest floor exercises to date. Douglas again showed great control, steadying a double Arabian to stag leap that was inches from going out of bounds (15.033).
Komova answered with a beautiful routine, drilling all four of her passes. She ended with stuck landings on a triple twist and double pike, nearly surpassing Douglas.
In the first rotation, Komova landed short on her Amanar vault, looking almost apathetic as she took several steps to the side, finishing off the mat (15.466). Komova showed tremendous fight through her remaining routines, however, hitting an incredibly smooth-swinging uneven bars routine in the second rotation (15.966).
On beam, Komova missed some connections, but didn't let that deter her confidence, completing a steady routine capped off by a successful Patterson dismount (15.441). If she had competed vault with the same zeal as she did her final floor routine, gold likely would've been hers in the end. Knowing she came so close, Komova broke into tears when the 15.1 mark on floor fell just shy of the gold.
Teammate Aliya Mustafina was there to comfort Komova and also to claim the bronze medal. Mustafina finished well behind the leaders, but overcame a fall on balance beam (standing Arabian) to overtake Raisman. The highlight for Mustafina was a 16.1 uneven bars score, making her only the second gymnast to eclipse the 16.0 mark on bars in London (Britain's Beth Tweddle was the first).
If not for a rough beam routine, the bronze would have likely belonged to Aly Raisman. After grabbing the beam to balance herself after a front pike, Raisman's 15.133 on floor couldn't quite give her the edge over Mustafina, who surpassed her in a tiebreaker.
Sandra Izbasa (fifth), Deng Linlin (sixth), Huang Qiushuang (seventh) and Vanessa Ferrari (eighth) competed well, but lacked the difficulty scores to compete with the top group.
Romania's Larisa Iordache ended in a disappointing ninth place, unable to overcome the effects of lost training time due to a foot injury. She nearly came off beam after her back full and stepped out of bounds in her floor routine.
Douglas's win marks the third consecutive American gymnast to win the women's all around, going back to Carly Patterson in 2004 and Nastia Liukin 2008. The only other time this feat has been achieved was by the Soviet Union in 1952/1956/1960.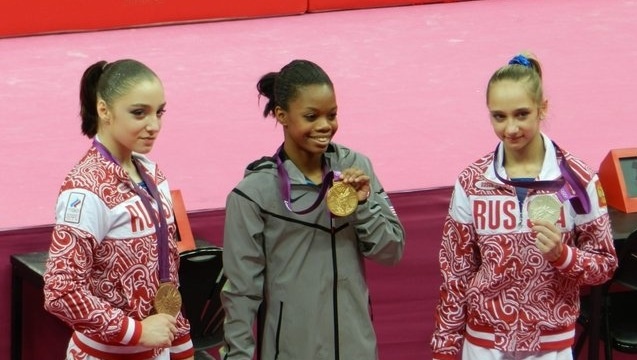 Quotes:

"I've always wanted to be on the top, definitely in the Olympics, but it never feels the same (as you imagine it). You say you want to do it, but then you actually do it, and you're just like, oh my goodness, this is actually happening! But yeah, I never pictured this."
- Gabby Douglas


"I think the biggest accomplishment for her (Gabby) is that she hit her beam routine 3 days in a row which is one of the highest start values in the competition, and she did it without very significant wobbles. Because that's the event where you become the most
nervous."
- Martha Karolyi, U.S.A. National team coordinator

"Today in the bus when it was raining I thought, this is going to be a great day! That's because when I was little, my mom used to tell me that when it rains, it's God's manifestation waiting to happen... a big day is waiting to happen, so when it was raining I was like, it's going to be a great day! I texted my mom, 'It's raining. It's gonna be a great day.'"
- Gabby Douglas

"I really wanted to achieve gold but unfortunately I did not manage it. The mood is really that of disappointment."
- Viktoria Komova

"She's (Gabby) very strong. She performed beautifully today. She earned her gold medal as she had performed very well over a number of days."
- Viktoria Komova

"Right now I'm sad, but I'm trying to be positive about it (the results of the tiebreaker). They said they took out the lowest score and added the rest and then she had the highest score. No one told me that, I found out from one of the media people. Of course it's a huge bummer but I'm still fourth in the world so that's something to be proud of. It's also a bummer that they can't let us both get a bronze medal but I'm happy for the girls that are on the podium."
- Aly Raisman

I saw we (myself and Raisman) had the same score and then I saw my name in third place. I'm very happy with my medal."
- Aliya Mustafina, Russia


"Dominique Dawes definitely inspired me. She made me want to be her. When I saw her competing, well I was a baby, but I saw her videos. She was definitely my role model and everyone used to compare me to her, and I felt so honored to be compared to her."
- Gabby Douglas



WOMEN'S ALL AROUND RESULTS
1. Gabby Douglas (USA)- 62.232 (GOLD)
2. Viktoria Komova (RUS)- 61.973 (SILVER)
3. Aliya Mustafina (RUS)- 59.566 (BRONZE)
4. Aly Raisman (USA)- 59.566
5. Sandra Izbasa (ROM)- 58.833
6. Deng Linlin (CHN)- 58.399
7. Huang Qiushuang (CHN)- 58.115
8. Vanessa Ferrari (ITA)- 57.999
9. Larisa Iordache (ROM)- 57.965
10. Elisabeth Seitz (GER)- 57.365
11. Asuka Teramoto (JPN)- 57.332
12. Celine van Gerner (NED)- 57.232
13. Rebecca Tunney (GBR)- 56.932
14. Giulia Steingruber (SUI)- 56.148
15. Emily Little (AUS)- 55.765
16. Rie Tanaka (JPN)- 55.632
17. Dominique Pegg (CAN)- 55.565
18. Jessica Lopez (VEN)- 55.5
19. Marta Pihan Kulesza (POL)- 55.465
20. Ashleigh Brennan (AUS)- 55.332
21. Carlotta Ferlito (ITA)- 55.098
22. Ana Sofia Gomez Porras (GUA)- 54.899
23. Aurelie Malaussena (FRA)- 50.166
24. Hannah Whelan (GBR)- 41.999


Explanation of the tie breaker:
Aliya Mustafina won bronze over Alexandra Raisman in a tie-break decision after both totaled equal all around scores of 59.566. FIG's rules state that when there is a tie in the all around ranking, they will drop the gymnasts' lowest score, and take the sum of the three top scores. Mustafina's sum of three best scores was 45.933 while Raisman's was 45.366.
Updated on May 18, 2013, 4:51pm