As we all know, every young gymnast's dream is to represent their country by competing at the Olympics. Well I am not a member of the Fab/Fierce Five or anywhere near really, but I must say that going to watch The Games is the second best thing to competing! I've never experienced anything more motivating and inspiring than being in the arena with those incredible athletes from all around the world. As a former gymnast myself, I have such a great appreciation for the dedication and hard work these athletes have put in to be where they are. They have put thousands of hours in at the gym, they have given up a normal teenage life in pursuit of their dreams. They have given up time they could have spent with friends outside of the gym, family vacations, time of relaxation, and in some instances, family, to achieve their dreams of representing their country. And congratulations, you've done it! After all of the blood, sweat, and tears, the rips, the rolled ankles and the rashes from sliding down the beam, you have made your dreams reality!
These were the thoughts running through my head as my mom and I entered the North Greenwich Arena to watch the Women's Qualifications about a week ago. I was so excited to get to our seats! It all seemed so surreal to be at the Olympics!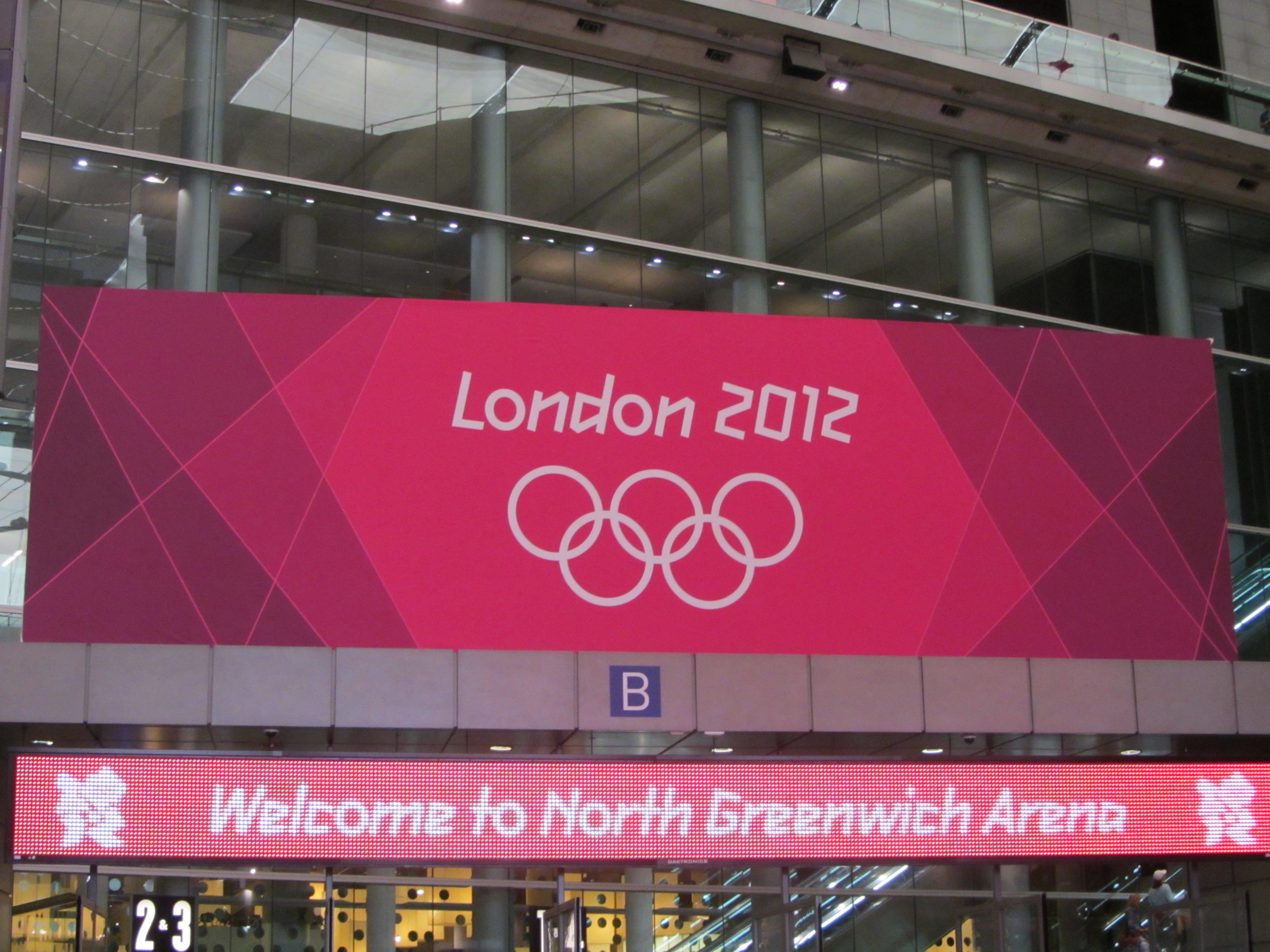 Although I have been out of the sport for two years now, I am still a huge gym fan. I still follow the sport as much as I did in high school- I love watching the competitions and getting to know the athletes. Before my mom and I even headed down to our seats, I spotted Mrs. Wieber! I told her that I really loved watching Jordyn's gymnastics and that I hope she did well that day. She asked if I was a gymnast, to which I said, "used to be." Then Mrs. Wieber seemed to light up a little and point to my mom saying, "So you have a little bit of an idea of the stress I'm going through as a gym mom!" Of course I came nowhere near competing at the Olympics but I thought it was funny that there is such a 'gym-mom' connection. She seemed very thankful that we were wishing Jordyn the best of luck and she said "Please, please, please pray for Jordyn today!" Then she rushed down to her seat.
Little did I know we were heading in the same direction! Our seats during qualifications were in the same row as the Wieber's, and the Raisman's and right behind Kyla Ross' family. It was so neat to be sitting near them! Of course emotions are completely different as a spectator than they are as a family member of the competing gymnast (especially at the Olympics), so I was excited to be able to experience a little bit of the emotion with them because we were so close.
As expected from the way Kyla holds herself on the competition floor, the Ross family was very reserved during the competition. There were no loud yells or cheers for "U-S-A! U-S-A!" but more just sheer concentration. The Wieber bunch was much louder and more animated! They cheered in a way that, the louder they are, the better Jordyn will do. Some think this is silly, but I, along with the Wieber family, think this makes the athletes do better! Mrs. Wieber would exhaust herself by saying "Go Jo!" and sit in anxiety as she waited for the scores. The Raisman's seemed like a mix of the two I guess. They were shown on NBC quite a bit so some of you many feel differently. When we walked past the family to get to our seats before the competition, there seemed to be so much anxiety! Mrs. Wieber was able to have a joking conversation with a complete stranger, but Mrs. Raisman looked like she did not want to have anything to do with the outside world other than hold her husband's hand and think about Aly. During the meet they would move through Aly's routines together, their heads circling as Aly did giants around the bar and their hands shooting into the air out of relief as Aly finished her final floor routine.
It was very, very cool to sit around the parents of the US team. So much emotion goes into each competition and it was neat to have a little taste of that. The families are so committed to their girls doing well.
Everyone knows how the qualification competition went, so I will not get into the details of that. I will say that it was completely incredible to be in the arena! It did not even seem real that we were at the Olympics. At Visa Championships, you cheer on the gymnast who is competing, but it is a completely different feeling to yell, "U-S-A!" over and over.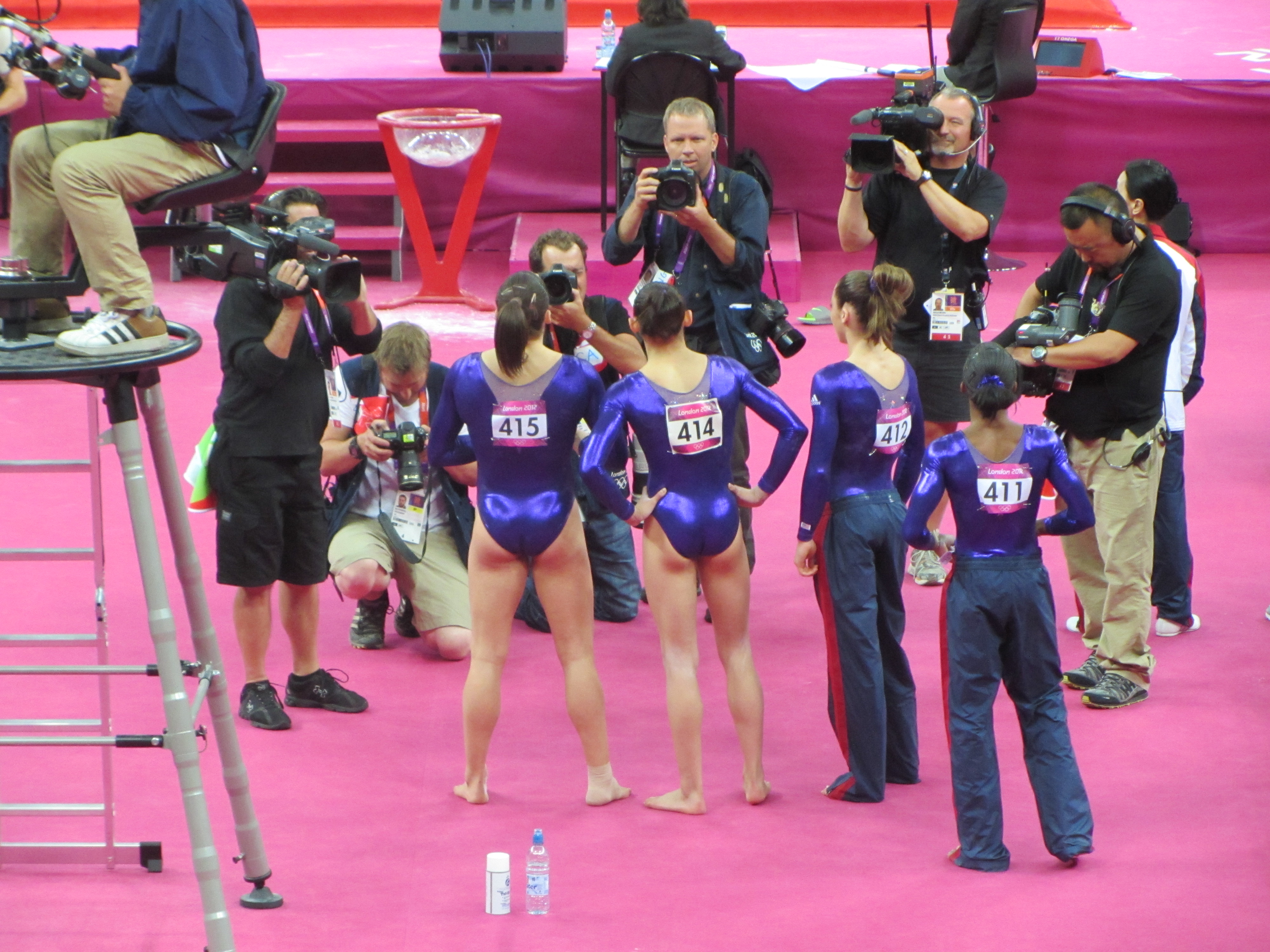 During the final rotation, floor, I did not know the scores were so close. When I saw Jordyn's face in the arms of Kyla's coach, I initially though she was Kyla. I was completely confused as to why Kyla was crying. I also saw Mihai give Aly a huge hug! I was happy that she did so well on floor and that they were excited so I took a picture of them hugging. Then I realized what had happened- Jordyn didn't qualify but Aly did. It then made sense that it was Jordyn that was crying, not Kyla. My heart sank for Jordyn because I, along with everyone else knew that Olympic All Around Final was in 'the plan' for Jordyn and Coach Geddert. I was also elated for Aly. She had just been given the opportunity of a lifetime! Although everyone expected Jordyn to make it, Aly had worked her entire life for this day too, so she is just as deserving. I looked to my left to see Aly's family's reaction, and this is what I saw.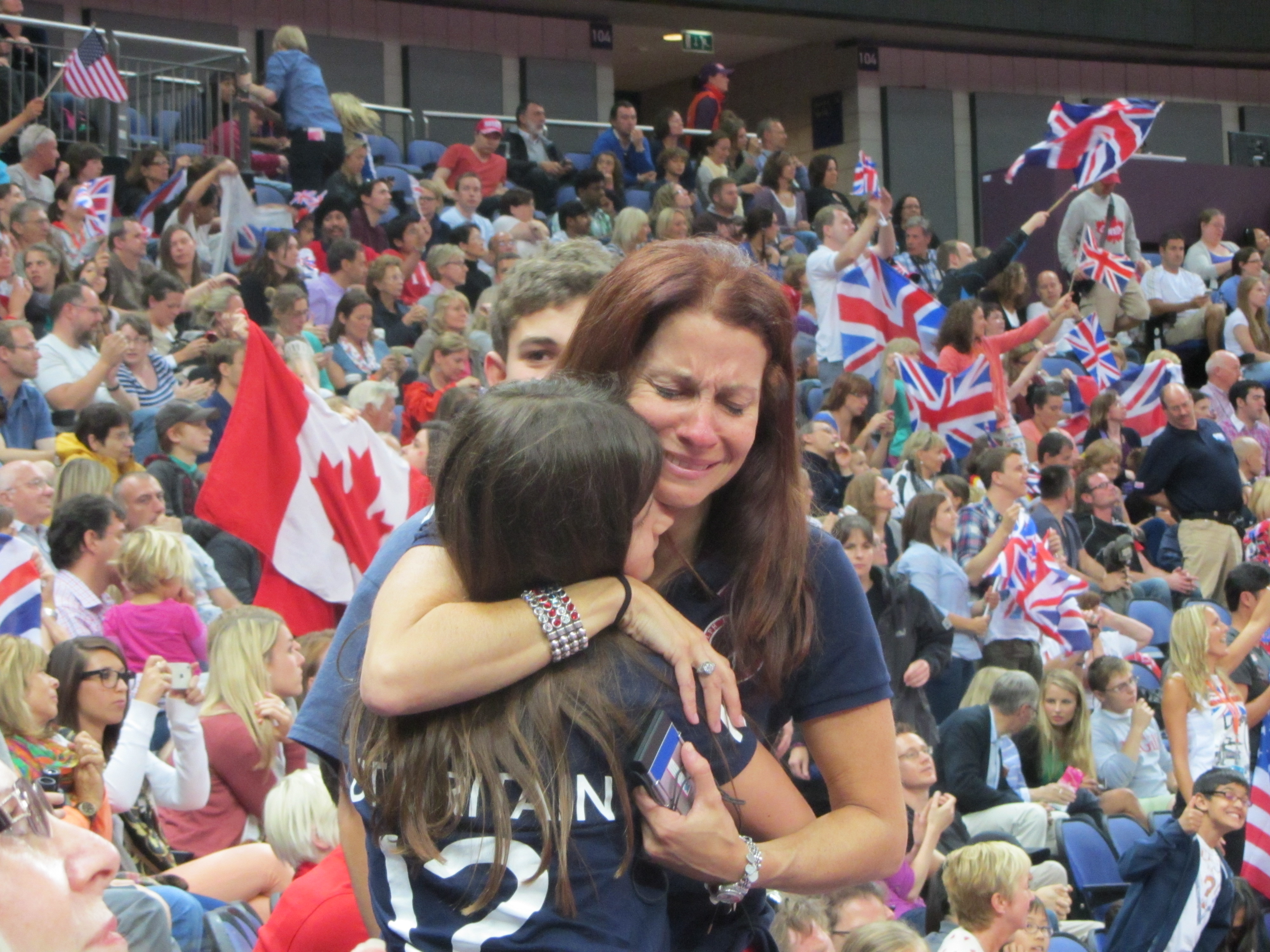 The next day was Men's team final. Again, I will not bore you with the details of the competition, because everyone watched it on NBC! I hated that the US men continued to make mistakes on the first few events. They had worked so hard! But I knew they wouldn't stop giving their best. We were sitting near the parallel bars and when they walked by to see our USA flags waving, they seemed to smile bigger! Hopefully this encouraged them some. Before the high bar warm up, the team and coaches formed a huddle for a pep talk. I'm sure they all knew they were down too far to medal, but it was neat to see them motivating one another to finish the competition strong. I wish I could have known what they athletes and coaches were saying in the huddle. I remember at the 2007 World Championships, Alicia told the other girls to "turn the page" as they headed into their final rotation. Despite the mistakes on prior events, she demanded that they start on a clean slate and finish the meet strong. Needless to say, the guys had a great last event!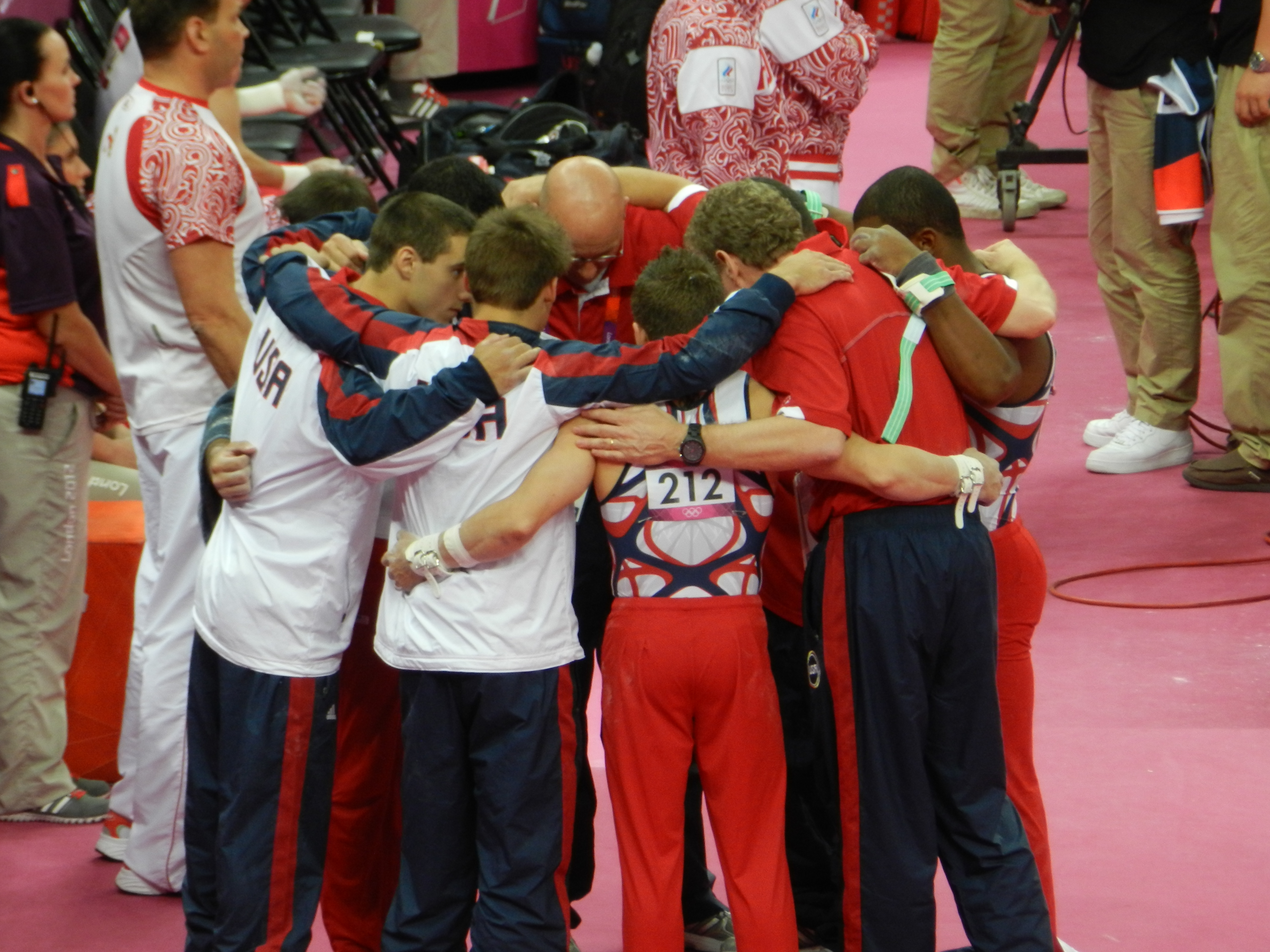 The next day, Tuesday, was Women's Team Final. Before the competition I saw Alicia Sacramone in the hallway and was able to get a quick picture with her! As we were waiting on the competition to start, I wondered what was running through Jordyn's head. I was hoping that she had been able to "turn the page" as difficult as that would be. And sure enough, as soon as the US team was announced, there was Jordyn's big smile! Her smile even made me smile! They started on vault with Russia and throughout the entire electrifying competition, the team's smiles just got bigger and bigger! They all knew after Russia's mistakes on floor that the gold medal was theirs to lose.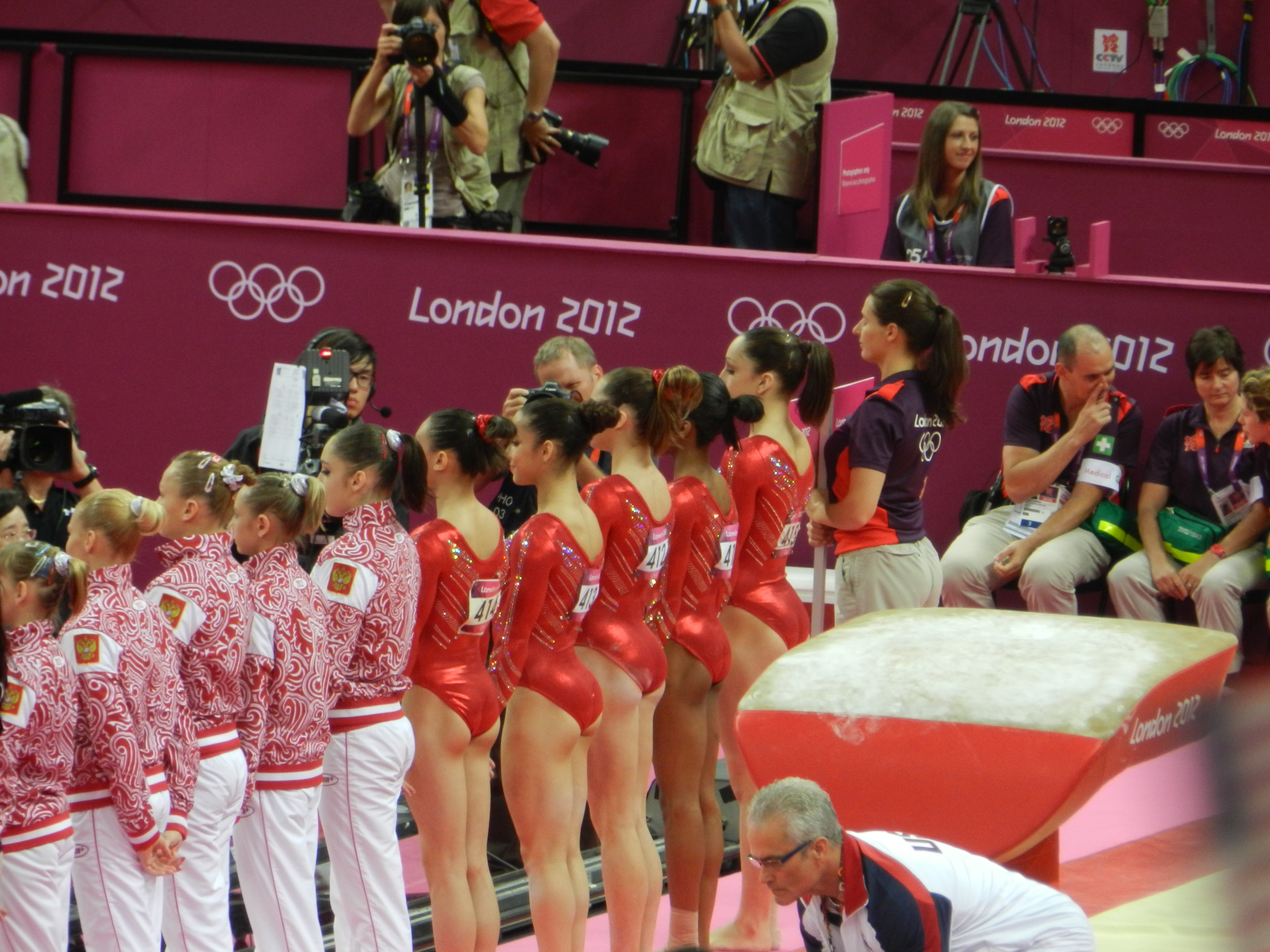 Gabby performed a fun upbeat routine filled with her perky dance and high flying tumbling. Jordyn was second up on floor. During her routine, I will admit, I shed a tear or two. I was so happy for her! She deserved redemption from the qualification competition. After her first tumbling pass she released a huge grin! I don't remember her ever smiling that big during a floor routine! I was just so happy for her. She had several huge smiles throughout her routine and I felt like all of the Americans in the arena were smiling with her and saying, "Come on, Jordyn! You've got it, Jordyn!" Everyone was on her side. By the time she finished her routine, everyone knew.
After Jordyn's score was posted I did my chicken scratch math to calculate that Aly only needed about a 10.3 for the US to win. Aly looked as confident as ever as she walked up to the floor and positioned herself in her sassy beginning pose. By this time, everyone else was done competing so it really was the USA's moment to shine! I think everyone could tell that she became more and more confident throughout the whole routine and she let out some smiles too! As soon as she landed her last pass, tears started streaming down her face! It was so neat to see the emotion that these girls had been holding in for so long. All of their hard work, pain, disappointment, dedication, and persistence had paid off. They had proved they were not only physically, but also mentally, the most prepared team in the field.
The five girls held hands as they waited for Aly's score to make it official, with their coaches' arms around them. She only needed about a 10.3 for the US to win. 15.3!! They all burst into excitement! Hugs, smiles, laughter, but most of all there was a visible sense of relief. They had done it! They reached their goal!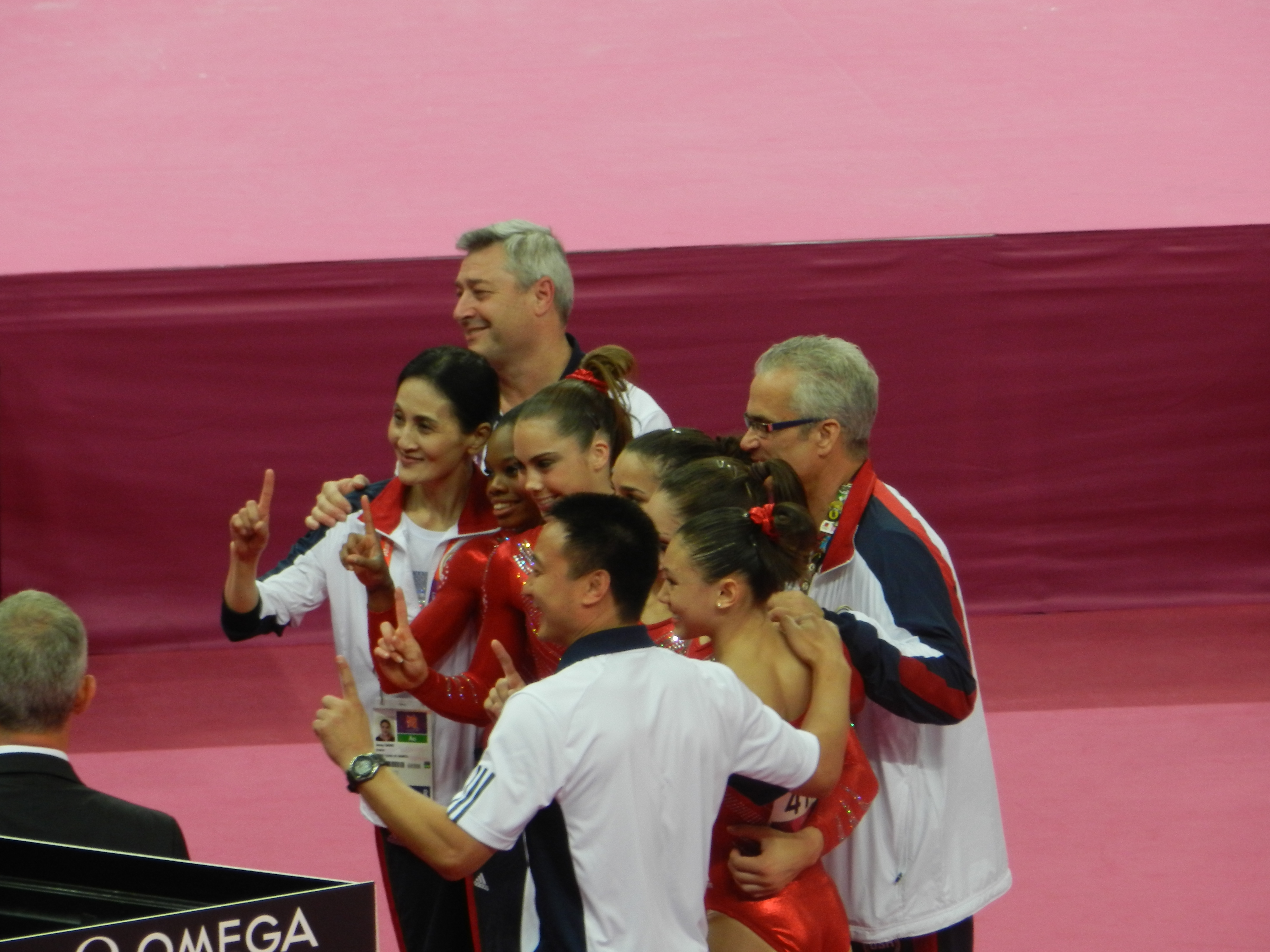 One of the neatest moments was when I saw Gabby find her family in the crowd! When the girls were done with pictures she called her Mom (I'm assuming) and her mom guided her where to look. Her face lit up and there was a huge smile when their eyes met! You could really tell how much her family meant to her by the reaction.
When the girls got off the podium, Aly jogged over to her coach, Mihai Brestyan, and put her medal around his neck with a big hug. What a neat moment for both of them! What a great sport Aly is. I thought that was a really neat way to say "thank you" to her coach. Aly was also the first of the US gymnasts to walk over to the Russian team and congratulate them for a job well done. I gained a lot of respect for Aly from seeing those two instances.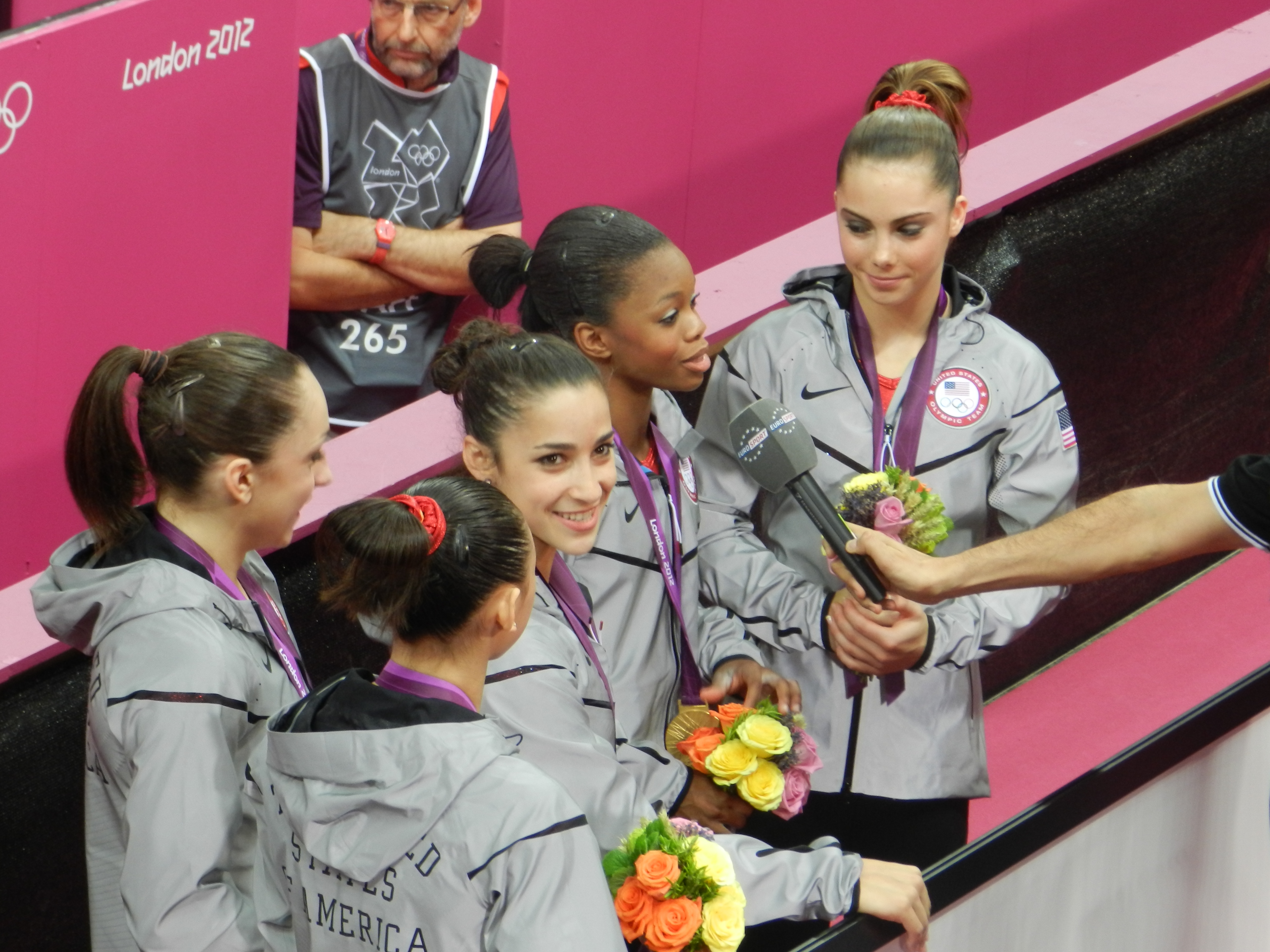 On Wednesday afternoon, my mom and I were able to go to a meet and greet with Keri Strug! She spoke a little at the beginning and then we were allowed to ask her questions. I asked her what some of the specific things were that Bela did to make her a better gymnast. She said that Bela pushed his gymnasts to do things you really never thought you could do. At the time it seemed like kind of a cliché answer but now thinking back, how cool would it be to have someone push you to those limits? To prove to you that yes, you can do this. She said that Bela would have them do routines at 6:30 in the morning or at 10:30 at night because once the gymnasts proved to themselves that they could do the routine at any time and that they were on autopilot, their confidence would soar.
We were not able to attend the Men's Individual AA Final on Wednesday, unfortunately. I am very glad that Danell earned the bronze medal! I wish that Orozco would have had a better meet, but maybe this will give him motivation to stick around for another four years. Most of the team is fairly young in gymnastics years, so maybe the whole team will stick around!
Thursday was Women's Individual AA Final. It was between the two American and the two Russians. Things were going as expected until the third rotation, balance beam. Gabby did well and Komova did well. Mustafina fell and had other balance checks that left the door wide open for Aly. I'm sure Aly didn't watch Mustafina's routine, but she could tell from the audience's reaction that something went wrong. Then Aly was up. Everything seemed solid until her punch front when she folded at the hips, grabbed the side of the beam and one leg went flailing. I yelled "Stay!" as loud as I could. I also found myself yelling that for the following balance checks in the routine. I was so upset for Aly, she is usually one of the most solid girls on the competition floor! Throughout the routine I also kept saying this over and over- "Come on, Aly, pull it together, you can do this, stay focused, you can do it…"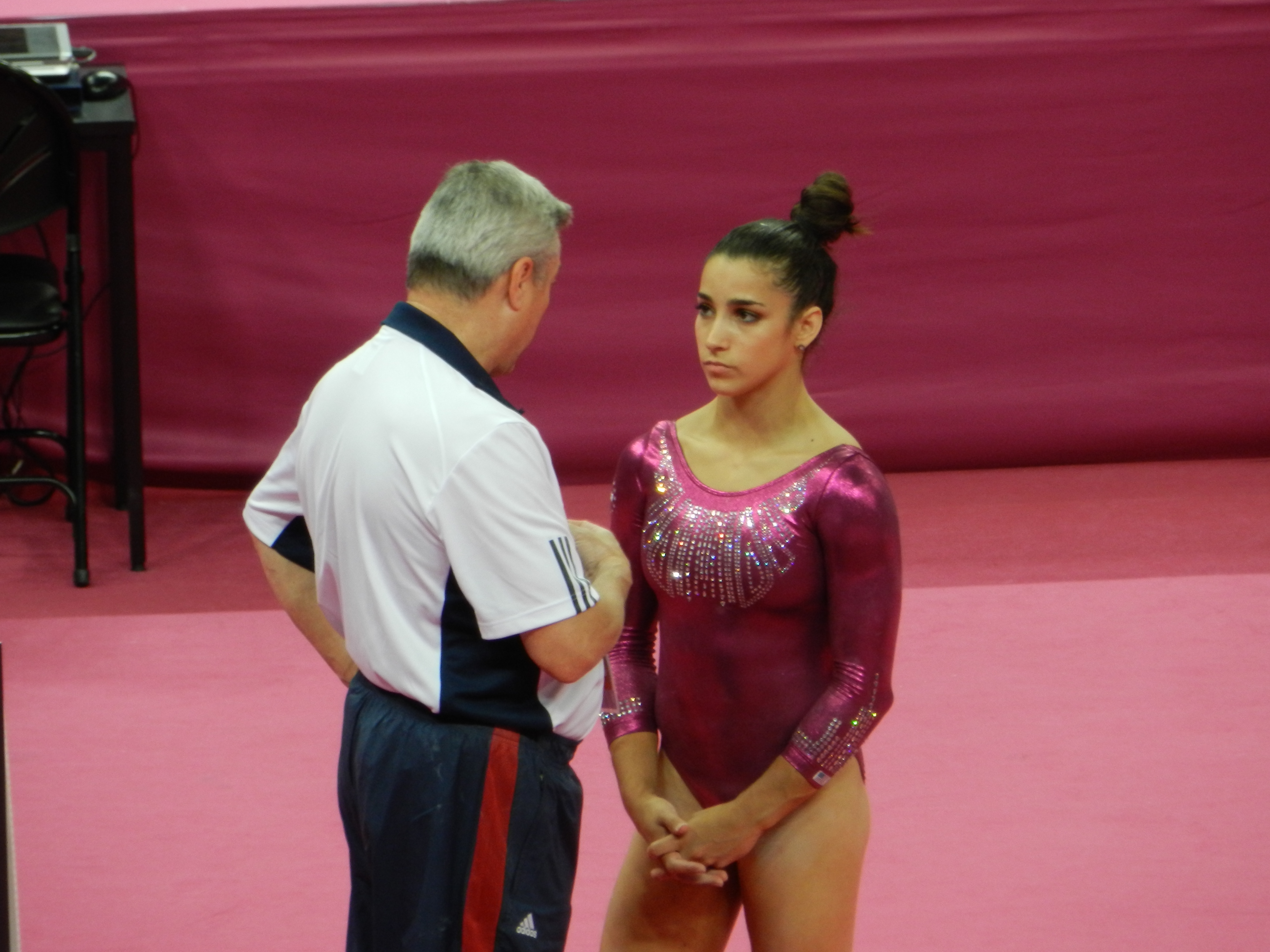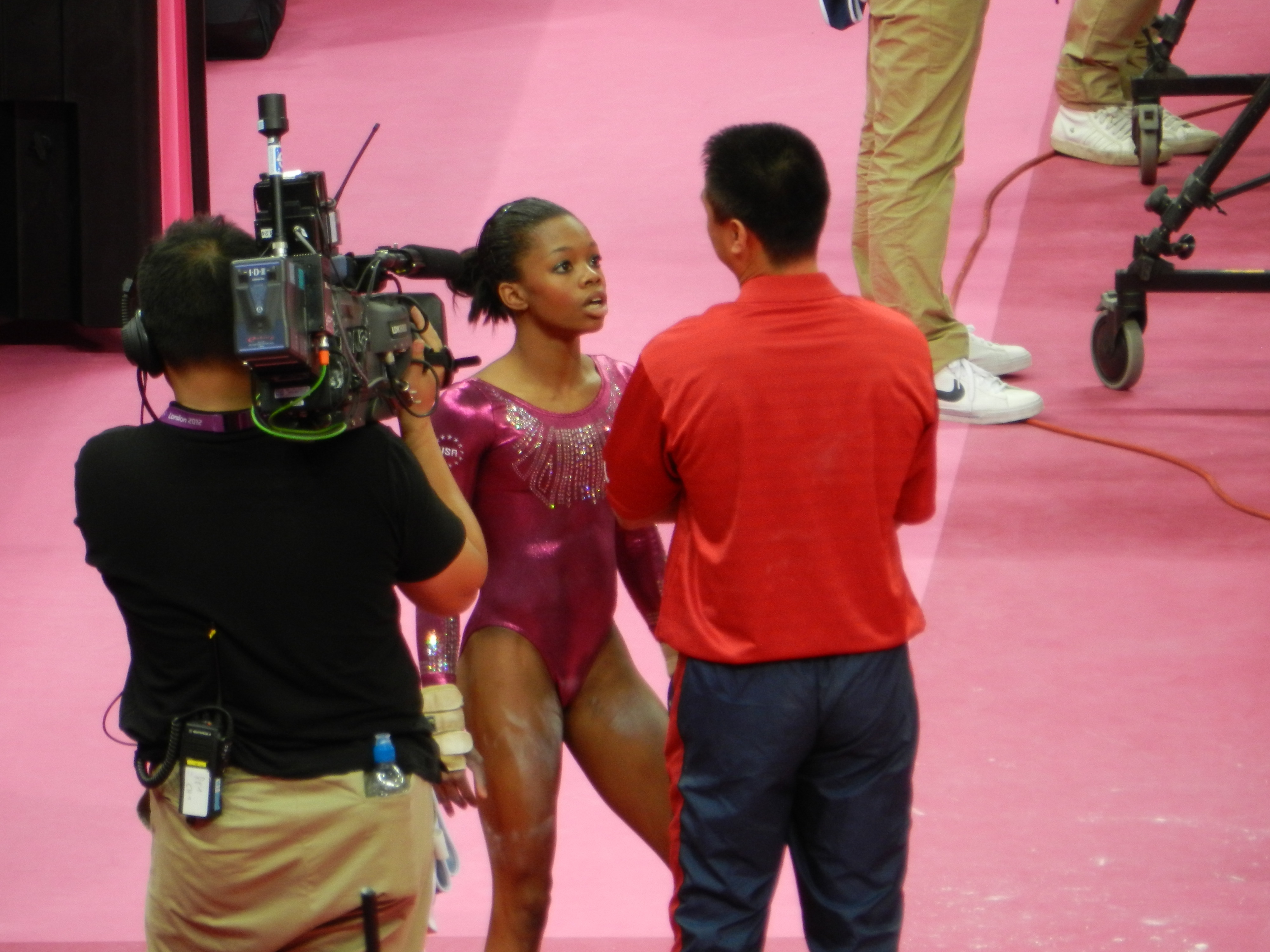 Now on to floor. Mustafina performed a beautiful routine and set the bar for the bronze medal. Everyone knew by that point that the gold was either up to Komova or Douglas. Gabby also had a great routine! She had fun with it, that's for sure. Then it was Aly's turn. It seemed like a pretty good routine to me. She left out her front layout after her double Arabian and her last split jump was not 180 degrees but other than that, it seemed pretty good. The score came and she had tied with Mustafina in the AA- unless Komova bombed her floor routine, Aly would get an agonizing fourth place because of the tiebreaker. Then it was Komova's turn. Her balletic routine was a pleasure to watch- so beautiful. After the girls were done all eyes were on the score board.
Komova's score was not enough, Gabby became the new Olympic AA Champion!! She hugged Chow and the cheers of "U-S-A! U-S-A!" once again filled the arena. How exciting for Gabby! It is just incredible to think that I was there witness history being made- the first time the US has won both team and individual gold, only the second time the US has won team gold, the first African-American to win individual gold, and the continuation of the USA winning the All Around gold. How incredible. These will definitely be pictures and memories to cherish!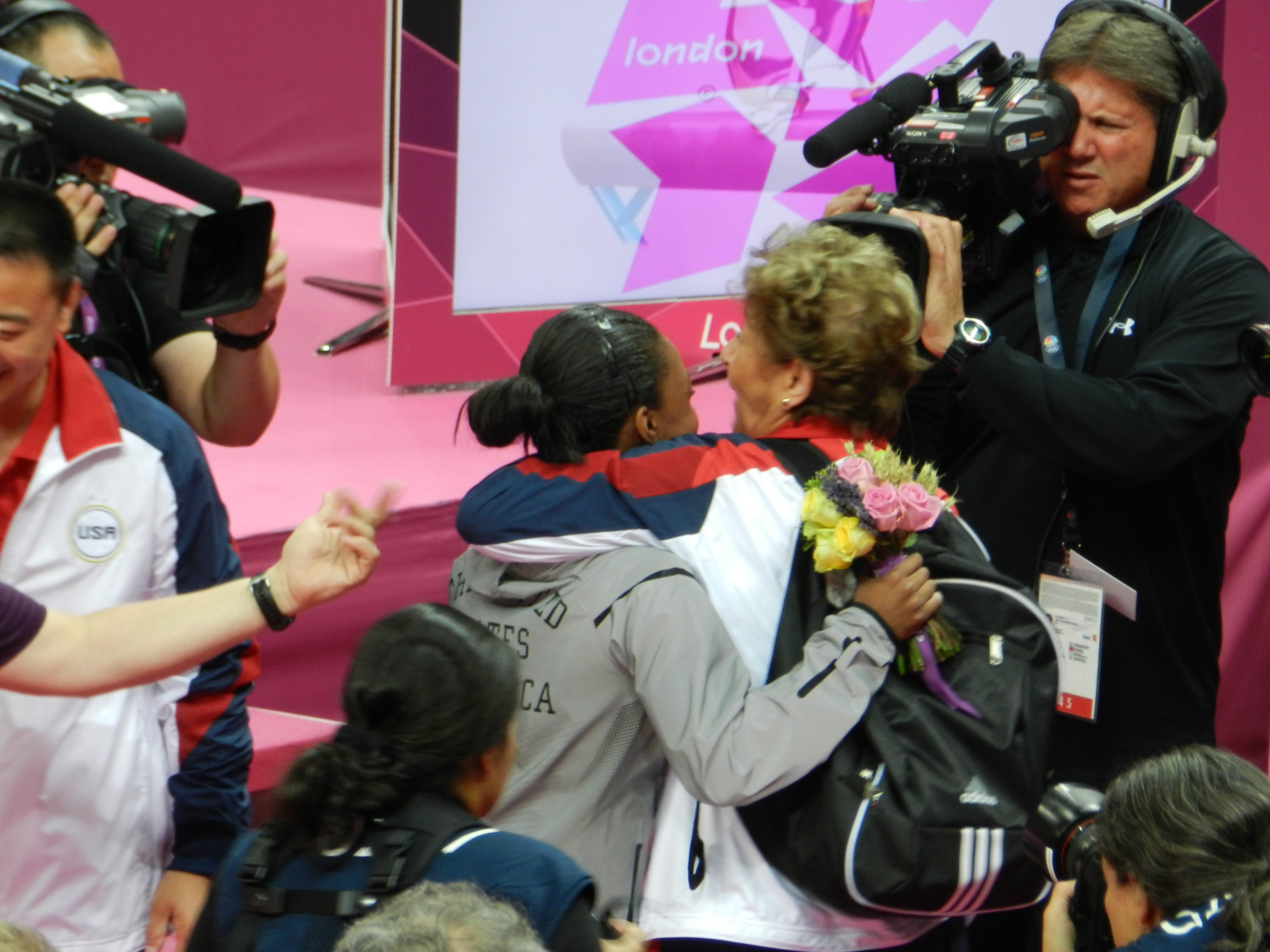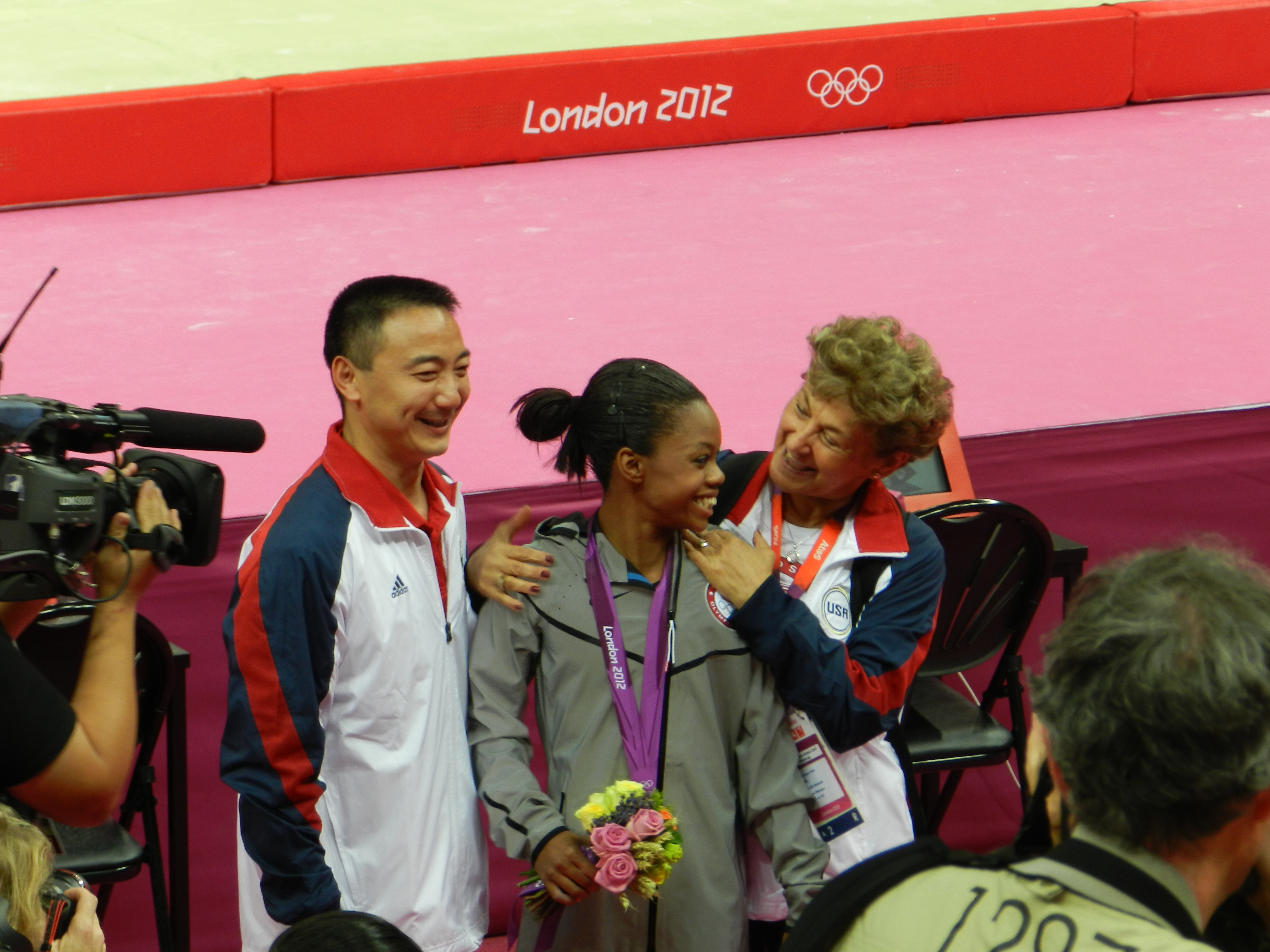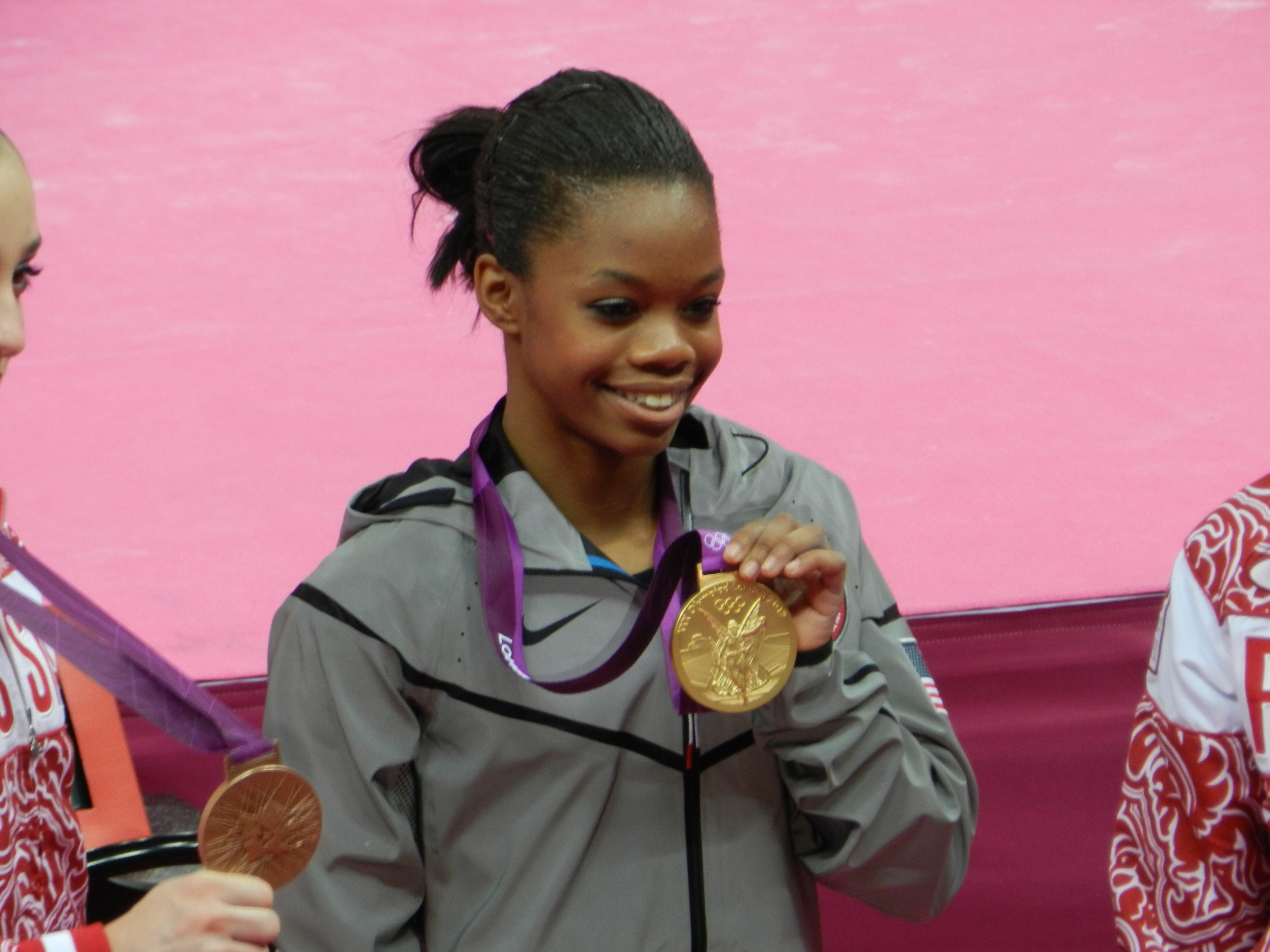 I know that Jordyn and Aly are disappointed that they were unable to medal in the individual All Around, but they will forever be remembered in the sport of gymnastics because they were members of the Fab Five. To Gabby, Jordyn, Aly, Kyla, and McKayla- congratulations! You've made history!
Updated on May 18, 2013, 9:43pm