USA Today has published a
revealing article
on world champion and Olympic gold medalist,
Jordyn Wieber
.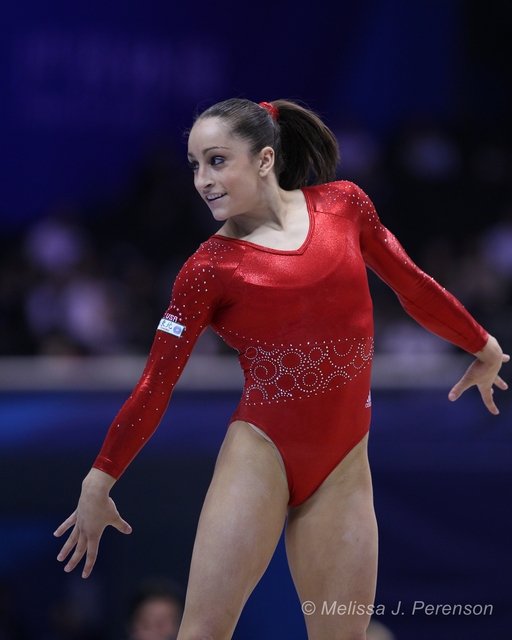 The article reports that Wieber has no regrets about her Olympic experience, despite her disappointing failure to qualify for the All-Around competition because of the two-per-country rule. Although Wieber makes no excuses, following the Olympics, it was announced that she had been training for, and competing in, the biggest competition of her life with a stress fracture in her shin.
Reportedly, the fracture stemmed from a prior heel bruise. Wieber's coach,
John Geddert
, first revealed news of the bruise in a June 29, 2012 Olympic Trials
blog post
, writing that Wieber was dealing with a "nagging little heel bruise." In a post-meet interview later that day, Wieber said the bruise was "fine" and noted that such injuries happen often as a result of hard landings.
The article further reveals a lot about Wieber's post-Olympic plans. Reportedly, after participating in the three-month, 40-city
Kellogg's Tour of Champions
, she plans to return to complete her senior year of high school. After that, Wieber, who is not eligible to compete in collegiate gymnastics because she has gone professional, reportedly plans to attend college at UCLA, as has been previously reported in other media. There, she reportedly plans to remain involved in gymnastics as a coaching assistant for the star-studded
UCLA Bruins
.
The UCLA Bruins' roster, which often reads like a "who's who" of gymnastics, currently includes gymnastics greats like 2008 Olympian
Samantha Peszek
, and former national team members including
Vanessa Zamarripa
,
Mattie Larson
(a former teammate of
McKayla Maroney's
at AOGC), and
Cassie Whitcomb
. 2012 Olympic alternate,
Anna Li
, also had a storied career as a UCLA Bruin, helping to lead the team to its sixth NCCA championship title during her final season in 2010.
The USA Today article also speculates that, because of her age and body type, Wieber's last competition could be the 2013 World Championships, where she could defend her title as reigning all-around world champion. It quotes her coach, John Geddert, as saying in London, "Like it or not, this is a little girl's sport, not a women's sport . . . . And the little girls are going to prevail. Their bodies get off the ground better. You don't have to deal with curves."
Finally, the article reveals that Wieber, who has never played baseball, was nervous about throwing out the first pitch at the Detroit Tigers game. Watch her throw the pitch, while wearing a boot to protect her leg,
here
.
Click
here
to read the full USA Today article.
Updated on May 21, 2013, 10:14pm