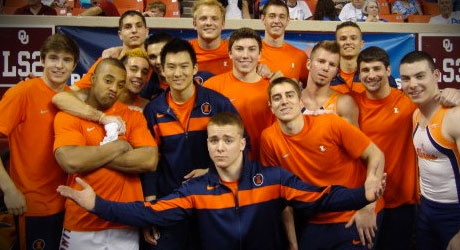 2012 NCAA Champions, The University of Illinois takes the top spot, after receiving six first place votes in the preseason coaches poll. Illinois won their 10th NCAA team title last year, but the first since 1989. The team is led by 2012 Coach of the Year winner, Justin Spring. Spring was a member of the 2008 US Olympic team that won bronze in Bejiing. The 2013 roster will include five 2012 All-Americans, C.J. Maestas,Yoshi Mori,Austin Phillips,Chad Mason and Jordan Valdez.
The #2 ranked Michigan placed sixth at last year's 2012 NCAA Championships and sophomore
Sam Mikulak
tied for second in the individual all-around competition. Michigan has a very strong team and the roster includes Olympians Sam Mikulak and
Syque Caesar
. The University of Michigan was second followed by the University of Oklahoma in third. Oklahoma's roster took a huge hit when
Jake Dalton,
2012 NCAA All-Around champion, decided to turn professional. He is now ineligible to compete in his final season of eligibility.
GymInfo - 2013 Men's Gymnastics Pre-Season Coaches Poll
| | | |
| --- | --- | --- |
| Rank | Team | 1st Place Votes |
| 1 | Illinois | 6 |
| 2 | Michigan | 2 |
| 3 | Oklahoma | 2 |
| 4 | Penn State | 3 |
| 5 | Stanford | 2 |
| 6 | California Berkeley | |
| 7 | Minnesota | |
| 8 | Ohio State | |
| 9 | Nebraska | |
| 10 | Iowa | |
| 11 | Air Force | |
| 12 | Temple | |
| 13 | Army | |
| 14 | William & Mary | |
| 15 | UIC | |
Updated on May 19, 2013, 4:54pm