Day one of women's qualifications has concluded in Tokyo at the 2011 World Gymnastics Championships. Most of the top teams will take to the floor tomorrow. The only medal favorite to compete today was Romania, who looked good.
A few things that stand out in my mind from today's competition:
1) Defending World Beam champion
Ana Porgras
did not make beam finals. She put her hand down on the beam on her switch ring leap and still scored well (14.40), but teammates
Catalina Ponor
and
Raluca Haidu
finished ahead of her (only 2 per country may advance to finals).
Video of Porgras on beam
2)
Catalina Ponor
rocked beam. It was like a flashback to 2004. She received a 15.00 which was the highest score of the day for any event.
Video of Ponor's beam routine
3) Dominican Republic gymnast
Yamilet Pena
vaulted a handspring double front, named for
Yelena Prudunova
! Terrifying to think of a girl doing this vault, but she did it safely today. She just barely got her feet around in time to touch the mat first and she was credited with a 7.10 D score. That combined with a decent yurchenko 1.5 should land her in the vault final. She's in first for now.
4) Australia should again qualify for the Team Final and on to the Olympics. They didn't have the high difficulty of the medal favorites, but they are a clean team and seem to have it together mentally.
Lauren Mitchell
had a fluke fall on beam (split the beam on a switch leap) and will miss the beam final. She sits in 2nd on floor despite competing on weak ankles.
Larissa Miller
holds the top score on uneven bars after day one.
Watch Mitchell's interview here
Video of Miller's bar routine here
5) The Dutch (who finished 9th last year) were underwhelming.
Celine Van Gerner
looked strong and hopes to have a skill on beam named for her, though she is saving it for the all around final.
6) 25-year-old
Jessica Lopez
competed in the first session of the day and played it safe for the team but went went all out on bars, hitting a big set which included a laid out jaeger and a tkatchev+gienger combination. She had better make that event final!
Interview with Jessica
Interview with Jessica's coach Nilson Savage
Video of Jessica's bar routine in training
7) Canada looked good. Team leader
Kristina Vaculik
had an off day, falling on floor and bars. The team started on beam with 3 falls but pulled it together. The highlights for me were
Dominque Pegg
's floor routine with a stuck double layout, watching original team alternate
Mikaela Gerber
take full advantage of her opportunity and really shine, and
Peng Peng Lee
on, well, everything. She is flat out fun to watch.
Interviews:
Lee
|
Pegg
|
Gerber
Sad news for the day: USA team leader
Alicia Sacramone
has torn her achilles. This is what I feared when I saw it happen but did not want to believe it. Sacramone will fly back to the US and is scheduled for surgery on Monday. It will be tough to get recovered and back into shape in time for the 2012 Olympics, but
Courtney Kupets
proved it was possible in 2003/2004. World Championships will not be the same without her.
Now a look at the results at the halfway point, and many top teams remaining:
Team Competition
:
Romania 227.228
Australia 221.846
Canada 215.328
Netherlands 212.828
Mexico 206.751
Venezuela 202.294
Uzbekistan 201.861
All Around
1. Raluca Haidu (ROU) 56.465
2. Lauren Mitchell (AUS) 56.324
3. Celine Van Gerner (NED) 55.465
4. Ana Porgras (ROU) 54.832
5. Emily Little (AUS) 54.732
6. Jessica Lopez (VEN) 54.731
7. Peng Peng Lee (CAN) 54.632
8. Vasiliki Millousi (GRE) 53.416
9. Joy Goedkoop (NED) 52.998
10. Valeria Maksyuta (ISR) 52.915
11. Kristina Vaculik (CAN) 52.831
12. Ana Lago (MEX) 52.732
13. Darya Elizarova (UZB) 52.731
14. Ana Sofía Gómez (GUA) 52.540
15. Kristina Palesova (CZE) 52.232
16. Luisa Galiulina (UZB) 52.066
17. Elsa García (MEX) 51.998
18. Jonna Adlerteg (SWE) 51.966
19. Marta Pihan-Kulesza (POL) 51.849
20. Ida Gustafsson (SWE) 51.832
21. Barbara Gasser (AUT) 51.733
22. Tina Erceg (CRO) 51.656
23. Gabriela Janik (POL) 51.515
24. Roni Rabinovitz (ISR) 51.132
Individual Event Standings: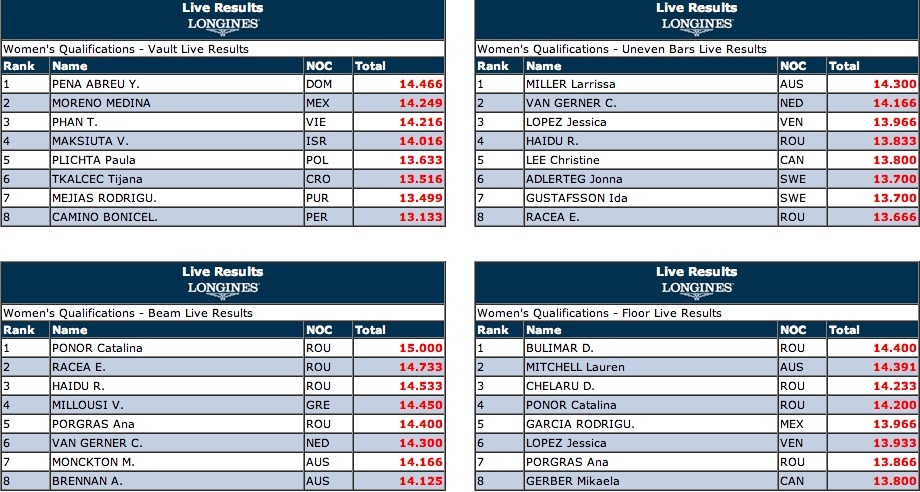 Coming up tomorrow are the real heavy hitters: China, USA, Russia, Britain, France, Italy, Spain, and Japan.
Bookmark our
Live Updates page
to follow us live from Tokyo, and check out what you may have missed today.
Watch videos of the World Gymnastics Championships