During touch warm-ups before the first rotation of the women's team final in Tokyo, McKayla Maroney sprinted down the runway and nailed an effortless Amanar. The stunning vault elicited a spontaneous round of applause, and set the stage for Team U.S.A.'s decisive victory over Russia, 179.411 to 175.329.
The United States powered through routine after routine in the Tokyo Metropolitan Gymnasium, hitting 12-for-12 to take the title in spectacular fashion. Alexandra Raisman started the team off on vault with an excellent double-twisting Yurchenko, and was followed by Jordyn Wieber, who landed her Amanar well. Maroney then earned the highest score of the evening, 16.033, for a tremendous Amanar that was almost identical to the one she showed in warm-ups. The U.S finished vault 2.4 points ahead of Russia, a lead they never relinquished. The team was solid on bars, highlighted by anchor Gabrielle Douglas's sky-high Tkatchev and gorgeous stalder work, and made it through three beam routines with nary a wobble. Audience members murmured in appreciation as Wieber completed her intricate beam combinations of front aerial, one-arm back handspring, layout and tucked-full, back handspring.
Ending on floor, the U.S. hit their difficult tumbling, including a 3½ twist from Maroney and exceptional double-double from Wieber. Raisman, the last American to compete, made her exciting double Arabian and finished with a double pike as her teammates began celebrating on the sidelines. Under the open-ended scoring system, it's possible for a team to win even with several falls, so to see the U.S. capture the title with terrific routines across the board was exhilarating. It should be noted that table setter Sabrina Vega was integral to that effort, leading off on bars and beam with well-executed exercises.
Russia was less consistent, counting several small errors and a fall from Viktoria Komova on beam. Even without those mistakes, Russia would have had a difficult time overtaking the United States given that neither Komova nor Tatiana Nabiyeva threw their Amanars. Instead, the team competed three double-twisting Yurchenkos, losing 1.4 in start value to the U.S. on vault alone. Nevertheless, Russia put forth a respectable effort and did well to finish second. Highlights of their competition included Komova's bars set, which featured a phenomenal layout Jaeger, and Anna Dementyeva's beam. Performing after Komova's fall, Dementyeva came through with a clutch performance that included a lovely illusion turn and side aerial. On floor, Komova landed her opening double Arabian in a low squat, but Yulia Belokobylskaya and Ksenia Afanasyeva combined solid tumbling with exquisite artistry, enrapturing the crowd.
While the U.S. defeated Russia by a large margin, the battle for bronze was much closer, with China edging Romania, 172.820 to 172.412. China counted several major errors—Huang Qiushuang fell from bars on a piked Jaeger, then Tan Sixin fell off beam and had a meltdown on floor, where her arms gave out during her first tumbling pass. The Chinese compensated for these mishaps with a solid showing on vault, and exceptional performances from Sui Lu, who presented a beautiful beam set and then nailed a breathtaking whip-immediate triple twist on floor. Romania performed very well on beam, with Ana Porgras and Catalina Ponor hitting world-class routines, and on floor, where Diana Chelaru, Diana Bulimar, and Ponor tumbled up a storm, punctuated by Ponor's powerful, stuck double layout. The Romanians lost the bronze on bars, where no gymnast fell, but low start values cost the team dearly; Raluca Haidu netted only 12.966 and Amelia Racea didn't fare much better, earning 13.000.
As the top four teams vied for a medal, Great Britain, Germany, Japan, and Australia finished fifth, sixth, seventh, and eighth, respectively. Germany's Oksana Chusovitina nailed her powerful handspring rudi, and will appear in the vault finals. Japanese spectators went wild as one of their home gymnasts, Rie Tanaka, hit a lovely bars set. Lauren Mitchell of Australia treated the crowd to an entertaining floor routine, highlighted by a double Arabian-stage leap and innovative choreography. And perhaps the best routine of the competition came from Great Britain's Beth Tweddle on bars. As the audience repeatedly gasped, she performed a Tkatchev to mixed grip, Yezhova, Maloney-half, Markelov, and Gienger—and somehow made it all look easy.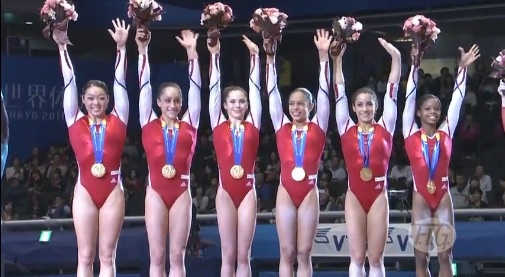 Watch the video highlights of Team USA Women by the FIG:
Watch more video of World Gymnastics Championships Tokyo 2011 on gymnastike.org