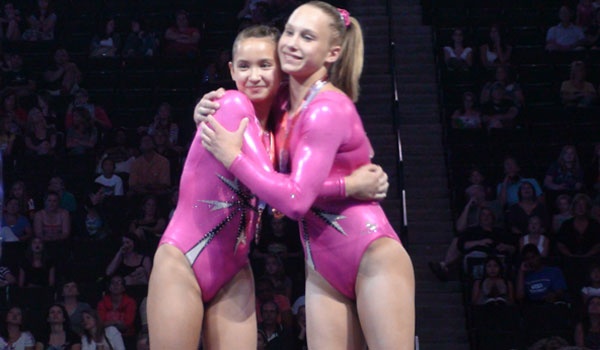 Sarah Finnegan and Brenna Dowell at the 2011 Visa Championships
At the 2011 Visa Championships back in August, GAGE qualified three gymnasts to the US Junior National team:
Sarah Finnegan
,
Brenna Dowell
, and
Maddi Desch
. At the conclusion of the Championships, GAGE coach
Al Fong
spoke with Gymnastike and boldly shared his intentions to qualify his two age-eligible athletes (Finnegan and Dowell) to the 2012 US Olympic team. For a refresher, check out the interview below.

Finnegan and Dowell finished 3rd and 6th respectively in the junior all around at Nationals. While all eyes were on soon-to-be World Champion Jordyn Wieber and the 2008 Olympians working their way back, at the time many found this statement.. shocking.
However, after watching Fong's gymnasts make their senior debuts last weekend in Team USA's dominating victory at the City of Jesolo Trophy meet in Italy, Fong seems right on track, especially in the case of Finnegan. In her first competition of the year, she finished 3rd all around behind American stars
Kyla Ross
and
Aly Raisman
.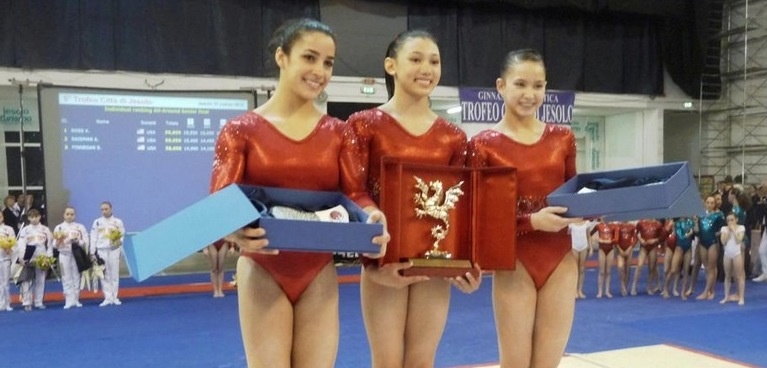 Raisman, Ross, and Finnegan with their all around awards in Jesolo.


I've always enjoyed the artistry of Sarah Finnegan, and now she has the big skills to match. She debuted quite a few upgrades in Jesolo, including a
piked double arabian
on floor, the event where she is a former US Junior National Champion. She also competed the most difficult beam routine in the senior competition, earning a 6.80 start value. After a few wobbles, she placed 3rd on the event behind Ross and Russian beauty
Anastasia Grishina
.
Watch Finnegan on beam in Italy:
Watch more video of 2012 City of Jesolo Trophy on gymnastike.org
As for Dowell, she posted a solid 14.60 on bars
(video)
for 2nd place and competed a powerful floor routine, sticking a handspring + front double pike!
Watch that routine here.
Al Fong and his wife and co-coach,
Armine Fong
, groomed
Terin Humphrey
and
Courtney McCool
to win silver medals in Athens, earning Al and his wife the title of USA Gymnastics' 2004 Coach of the Year.
Could Finnegan and Dowell be the McCool and Humphrey of the 2012 Olympic Games? Anything can happen, and they're off to a great start.