The Olympic selection process for the U.S. men begins this week at the 2012 Visa Championships. Defending champion Danell Leyva aims to reclaim the title and solidify a spot on the London team. The U.S. men took home a bronze medal at the 2011 World Championships, missing the silver by just .010. Leyva hopes the team can improve upon that result at the Olympics. With several athletes not quite peaked yet, and a number of specialists making strong cases for themselves, the five-member team will begin to come together in St. Louis.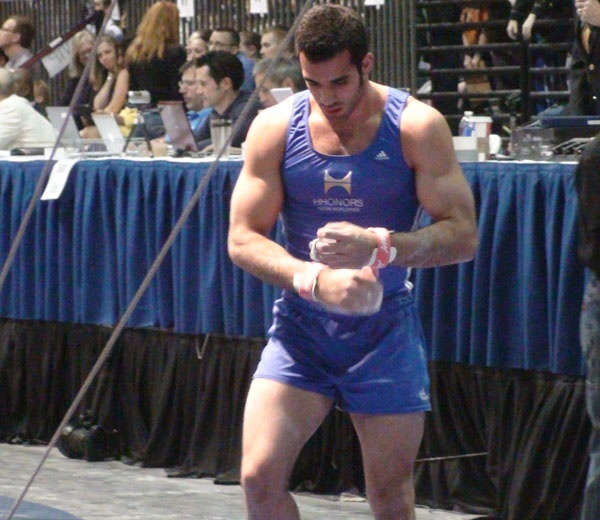 Since winning Visa's last year, Leyva has become the world champion on parallel bars and picked up the American Cup title in March. Leyva has beefed up his difficulty for the Olympic year, upgrading his routines on p-bars (6.6) pommel horse (6.0) and floor (6.3) in an effort to defend his national title in St. Louis.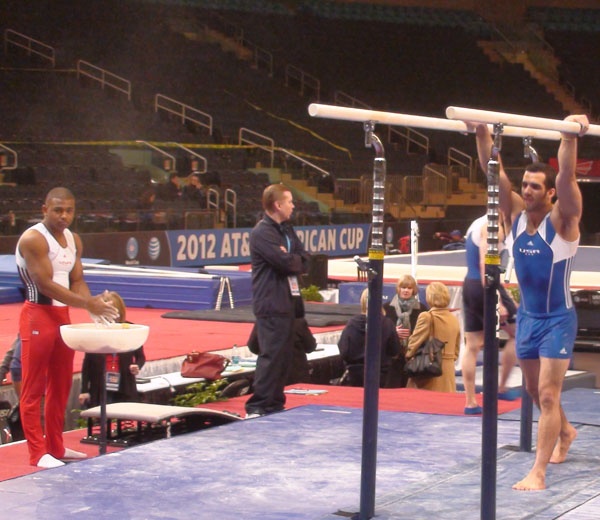 Leyva's toughest competition may likely come from Worlds teammate John Orozco, who placed third at last year's Visa Championships. Orozco finished fifth in the all-around in Tokyo, also advancing to the high bar final. A high scorer across multiple events, Orozco was this year's Winter Cup champion and his strength on pommel horse helps the U.S. on its weakest event.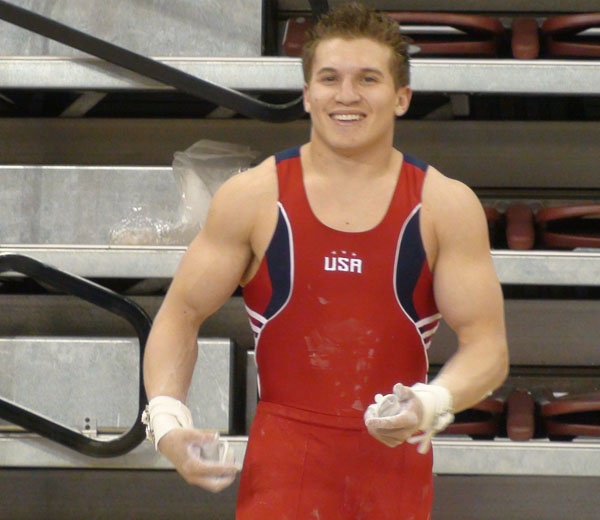 2008 Olympian Jonathan Horton still has to prove his readiness to earn a trip to his second Olympics, after injuring his foot at last year's World Championships. While competing vault in the team final, Horton tore ligaments in his left foot, requiring surgery in October. When healthy, Horton is one of America's best all-arounders, with exceptional skills on rings, vault and high bar. Last year, Horton finished second to Leyva at the Visa Championships, notching top three finishes on rings and vault. At the 2008 Olympics, Horton brought home the silver medal on high bar, along with a team bronze. He is the only member of the Beijing squad that is making a bid for London.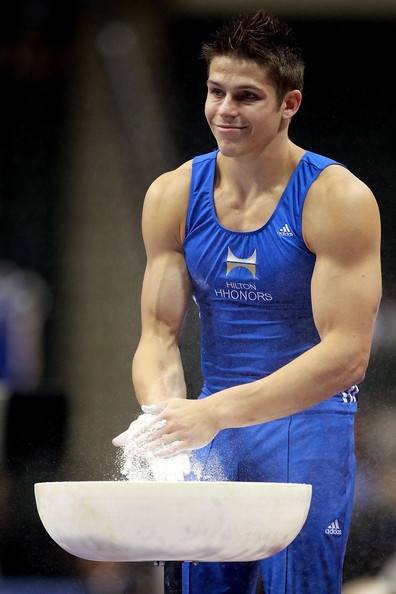 2011 World team alternate Chris Brooks has made strides since last year's Visa Championships, where he finished fourth in the all-around and second on high bar, trailing only Leyva on that event. Brooks has had a successful spring, winning the all-around and leading the U.S. team to gold at the Pacific Rim Championships in March. He also won the still rings (15.075) and high bar (15.45) titles at that event, along with attempting a new 7.0 vault (handspring double pike). If Brooks can master that vault, it would help his chances of making the London team. A solid gymnast with no big weaknesses, don't be surprised to see Brooks finish near the top in St. Louis.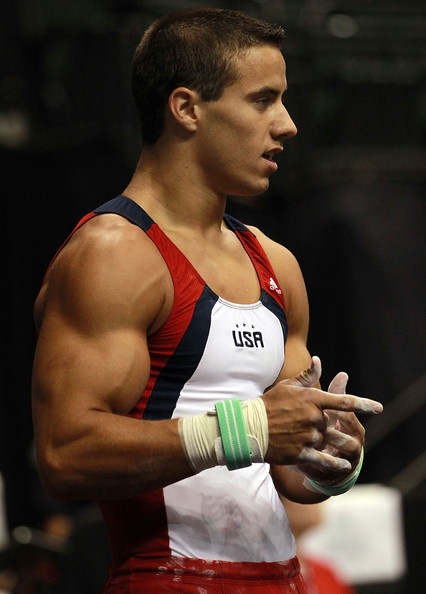 NCAA star Jake Dalton's success at the collegiate level has translated to international competition, and he is a top contender for the London Olympic team. The vault and floor champion from last year's Visa Championships, Dalton cleaned up at the NCAA Championships in April, winning the all-around and parallel bars titles, and notching top three finishes on floor exercise, still rings and high bar, as well as finishing second with his team, the University of Oklahoma Sooners. A 2011 World team member and floor finalist, Dalton competed alongside Brooks at the Pacific Rim Championships, winning the floor exercise and tying for third place in the all-around.
Sam Mikulak was hot on Brooks's heels at the Pacific Rim Championships, finishing just .05 shy of the all-around winner. Mikulak's strongest pieces are vault, floor and high bar, and he finished second all-around to Dalton at the NCAA Championships. If not for a mistake on pommel horse, Mikulak may well have repeated his all-around victory from 2011. If Mikulak can max out his strengths, he could be a force in St. Louis and possibly make it onto the Olympic team.
As the U.S. has a weakness on pommel horse, it is possible, maybe even likely, that a gymnast will be brought solely to compete pommels. Gymnasts who will look to set themselves apart on pommel horse at the Visa Championships include 2011 World team member Alex Naddour, whose accolades include winning pommel horse at last year's Visa's and winning back-to-back NCAA titles on the event from 2010-11. Also able to fill that role is Glen Ishino, the 2010 Visa Champion on pommels, who has recorded wins at this year's Winter Cup Challenge and NCAA Championships.
Other athletes who could factor into the London picture include 2011 World team member Steven Legendre, who finished fifth on floor exercise in Tokyo and is also capable of hitting a Dragulescu vault (handspring double front 1/2). Eddie Penev is another gymnast training an extremely difficult vault, the Li Xiaopeng (half on-front 2 1/2 twist off), which carries a difficulty rating of 7.2.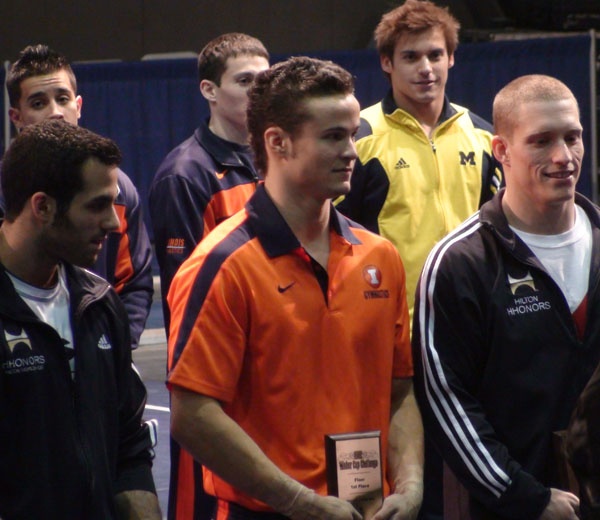 University of Illinois teammates Paul Ruggeri and C.J. Maestas are coming off of helping win their school's first NCAA title since 1989. Ruggeri is a fine gymnast, capable of hanging with the best in the nation on several events, but he'll have to prove his consistency in St. Louis to make it to London. Maestas clinched the NCAA Championship for the Illini with his still rings routine, an event he went on to claim the NCAA title on. Maestas's potential to score well on pommel horse gives him an outside shot at making the London team.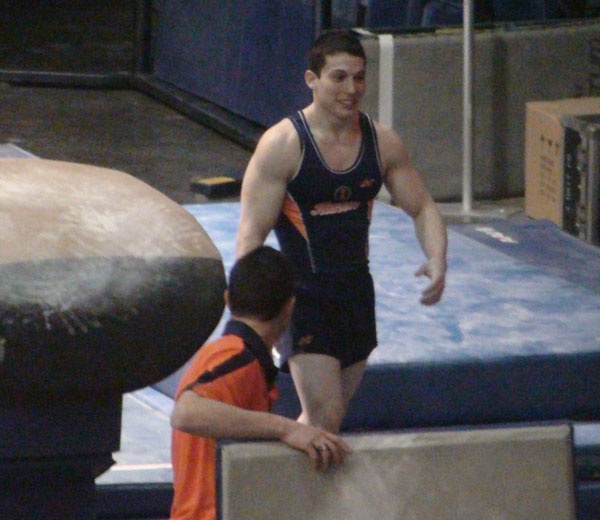 Also in the discussion is 2008 National All-Around Champion David Sender, who missed out on the 2008 Olympics after he sustained a freak ankle injury at the Olympic Trials. Sender rolled his ankle while casually jumping to tap the high bar, costing him an almost guaranteed spot on the Beijing Olympic team. Sender put himself back on the map at this year's Winter Cup, where he placed second on vault and third on still rings.
Follow the action of the 2012 Visa Championships on Gymnastike, starting Wednesday with podium training updates. The senior men's competition begins Thursday at 6:30 p.m. EST. Click HERE for links to coverage, meet schedules and more.