This is the first part of a two part series on the 2012 Olympic Trials. Gymnastike will be bringing you an analysis of each of the four events in women's gymnastics. This series will include who has been doing the best, the worst and how their routines could possibly contribute to the 2012 Olympic Team. In the first part of the series we will be discussing the vault and uneven bars.


World Vault Champion, McKayla Maroney didn't compete at the second day of the Visa Championships due to an injury she sustained early in the day during her warm-up on floor. Maroney fell on her 3 ½ twist pass and landed on her back. The fall caused her to slam her head against the floor and be taken to the hospital before day two of competition began. She was later diagnosed with a mild concussion and a nasal fracture. Even though she did not compete, Maroney petitioned her way to Olympic trials and a spot on the national team. Currently, Maroney has begun training in the gym again for Olympic Trials, which are only a short week away. It is safe to say Maroney's Amanar vault is the best on the national team, but that alone will not earn her ticket to London. Martha Karolyi has stated that in order for an athlete to be considered they must be ready on at least two events.

The 2012 defending national champion Jordyn Wieber also has an Amanar. On day one of the 2012 Visa Championships, Wieber performed the vault and had a scary lock-legged landing. Landings like that remind viewers of a similar scary vault landing Rebecca Bross had at the 2011 Visa Championships, where she dislocated her kneecap. Aside from this landing, Wieber has shown consistency on this event, but must execute it well at the Olympic Trials if she hopes to place first in the all-around.

Hot on Wieber's trail is Gabby Douglas who placed second in the all-around this year at the Visa Championships. Douglas also competes an Amanar, which is an important factor that keeps her in the all-around run with Wieber. Though she can perform this vault well, she has been less consistent during competitions. If she were to earn one of the highest scores on this event, it could be one of the contributing factors to push Douglas past Wieber in the all-around battle.

Kyla Ross also performs the vault, but had it watered down at Visa's for safety precautions and performed a double twisting Yurchenko. Will we see her Amanar at Olympic Trials? Underdog Elizabeth Price competes the same Amanar vault, but has a powerful block that propels her high into the air, making her vault stand out among the others. Price's vault is her highest scoring event and would be the most valuable to the 2012 Olympic Team.

2008 Olympian Alicia Sacramone is competing a different vault than the Amanar called a Rudi (handspring 1 ½ twist). Sacramone took first in the event at Visa Championships. She has been training a handspring double twist, but is more likely to continue performing the Rudi. If Sacramone wants a shot at the Olympic Team, she must show strength on every event she competes on.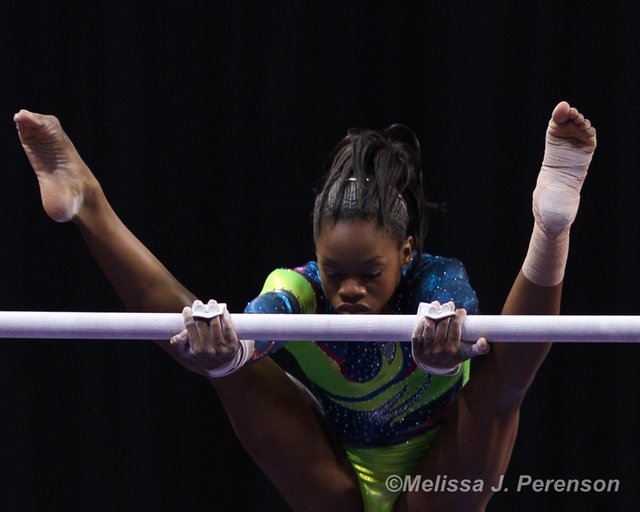 The uneven bars are an event that the U.S. has recently had trouble with. During the 2008 Olympics, Nastia Liukin won the silver medal on the uneven bars. She was said to have one of the best routines in the world. After not competing for three years, Liukin is back and fighting for a spot on the 2012 Olympic Team. Going without training for so long has made it difficult for her to compete a full bar routine. We didn't see her compete on the uneven bars at the Secret Classic and she couldn't put together a full routine for Visa Championships either. Gymnastics fans remember how Liukin's bar routine used to light up the stage in previous years, but will we ever see this happen again? She must not only perform a full routine at the Olympic Trials, but needs to show consistency and excellence.

Currently, one of the best bar workers in the running for the Olympic Team is Gabby Douglas. Martha Karolyi has named her the "flying squirrel" because of the height she gets on her release skills. This is easily Douglas' strongest event and her score at trials will be a huge contribution to her competition with Wieber in the all-around.

First year senior Kyla Ross has shown consistency on the uneven bars and placed just behind Douglas in the event at Visa Championships. Ross' routines are very clean and little deductions are made, making her scores fairly high. She surpassed all-around champion Jordyn Wieber and bar specialist Anna Li at the Visa Championships scoring a 15.5 and a 15.35.
Not to be overlooked, Anna Li added an upgraded dismount (full-twisting double layout) to her routine day two of Visa Championships placing her in third. Her continued upgrades on the bars will keep her in the running with the best, but she will need to prove herself to Martha Karolyi on more than just one event. Will we see more upgrades from Li on this event?

Right behind Li in fourth place was Rebecca Bross. What sets Bross' routines apart from others is the fact that she always has clean handstands in her pirouettes. She performs difficult inside stalders, connecting them to turns. Competing on only the bars and beam, it is crucial for Bross to show consistency and difficulty on both events.

2008 Olympian Bridget Sloan is competing in the all-around hoping to find her spot on the Olympic Team. With such high competition on the uneven bars, Sloan is going to have to boost her scores in order to be considered a bar worker for the 2012 Olympic Team. Front runner on the event, Gabby Douglas is scoring almost a point higher than Sloan. She must show consistency and receive higher scores to be in the running with the best on this event.