What do UCLA, Pamela Anderson and an Olympic dream have in common? They are all factors that combined to help 25-year-old Mohini Bhardwaj show up at the 2004 Olympic Trials and give the performance of her life.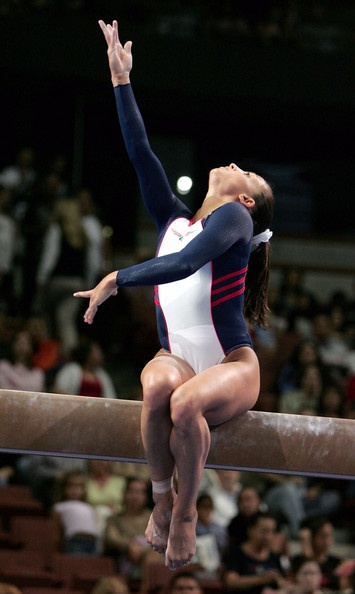 Copyright Jed Jacobsohn
Bhardwaj's resume dulled in comparison to some of the stars that were on hand in Anaheim. She wasn't an Olympian or a World Champion. Her four NCAA titles at UCLA carried little weight in the Olympic arena. She hadn't even competed internationally since 2001, where she won a bronze medal with the U.S. team at the World Championships. She then retired in 2002 due to injury.
Bhardwaj modestly returned to competition at the 2004 U.S. Nationals, and with an underwhelming performance finished 12th, barely making the cut for Olympic Trials. To say she was on the radar for an Olympic berth at that time would've been an overstatement.
It was all the more shocking, then, when Bhardwaj showed up in Anaheim looking like a rock star. And she brought a star with her, too. Actress Pamela Anderson was in the crowd both nights, cheering Bhardwaj on with a sign reading "Go Mo!" The former Baywatch star had visited Bhardwaj's gym in Los Angeles and heard about her financial struggles training for the Olympics. Anderson wrote a check for $20,000 to help ease the stress.
Anderson's support was not in vain. Bhardwaj stormed back into the conversation at the Trials, hitting eight-for-eight routines in style. She nailed effortless double-twisting Yurchenko vaults, scoring 9.6 both nights. Her uneven bars were dynamic and exciting, featuring her signature skill, a full-twisting Pak Salto, which now bears her name. Her dismount was a breathtaking full-twisting double layout. Bhardwaj added flair to the skill by completing the twist in the first somersault, opening up to key in on the landing. She stuck the routine on night two, scoring 9.575, the third-highest score on the event.


Her balance beam was solid and workmanlike, with flashes of brilliance (one-arm back handspring to two layouts). The years of competing beam week after week in college paid off, and Bhardwaj's stability on the event would prove valuable in Athens. And on floor, she mounted with a double layout to sky-high punch front.
Bhardwaj ended up finishing sixth all-around, second on vault and fourth on bars. She was invited to the final selection camp, where she was named to the team along with Carly Patterson, Courtney Kupets, Courtney McCool, Terin Humphrey and Annia Hatch.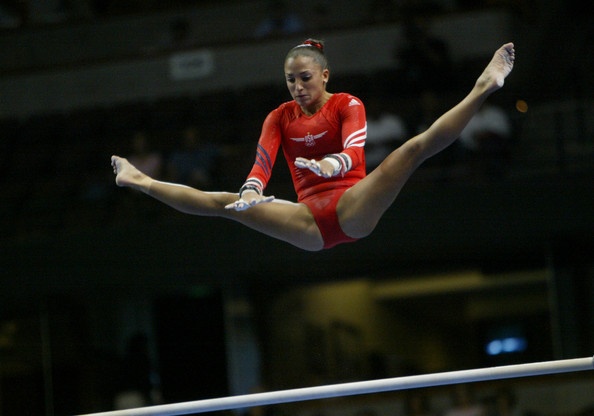 Copyright Stephen Dunn

Mohini Bhardwaj's performance was memorable for many reasons, but most of all because it was a rare moment when all the stars aligned, allowing a gymnast to come out of nowhere in the final weeks and end up on an Olympic team.
In Athens, Bhardwaj's star continued to shine, as she hit every routine on the Olympic stage. In preliminaries, Bhardwaj finished eighth all-around, advancing to the floor exercise final where she placed sixth. In team finals, she was subbed in on beam, replacing an injured Kupets. Bhardwaj came through with a 9.4, also pitching in routines on vault (9.5) and floor (9.325), helping the U.S. to a silver medal.
Don't miss our Memorable Trials Performances from Courtney Kupets and Raj Bhavsar and follow the 2012 Olympic Trials right here on Gymnastike!