This is the final part of a two part series on the 2012 Women's Olympic Trials. This segment will include an analysis of performances on beam and floor, and how individual routines could possibly contribute to the 2012 Olympic Team.

The London team will be comprised of five gymnasts and the selection committee needs three solid, difficult, and well executed routines on each of the four events for the three up, three count Olympic team finals format.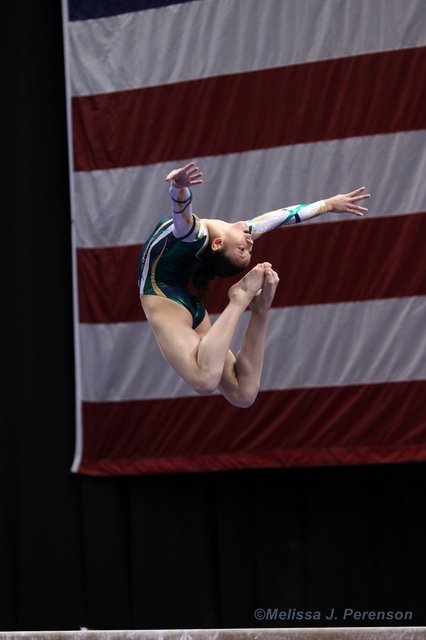 First year senior Kyla Ross executing a perfect sheep jump at Visa Championships
It was one short year ago that we saw Rebecca Bross dislocate her knee cap at the Visa Championships. Bross took our breath away as she fell to the ground whining in pain after the awful landing of her double-twisting Yurchenko vault. The injury was so severe that she has only been able to come back on two events in running for the 2012 Olympic Team. With only having to concentrate on two events, Bross has struggled with her Patterson dismount on the beam. Bross not only fell on this dismount at Classics, but night one of Visa's as well. We can only hope that the training she has had after Visa's will help her consistently perform her routine and land her dismount. Because she is only competing in two events, every routine will count.

Star on the rise, Kyla Ross, has proven to be one of the best in the country on the beam. We have seen a few wobbles and balance checks from Ross earlier in the year, but her confidence has grown immensely. Ross hit her routines at the Visa Championships and showed that she could become a team leader on this event with her clean execution. She earned the highest execution scores on the event, as the only gymnast to total 9.0 execution both nights of competition. With many other strong contenders fighting for a spot in team finals at the 2012 Olympics, this is a must hit routine for Ross if she wants to be considered for the Olympic Team. A combination of consistency, confidence and a well executed routine could land Ross in one of the five spots.

Crowd favorite, Gabby Douglas, must show Martha Karolyi consistency. With a potentially spectacular routine, it is important that she hits all of her skills in order for her to be considered for team finals in London. Douglas' routine has enough difficulty to be competed in finals, but falling at Classics and Visa's does not help her case. Performing two solid beam routines is a must for Douglas if she wants to compete on this event at the Olympics.

Defending World and National Champion, Jordyn Wieber, finished 5th in the World beam finals last year and has put together a new routine with new connections this year. These connections have proved to be a struggle for her at times, missing a few at the Visa Championships. We don't see Wieber's confidence shaken very often, but missing connections seemed to affect the rest of her routine. Though she had slight troubles at Visa's, Wieber showed her typical solid performance on the event at Classic's. Going into Trials she needs to regain her confidence and continue to show her consistency.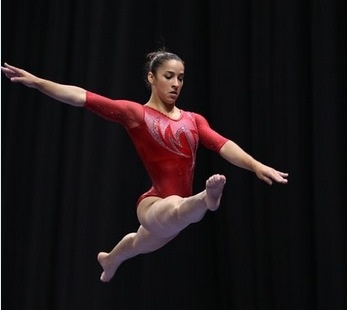 National beam and floor Champion Aly Raisman performing her beam set in St Louis

Aly Raisman has been the most reliable on this event out of all the contenders. She earned the national beam title this year and contributed a great beam set in team finals at Worlds in 2011, then just missed a World event finals medal, finishing fourth. She has shown improvement this year by presenting better form and making her connections even smoother. Raisman always scores high due to the difficulty in her routine (6.50 D score) and always executes to her highest ability. Keeping her confidence high and her performances consistent will put her in the top competitors fighting for a spot in event finals in London.

2008 Olympian Nastia Liukin has come back after three years off from competition and gave her fans the spark they all saw during her beam routines in Beijing. She has proven that she can be ready and do great things for team U.S.A. in London on the beam, but she still has a bar routine that looks nowhere near ready for the Olympics. Watching Nastia perform well on the beam gives us hope that she will be able to come back just as well on the uneven bars, which will be her key to London.

Another 2008 Olympian, Alicia Sacramone, has been named the "Honey Badger" of the 2012 Olympic hopefuls. Every year Sacramone seems to look more comfortable and confident on the event. Her improvement has really shown and the rhythm she presents during her routine makes it captivating to watch. In an interview with Gymnastike, Sacramone told us that her start scores at Visa's weren't as high as they could be. She decided to play it safe and not do all the connections she is capable of. We can only hope that we will be seeing bigger and better things from Sacramone at Olympic Trials.

Sometimes overlooked, Sarah Finnegan, has one of the highest D scores in the world on this event (6.90). She was leading on the beam at the Visa Championships this year after night one and could be competing with the best if she shows consistency. Finnegan's routine is so difficult that she has trouble nailing every skill to put together a solid routine. Consistency is the key for Finnegan on this event. She will need to find a balance between difficulty and execution in order to be considered for event finals in London.

2011 World Team member Sabrina Vega's best event is the beam, where she competed in team finals at the World Championships last year. She is known for showing consistency with her routines.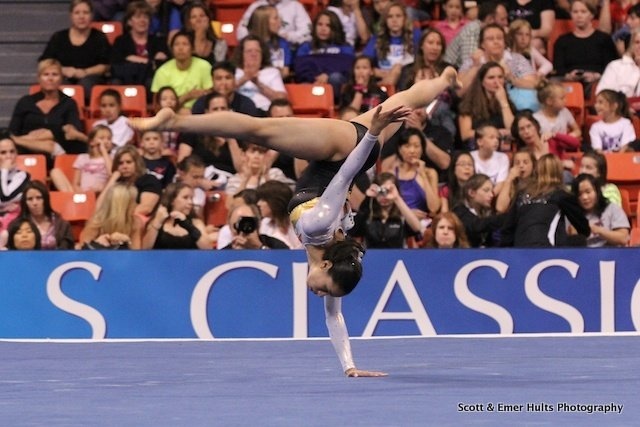 Sabrina Vega on floor at the 2012 Secret US Classic

On to floor exercise, Aly Raisman is no doubt one of the best in the world on the event and easily secured the 2012 National title with scores well over 15. She advanced to the World event finals in both 2010 and 2011, winning the bronze last year. Raisman's first pass will grab your attention, performing a 1 ½ through to double Arabian, punching to a layout. She carries the highest D score of the national team at 6.50. Her routine shows off the immense power she has in each tumbling skill and it is a rare occasion to see her miss any skill or any landing.

Underdog, Elizabeth Price, also has huge tumbling in her routine on floor. In an interview with Martha Karolyi, she said that Price had the "best double-double in the world". We spoke with Price last week and found out more interesting facts about her double double pass and other tumbling skills. Her routines will leave you in amazement. Price defines power and strength on this event.

Having two strong performances on this event will only help McKayla Maroney in her quest to reach London. She obviously could make a huge contribution to team U.S.A. on the vault, but Karolyi wants each Olympic hopeful to have solid routines on at least two events. Last year, Maroney competed in team finals at Worlds and hit a well executed routine. She has the capability of being a contributor on this event, but during warm-ups on the second day of Visa's Maroney suffered a mild concussion from landing on her back coming out of her 3 ½ twist. She has also had trouble with her third pass (1 ½ through to double back). Maroney underrotated night one at Visa's propelling her forward on her landing and has consistently had trouble keeping the double back in bounds. Some questions left lingering after her injury: Will she continue to improve on this event?, Will she change her third pass? and Will she continue to do her 3 ½ twist?

There has been talk of former World Floor Champion Alicia Sacramone wanting to compete the floor exercise in 2012. This would be a huge shock to most gymnastics fans after sustaining an Achilles tear injury in October. At Visa Championships, she stated that she can perform all of her passes but had yet to put together a full routine. In the past, Sacramone has had beautiful routines, but has struggled with her landings, often going out of bounds. Will she compete in the floor exercise at the Olympic Trials?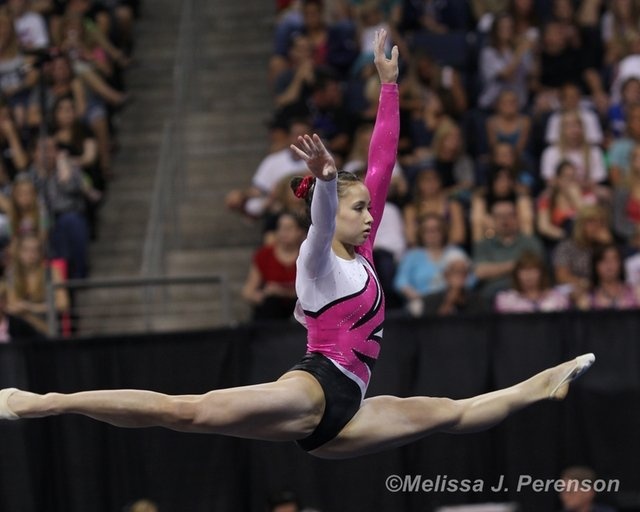 Sarah Finnegan on floor at the 2012 Visa Championships

Sarah Finnegan could be categorized in the top three competitors in the U.S on this event. She is outstanding on the floor and has a very artistic and attractive routine. Martha Karolyi has expressed her liking of Finnegan's "international look", but she needs to bring confidence to her routine. Her routine has huge, high scoring tumbling passes, which makes it hard to be consistent in every performance. Finnegan's beautiful GAGE choreography combined with huge passes such as her whip immediate double Arabian make her one to watch on this event.

Gabby Douglas has a strong floor routine and really proved what she was capable of doing at Visa's on night two. She can be a contender for event finals if she shows consistency and executes her routines as well as she did at Visa Championships, scoring a 15.30 (6.10/9.20). Douglas' needs to work on sticking her landings, which in combination with a few other errors have hurt her score in the past. Merging stuck landings with confidence will help push Douglas to the top on this event.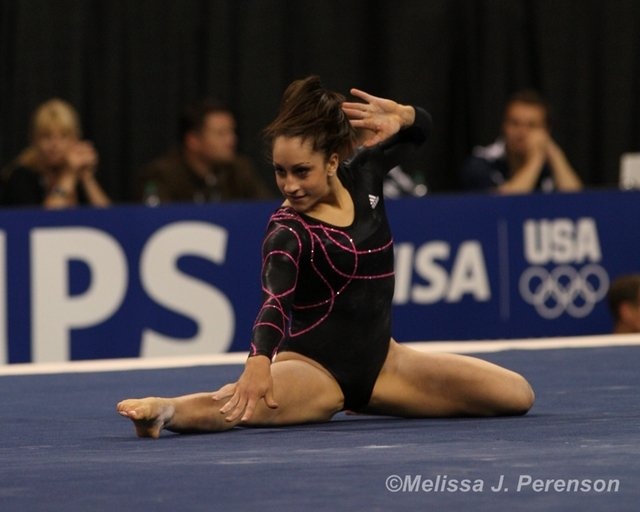 It is rare to see Jordyn Wieber falter on the floor exercise. She has extreme difficulty in her tumbling passes, opening with a big tucked double-double, followed by a cleanly executed triple twist. She would be a huge contribution for the U.S. on the floor in London and is able to score so well each time she performs. Wieber competed in event finals at 2011 Worlds and always has great stuck landings. The floor exercise is one of Wieber's strongest events.

2008 Olympian Bridget Sloan executes clean tumbling passes on the floor, but she has trouble with her landings. The tumbling passes themselves are very pretty, but she tends to take multiple steps on her landings causing big deductions. This is one her best events, but Sloan needs to stick her landings on every pass in order to boost her scores.

Brenna Dowell is the only one out of the Olympic Hopefuls to perform a double front and the rare pike double front. She is consistent with her passes and has clean landings. Dowell's front tumbling is original and captures your attention because you don't see it done that often.

Kennedy Baker has fun choreography that energizes the arena. She performs a huge pike double Arabian and a 1 ½ to double Arabian. Following in the footsteps of her coach, Kim Zmeskal, Baker's powerful routine excites the crowd.

Sabrina Vega has a pretty, artistic routine. Her choreography shows grace and beauty. This is traditionally another one of her best events. She placed third on the floor at Classics.