Gymnastike was on-site in San Jose's HP Pavillion providing quick hits and commentary of the 2012 Olympic Trials. To relive the men's final night of competition, read below. To read in chronological order begin at the bottom of the page.

For more coverage of the Olympic Trials click here.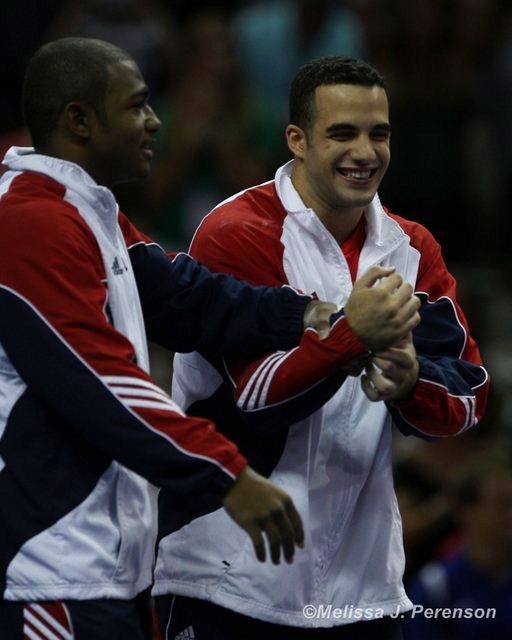 INTERVIEW: Mikulak happy with pommels, his final Olympic bid. bit.ly/N8rKKP
RT @legendz50 So relieved that is over! Happy with how today went and proud of all the guys. USA is one hell of a team, that i know!
From sleeping in a car to becoming an Olympian...John Orozco. bit.ly/O4uewv
@jake_dalton Jake Dalton on getting pumped up by the crowd and revealing his second vault - bit.ly/N1JLsm
@danelljleyva Danell Leyva, Officially an Olympian - bit.ly/N1JLbS
@J_Horton11 Jonathan Horton Frustrated with his Olympic Trials finish - bit.ly/N1JIg6
@RuggeriIII Paul Ruggeri on improving his mental game and hoping for an alternate position - bit.ly/N4qIkN
@cbrooks_wpr Chris Brooks Happy with his Finish at Trials - bit.ly/N4qJ8r
INTERVIEW: Alex Naddour talks about the risk/reward of his pommel horse upgrades. bit.ly/N4qx95
@MaestasCJ CJ Maestas on having a blast at trials and what he listens to on his giant headphones - bit.ly/MJQHyx
RT @AllFlippedOut And GREAT job @cbrooks_wpr!!! You finished like a beast tonight!!!
Full recap of Men's Finals bit.ly/N823tY
1 Leyva, 2 Orozco, 3 Horton 4T Brooks & Dalton, 6 Ruggeri, 7 Maestas, 8 Legendre. That's it!!
Danell is hugging everyone! What an awesome day for him
Huge score for @DanellJLeyva - 15.85 (6.60/9.25), even with changing around his routine
Legendre FX: stuck front double full+double front. incredible. Great hypolito. This is excellent. Arabian double pike. Amazing routine
And @DanellJLeyva is an OLYMPIAN! Congrats!!
Leyva PB: seems to have changed up the sequence of his routine. I'm confused - he seems cool and calm! He hits. And that should do it!
Leyva up for the win!... #SanJose2012
Legendre is next on FX, his key event. He needs the routine of his life. Are you nervous?!?
Horton FX: Wild back 2.5+front full. Landed off to the side and oob. Should still be good for the team and solid in 3rd place AA. Full in dismount.
RT @USAGym USA Gymnastics President Steve Penny just told us Orozco had a cramp in his hand but is fine.
RT @StickItMedia If @jake_dalton isn't a lock for the team…
Aww Sender fell on his rings dismount... the last skill he may ever compete. But he pulls it together and waves to the crowd, who loves him
This crowd is awesome! Deafening screams for Jake Dalton as he set up for his last pass. And a big score for Jake - 16.0 (6.60/9.40)
Jake Dalton continued his strong case for the Olympic team w/ a powerful & clean FX set! Amazing laid out dbl arabian. Great triple dismount
Leyva needs higher than a 14.90 on PB to take the lead from Orozco and head to London as USA's #1. He scored 15.70 night 1.
Score for Orozco PB is 14.35 (6.50/7.85). Over a point lower than his night 1 score. He's getting his hand looked at now
Crowd loves Ruggeri's deltchev on rings. Nice landing on front double pike dismount and a wave to the crowd. He's happy with that
Paul Hamm is in the house. He's down on the sidelines with Raj Bhavsar watching p bars
Orozco PB: error on peach half, oh no! Good save, he kipped back up. Will loose on SV. Tippelt. Clean dismount. Grabbing his finger. Possibly jammed it?
Mastas hit rings, grabbed his chest and says "Thank God!". Big smile
Hit routine for Brooks and he lets out a big roar. Happy to see him end the night on a high note. He was in 4th heading into this rotation
Brooks FX: huge handspring piked double front. Double front 2nd pass. back 2.5+front full side pass. Front double full last pass.
1 to go: 1 Orozco, 2 Leyva, 3 Horton, 4 Brooks, 5 Dalton, 6 Ruggeri, 7 Maestas, 8 Legendre. #SanJose2012
It's going to be a battle in the final rotation! Leyva trails Orozco by 0.550. And he is the reigning WORLD Champ on this event.
It's the final rotation at #SanJose2012. These will be the final competition routines of the year for many of these guys. Pressure's on.
Leyva VT 15.65 (6.20/9.45). He still trails Orozco heading into final event, his specialty - P Bars.
Horton HB: 1arm giant. cassina on! piked kovacs, kohlman. awesome. rybalko. oops, back doored tak full. yamawaki. Stuck full twisting dbl lay!
Danell Leyva watered down his vault tonight - just a tsuk double twist. He'll loose 4 tenths on the start value. It was done cleanly
Darn. Fall for Sender on PH. Really just want to see him enjoy his final meet. Hope he kills it on rings.
Brooks 15.750 on HB (6.70/9.050). Nice
I believe that's the first fall we've seen from Wynn in San Jose.
Wynn VT: handspring double front way over rotated, flew into a forward roll. The reporter next me strangely laughed out loud. "He fell with style!", he said.


RT @DavidKuzara Orozco has a knack for relaxing as he lands and getting his body aligned resulting in a stick #CatLike #HeIsTheMan
Brooks on the sidelines to Horton, "I'm telling you man, you're going to have to kill me to get me off [the event]"
Massive 16.050 on VT (6.60/9.45). Well done. Maestas 14.35 on PH
Brooks HB; 1arm giant. tak full+yamawaki+gienger, nice! tak half+layout tkatchev, tkatchev half. Big double double. Yes!
Orozco VT: HOW does he do that? Little to no block, whips around 2 twists, oh and then STICKS it!
Mikulak scores 14.40 on PH. Not the huge score he needed, but still good. (6.0/8.40)
Legendre HB: piked kovacs, tucked kovacs. hop full. Huge triple back!
BIG HIT from @SamuelMikulak on pommel horse. Wow. That was a big test for him. Lots of crowd support
Orozco's 15.350 on rings puts him in the lead ahead of Leyva by 0.150.
Dalton closed out rotation 4 with a very clean PB routine. He's looking good!
Wynn 15.30 on SR (6.70/8.60). He's in 2nd on the event behind @J_Horton11
That says a lot! RT @AAinsworthNBC Orozco posted a higher score on rings than Wynn...
Naddour off the p bars on Diamadov. Strange to see. Everything else was great
Brooks 15.60 PB (6.50/9.10). Sender 13.45 on FX
Sender put together a scrappy FX routine. He's been battling a nerve damage injury which cut back on his training time. Stayed on his feet
Brooks PB: Horton is living this routine down on the floor! Remember he fell here night 1. Big front 1 3/4. stutz. Easy double front. Great job.
Orozco's rings routine looked effortless, right down to the 1.5 twisting double tuck - stuck cold.
Ruggeri FX: awesome laid out double arabian mount. Clean back 2.5+front full. Triple dismount. And a big smile! Great routine.
Legendre PB: consistent, hit routine. Back toss into double pike dismount.
Yikes! Glen Ishino peeled off rings. Very scary. Luckily he is just fine, and back up on the event
Maestas FX: big double double mount. Big tumbling and quick combo twisting. Full in mount. Young guy, should be a big contender in 2016
Horton PB: belle. peach half. piked belle. tippelt. another high belle. stutz to double pike. Good routine!
Danell Leyva delivered another big performance. Clean through rings with a stuck dismount. Horton next on PB
Another hit set for Buscaglia - big tumbling on FX. Clean double arabian dismount
After 21: 1 Leyva 322.150, 2 Orozco 321.650, 3 Horton 316.450, 4 Dalton, 5 Brooks, 6 Ruggeri, 7 Ishino, 8 Maestas, 9 Buscaglia, 10 Legendre
Illini grad @Paul_Ruggeri killed his signature HB routine! 15.90 (6.80/9.10). One of the most exciting routines out here
Naddour VT: a light jog into a handspring front double full. That's it for rotation 3
John Orozco clean through his PH dismount today and scored a big 14.95 (6.40/8.55). Orozco and Leyva are well matched.
The guy having the most fun out here - @MaestasCj. Wonder if he ate his jar of pickles today??
16.350 for Brooks. 7.0/9.35. Tied with Jake Dalton
Brooks VT: Handspring double pike - NAILED IT! Landed right down the middle, upright landing, small hop. Awesome, @cbrooks_wpr
Buscaglia 15.80 on HB (7.10/8.70), Ishino 14.90 on PH (6.20/8.70). Legendre 15.50 VT (7.0/8.50)
Legendre VT: incredible, almost over rotated a Dragulescu. Many quick steps back and off the mat. That's legit. Unfortunately, it's also a big deduction
Danell Leyva nailed PH for a 14.90 (6.0/8.90). That's a big score for Team USA. And he beat Naddour by a tenth tonight!
Buscaglia HB: clean liukin, connected to gienger. crazy! textbook hop full. Big dismount. Love that routine
Dalton scored 16.35 (7.0/9.35). E should've been higher..
Sender HB: fall on kohlman. Bummer. Finished with a stuck double double. Durante says he will retire after tonight
Jake Dalton stuck tsuk triple!! Wha?!? @jake_dalton
Josh Dixon started out rotation 3 with beautiful flare work on pommel horse and a hit routine
Chris Brooks rallied back with a hit rings routine and very controlled 1.5 twisting double tuck dismount. Thats it for rotation 2
Legendre 14.550 on SR (6.0/8.55). Maestas 14.75 PB (6.0/8.75)
Orozco FX: piked double arabian mount. Crowd loves his flares sequence. Stuck 2.5 dismount. Solid.
Maestas PB: Haha, he actually smiled during his mount. belle. tippelt. Quick, hit routine
Horton scored identical to night 1 on SR - 15.45 (6.70/8.75). Buscaglia 14.90 PB (6.10/8.80)
Buscaglia PB: fantastic routine. Many variations of belles and a front 1 3/4. Lots of cheers from the crowd, namely the Stanford cheering section.
Horton SR: cool, calm, and STRONG. Big routine. Stuck double double!
Leyva FX: huge double double laid out. Fell out of his strength hold, weird. A few foot shuffles on landings. Big double layout dismount
Great PB set for David Sender and a huge smile
Dalton SR: another hit set. Stuck double double. If needed, he could compete SR in team finals...
Naddour 14.85 on SR (6.10/8.75), Wynn 14.80 FX, Ruggeri 15.050 on PB (6.0/9.050)
Dixon FX: love the front 2.5 twist 2nd pass, so unique. Stuck front double full+barani. Giant double arabian dismount
Ruggeri PB: belle. Front toss. Front 1 3/4. Aggressive work. High double pike dismount, small step
Naddour SR: perfect maltese work. Excellent hit routine for Alex. Big 1.5 twisting double tuck dismount, small hop. Said he was disappointed with his Visa Champs SR scores. Hope they reward him here.
Brandon Wynn clean through floor. Front full+double front mount, stuck 2.5 dismount
Ishino HB: perfect form on kovacs. Smooth 1 arm giant. Laid out double double, and another STICK! That's it for rotation 1
Incredible high bar score for @DanellJLeyva! 16.30 (7.20/9.10)
Leyva HB: Routine of his life. Hit everything, STUCK double double. Yin was also on point with his leg kicks. Huge celebration from Team Leyva and the crowd!
Buscaglia VT: watered it down... yurchenko half on rudi off - he usually does and extra twist. Hop back
Horton hit one of his better routines on pommels. Nice start. Sender scored 16.00 on VT, Dixon 15.150 on HB
Huge routine for Josh Dixon on high bar. Big tkatchev, clean form, stuck full twisting double lay
Sender VT: a casual jog down the runway... yurchenko DOUBLE PIKE! Landed very low but better than night 1. Crazy vault
Naddour PH 14.80 (6.40/8.40), Ruggeri VT 15.55 (6.80/9.050/-0.3). Orozco HB 15.95 (6.70/9.25).
Dalton fell off PH - not a huge deal, US would not use him there.
Wynn HB: wild form on tak full, still connects to a release. Stuck full twisting double lay!
Ruggeri hit vault - yurchenko half on, front double twist off. very difficult
Naddour PH: full kehr - love that. A few small breaks, but a HIT! Haha he kissed the horse before walking off the podium
Naddour is next on pommel horse. He needs a clutch routine to be in the mix for London. No pressure or anything..
John Orozco nailed high bar! Smooth through his releases AND stuck the full twisting double layout! That's a nice way to start!
First routine of the day - Brooks PH: fall... sad to see
RT @USAGym Standings coming into today: 1. Leyva 276.500; 2. Orozco 275.550; 3. Mikulak 274.650; 4. Horton 271.350; 5. Dalton 269.550. #SanJose2012
The crowd is loud and the introductions gave us goosebumps. Time for Olympic Trials FINALS!!
Little girls in the stands love Jon Horton, and ... Coach Yin Alvarez! There's a row of little girls lined up taking his pics & wanting autographs
RT @WillGravesAP USA Gym will average Sam's scores from first 3 days (Visa champs and Thursday) to create score for events he does NOT compete in 2day
According to @USAGym Sam Mikulak will only compete on pommel horse today.