John Geddert is the personal coach to World and US Champion Jordyn Wieber at Gedderts' Twistars USA in Michigan. Below is his latest blog post. For more from Coach John Geddert, visit thegymnasticscoach.com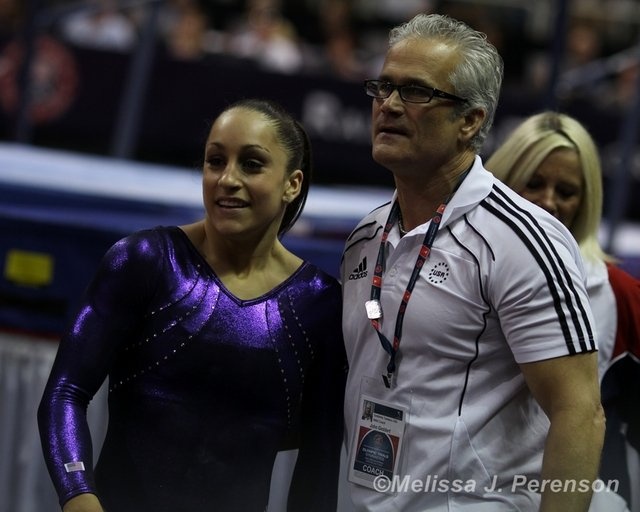 Olympic Trials- Post 4- The Finale
by JOHN GEDDERT on JULY 9, 2012


The delay in the final post from Olympic Trials is directly related to the emotional fog that I have been living in since Sunday night. What an incredible feeling it is! Well not living in a fog but the euphoric feeling that resinates since emerging from it. It is difficult to describe but I am quite sure that there are a number of coaches out there that can relate to accomplishing the incredible after decades of chasing the dream. This sport is a roller coaster, with the highs being addicting and the lows paralyzing. I've experienced both. I prefer the highs. I prefer the high that accompanies placing an athlete on the ultimate team … the USA Olympic Team.
The exceptional crowd from Fridays competition, morphed into the largest ever to witness an Olympic trials event on Sunday. Some say the numbers reached 18,000 but the buzz and excitement could have matched that of an audience twice the size. With John McCready pulling the strings of enthusiasm, the place was simply rocking from start to finish.
Warm ups went well and Jordyn looked to be on her game. The pre meet entertainment was a cirque de sol squad of acrobats. I could do my best to describe their performance but my words could not do it justice. Picture spring board acrobats only without the springboards (a duo of unassuming males simply launched their lighter companions with a crossed arm technique). They flipped and stacked all the way to a 4 man high totem pole. A fitting intro to the women's competition finale.
We started bars. Jordyn was second up so we opted not to do a full routine in our 30 second touch. We did not want to risk not having enough recovery time (an error we made at the Secret Classic). She drilled the routine, which in my biased opinion was better than day one. The judges saw it the same (15.35). This was a bit disheartening and seemed to be the theme of the weekend (improvement not being rewarded). The frustration was amplified when later routines seemed to skate by obvious execution errors. With all said however, it was still one of her highest bar scores ever and we needed to be happy with that and move forward.
Beam has always been a trademark event for Jordyn, especially when big marbles are up for grabs. Although her routine on this night wasn't terrible, it certainly was not indicative of some of her past pressure performances. We may have to reconsider some of the tougher combination bonus skills and trade them for the patented rock solid execution of isolated skills that she has build her reputation on. A 14.9 was the score. Meanwhile Gabby pounded out 2 of her best performances ever on Vault (16) and Bars (15.9). Our .3 lead going into the final night had inverted into a 1.35 deficit in a hurry.
If Jordyn were a baseball player, she would be my choice to bat with the game on the line with 2 out in the bottom of the 9th and you need a home run to pull victory from the clutches of defeat. Floor was nothing less than spectacular, earning her a 15.6 (her highest floor score ever by at least .2). Gabby struggled but fought hard to earn a 14.85 on beam. The gap was .6 going into the last event.
This is where things get a bit maddening. All competition long we had alternated events. Through 7 rotations Squad one would go followed by squad 2, each athlete waiting for their deserved introduction and isolated time to shine. This was the format and something we simply assumed. Assuming this format was intact meant that Jordyn had several minutes to compose herself and ready herself for vault. For some unknown and unannounced reason, NBC started hustling one vaulter after another, 2 or 3 of which didn't even get an introduction. A couple even went while squad B was performing floor. We found ourselves being called to vault far earlier than we were supposed to. My only point being is that this chaotic situation placed athletes at a disadvantage. One of the floor directors stated that NBC was running out of air time. Sorry, not buying that explanation as vaults never take longer than it would take the floor judges to tabulate their score, thus no time was saved by herding athletes through like cattle.
Jordyn needed a "great vault" to pull out a win. I told her she needed at least a 16. She got a 15.8. She needed a 15.9 for a tie and a share of the automatic birth to the Olympics. Gabby won on this night, and she is the deserving champion of the 2012 Olympic trials. She has been a remarkable story and her progress has been astounding. She is a formidable force and will be in chase for the awards podium in London. I have enjoyed watching her skyrocket gymnastics.
The announcement of the team was conducted behind closed doors and without any media presence. USAG has learned from past errors and now know that athletes emotions should not be used for TV drama. I think most in the room pretty much knew that the 5th spot was the only one up for debate. Elizabeth Price showed herself worthy of being an Olympian but if she replaced anyone it would more than likely have been our gold medal world champion vaulter.
While waiting, Bridget Sloan delivered a world class pep talk based on experience and filled with emotion. She had eyes welling up everywhere. When Kathy Kelly and Martha entered the room, some of the athletes grabbed hands and more tears started to flow. Kathy, being the mother that she is, was visibly hating this moment (breaking hearts is not her style). Martha's voice cracked as she tried to speak about the difficulty of the decision. Some would say she actually cried but soon gathered herself to name the team. Immediately the girls were ushered to the arena where Steve Penny was already in the process of announcing the names to a appreciative crowd.
Steamers were launched and confetti cannons blasted red, white and blue paper bits. The thrill of accomplishment lit the faces of the chosen ones while the agony of falling short was painfully etched in the eyes of the other remarkable athletes. The highs and lows of gymnastics illustrated in full living color. I was simply numb.