Gabby Douglas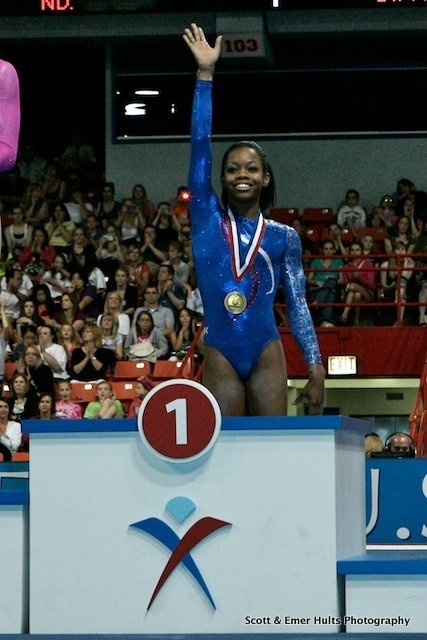 Gabby Douglas is one of the five members on the 2012 U.S. Olympic Team. She is originally from Virginia Beach, Virginia but moved to West Des Moines, Iowa in 2010 to train under Liang Chow. Douglas is part of Chow's Gymnastics and Dance Institute, which is also where 2008 Olympian Shawn Johnson trained. Though Douglas was a first year senior in 2011, she was named to the U.S. World Team that won gold in Tokyo. Individually she tied for fifth on the uneven bars.

Douglas' break out year started when she was chosen to be an alternate for the 2012 American Cup. She had an outstanding performance, totaling the highest all-around score in the competition. In March of this year she took gold on the uneven bars at the Pacific Rim Championships, where the U.S. team earned gold as well. Douglas competed three events at the Secret Classic where she took first in the uneven bars and tied for third on the floor. After day one of the 2012 Visa Championships, Douglas was tied with World Champion Jordyn Wieber, but ended up losing to Wieber by only .2. Her individual successes were placing first on the uneven bars, third on the floor and second in the all-around. Douglas surpassed Wieber at Olympic Trials and earned the automatic spot on the 2012 Olympic Team.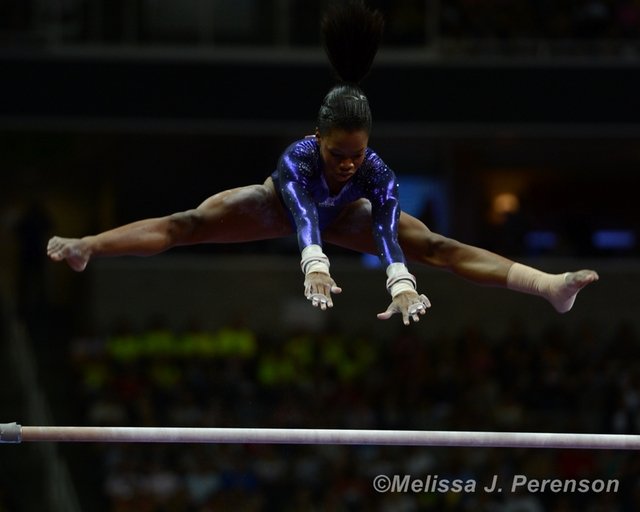 F
un Facts

Gabby lives with a host family in West Des Moines, Iowa.

Her nickname is the "Flying Squirrel" given to her by Martha Karolyi due to the height she gets on her release skills in her uneven bar routine.

Douglas performs an Amanar vault.

She is known for her amplitude on her piked Tkatchev and Tkatchev-Pak combination on the uneven bars.

On the balance beam she performs a standing full and a switch ring leap

On the floor exercise Gabby performs a double arabian to stag leap for her first pass, 1 1/2 to triple full for her second pass, and a full-in for her third pass.


Interview with Gabby after she was named to the 2012 Olympic Team.