Kohei Uchimura, Team Japan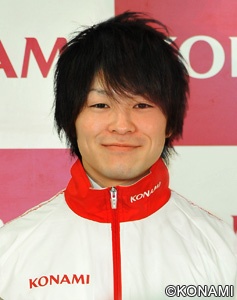 Kohei Uchimura is a two-time Olympic silver medalist and a nine-time World Medalist. He belongs to the KONAMI gymnastics club and trains under head coach Hiroyuki Kato. In 2007, he joined Japan's national team and competed at the national championships in October, placing seventh in the all-around. In 2008, Uchimura competed for Japan at the Olympics in Beijing. Individually he was awarded silver in the all-around competition and also contributed to Japan taking home the team silver. He also qualified for the floor final, where he finished fifth. Winning the silver in the all-around gave Japan its first Olympic medal in the event in 24 years. At the 2009 World Championships, Uchimura won his first gold in the all-around competition, placed fourth on floor and sixth on high bar.

At the 2010 World Championships, Uchimura won gold in the all-around for the second year in a row. He also contributed to Japan's team silver. Individually, he was also awarded silver on the floor exercise and bronze on parallel bars. Uchimura won his third consecutive all-around title at the 2011 World Championships. Not only was he the all-around champion, but he also won gold on the floor exercise, bronze on the high bar and contributed to the team silver medal.

Uchimura will represent Japan in London for his second Olympic run. He enters the competition as a favorite to win the all-around competition and is in contention for medals on floor, pommel horse, parallel bars and high bar. Uchimura has some of the highest D-scores in the world across all six events. He has been known for his mix of high-level difficulty, clean execution and overall natural talent as an all-around competitor. In order to overcome defending World and Olympic champion team China, Japan will rely heavily on Uchimura's performance.

Interesting Facts
His father Kazuhisa Uchimura is a former gymnast and sister Haruhi Uchimura is currently a gymnast.

Uchimura is the first male gymnast to win three consecutive all-around titles. (2009,2010,2011)

He appeared on the cover of the December 2009 issue of International Gymnast Magazine titled "Uchimura Rules".

At the 2011 Worlds, Uchimura was awarded the Longines Prize for Elegance. The prize is given at each World Championships to the male and female gymnasts who demonstrate "the most remarkable elegance".

So far in 2012, Uchimura has the highest all-around score with a 93.300 and D-score total with a 39.3.


Highlights from Uchimura's all-around performance at the 2011 World Championships where he won his third consecutive gold medal.