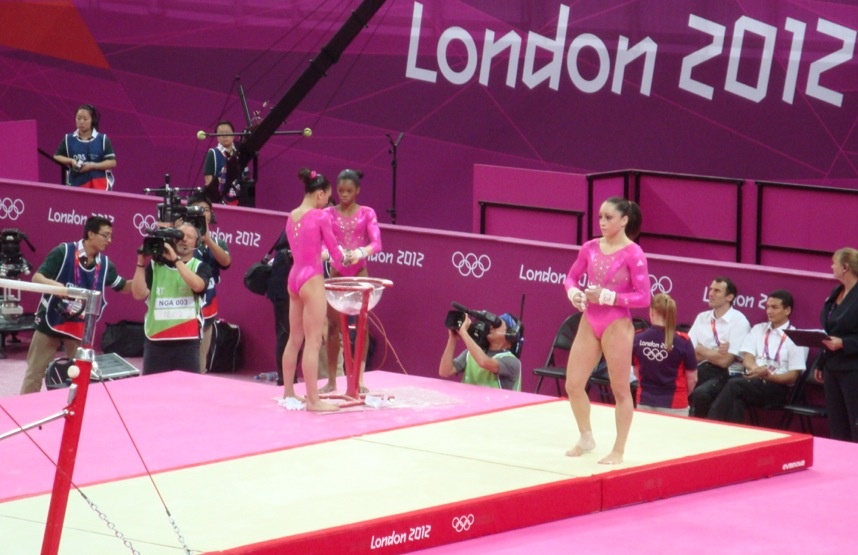 What a day in London! Five subdivisions of the best gymnasts in the world preparing for the biggest competition of their lives. There were so many story lines down on the floor today it's tough to wrap my head around it, but I'll do my best. Here are my top stories from women's 2012 Olympic podium training.
Yamilet Pena Abreu Stood Up the Most Difficult Vault in the World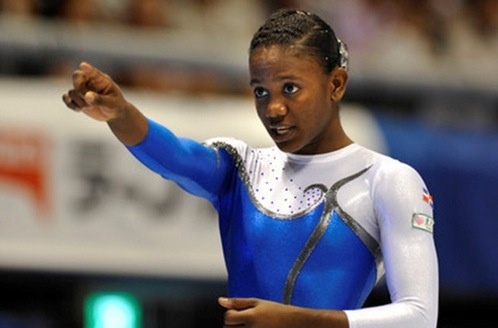 Thinking back on this morning's first session it seems like that was days ago! However, I can not forget the thrill of seeing a female gymnast stand up an incredibly difficult, and slightly terrifying, handspring double front vault. I've seen Pena attempt this vault numerous times and every time I cringe a bit. I've only seen her stand it up once before today - podium training at World Championships last year - and even that one was a bit questionable. I was too far to see if her feet really touched the mat first.
Today's vault was the best I have seen her do. The vault carries a huge 7.10 D score. For comparison, the Amanar vault (2.5 twisting yurchenko that only a handful of gymnasts in the competition will compete) is rated at a 6.50.
If Pena stands up this vault in event finals she will likely get a medal. Her second vault, however, is also questionable. She's upgraded to a double twisting yurchenko, but the form was very untidy in the air, and she fell on 2 of 3 attempts.
Lauren Mitchell Lacked Her "Spark"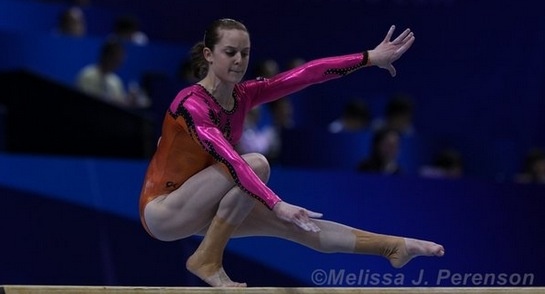 2010 World Floor Champion Lauren Mitchell started off the day with Team Australia on her best event and struggled with her tumbling passes, sitting down whip to double arabian and putting her hands down on a couple piked full ins. Her ankles were heavily wrapped leading me to believe she must be coming back from injury. Mitchell was quick to brush it off though, "I've always got them wrapped like that!", she said with a laugh. Mitchell ended her day looking good on beam, but still not great.
I was impressed with how the 2-time Olympian was able to keep things in perspective after a rough day. "We've come off a hard week and traveling and everything, so I'm not too worried about the falls", she said minutes after walking off the floor. "I think today was pretty good because I've put a lot of pressure on myself to try to be good out there because floor and beam are my best. I'm kind of glad that's out of the way and I can take all that pressure off now and just go out there and do that job that I've been training."
Sometimes people forget how hard these athletes train. When asked what she did to celebrate her 21st birthday, she replied, "two training sessions", with a laugh.
Italians Impressed with Artistry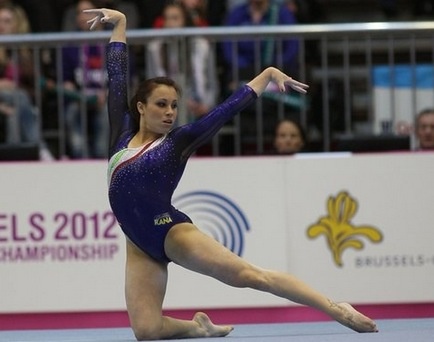 The award for most original, artistic routines goes to the Italians for their unique work on beam and floor. Their beam routines are captivating, really making the effort to interlace pure artistry in-between difficult skills. Elisabetta Preziosa had the highlight beam routine for me. Add to that the power of veteran Vanessa Ferrari and newcomer Erika Fasana, and the Italians are looking good for a spot in event finals.
On a random note, when I asked Fasana who her favorite gymnast was, she quickly replied, "Jordyn Wieber!". I was expecting someone a bit older!
Tweddle is Queen of Uneven Bars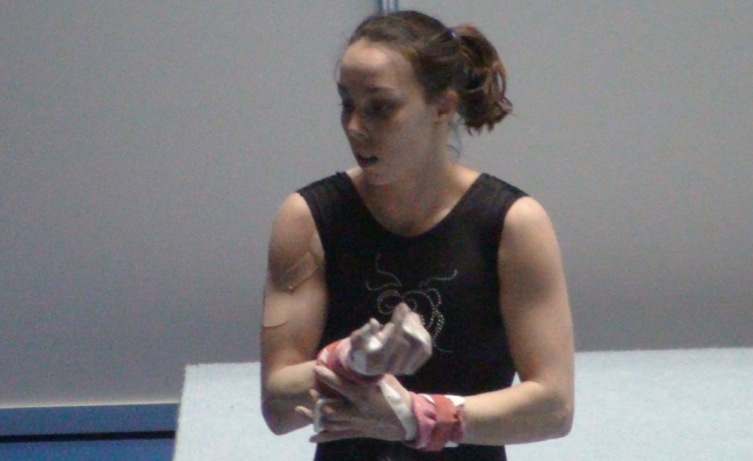 Even though she has yet to win a coveted Olympic medal on this event, she is the best bar worker in the world. She flies through her combinations so quickly that I can't even type them out at the speed she swings. She impressed with an upgraded dismount in her second routine - an incredibly clean tucked double double that she nearly stuck.
Competing in her third Olympics at age 27, she admits the routine is easy for her after years of training. "I can do the routine in my sleep. I'm still not sure which routine I'm doing yet. I have two and I tried out both today and both went well. I've competed both before and I think the judges sometimes wonder what I'm going to do."




China will Contend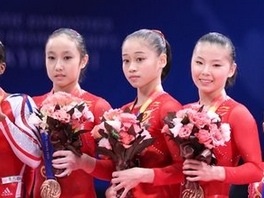 China was a bit of a mystery to me before these Olympics. I hadn't seen much from them since Tokyo, and I wondered if they had the depth to repeat their stellar performance from Beijing. They looked great on their best events, bars and beam. Other than 2011 World floor silver medalist Sui Lu, their floor routines left much to be desired in the tumbling department. The highlight was Sui's perfect whip+triple full+stag jump in her warmup turn. As always, vault will also be a problem. Huang Quishuang was reported to be training an Amanar, however I did not see it today. It was nothing but solid yurchenko double twists from Huang.
2008 Uneven Bars gold medalist He Kexin is back with a chance to defend her title and very well could. She fell on signature release combination in her first routine, but hit the next routine with style. He stated, "I am very grateful to my team and my country to have the opportunity to defend my title and I am confident that I have a chance of gold."
Russia Can Challenge for Gold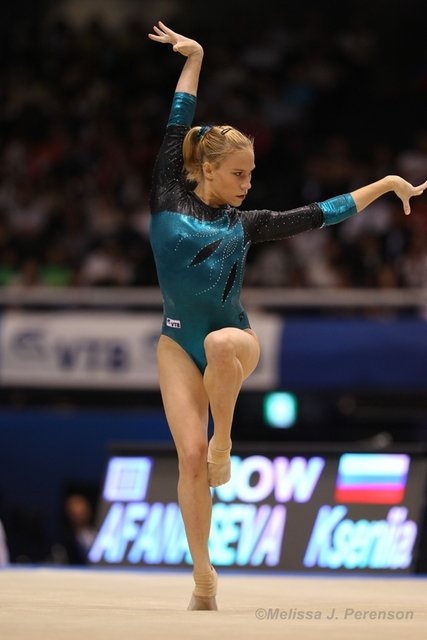 The Russians are known to be inconsistent in training, so one can't carry too much weight on mistakes they make in practice, even though there were quite a few. However, the high points were magnificent. Reigning World floor champion Ksenia Afanasyeva has a new floor routine to music more upbeat than last year. The middle part of the music is actually what was used by University of Oklahoma gymnast Sara Stone this past season. The choreography, however, was all her own. Afanasyeva is absolutely captivating on this event.
The Russians had a rough start on floor with landing errors and falls on tumbling passes, but they confirmed that they are capable of putting up massive scores on uneven bars with Anastasia Grishina, Aliya Mustafina, and Viktoria Komova. They also had some bright spots and high difficulty on beam.
First year senior Anastasia Grishina should make a big impact on the Russian team in London. Judging from today alone, I'd predict Grishina to bump out Mustafina for the second all around spot. Unfortunately, Mustafina hasn't yet regained her pre-injury confidence.
Maroney is Back… Again!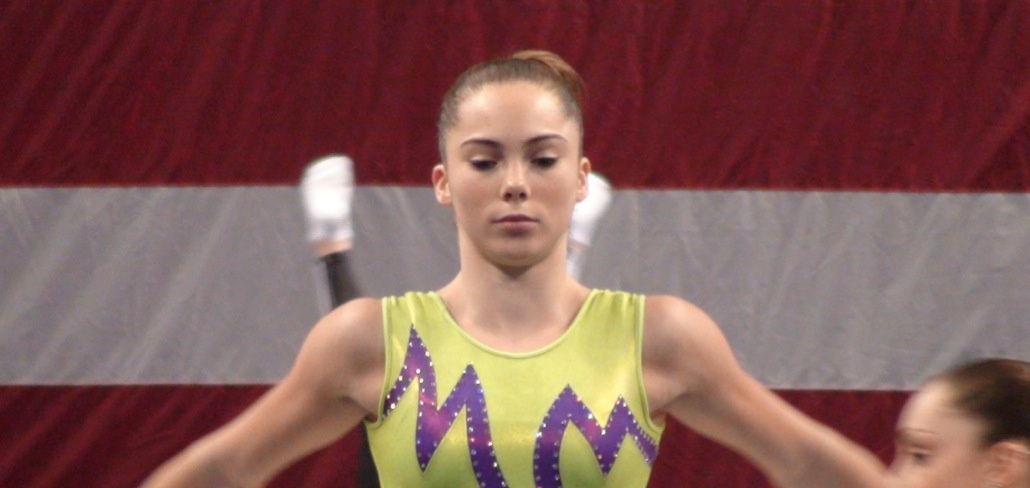 Last month it was a concussion, this week a broken toe. It was worrisome to see the reigning World vault champion sit off to the sidelines with her foot in an ice bucket yesterday as her teammates practiced in the training hall. But, just as she did at the Olympic Trials, Maroney showed up to the London arena looking unfazed and ready to bring the Olympic gold medal for vault home to the USA.
Maroney warmed up with the most beautiful yurchenko full I've ever seen, then proceeded to nail an effortless Amanar, and a powerful Mustafina (yurchenko half on, front layout full off). She wasn't quite as dialed in on her landings as usual, but she confirmed that she had taken a week off of vault.
Can the Wieber-Douglas Rivalry Live Up to All the Hype?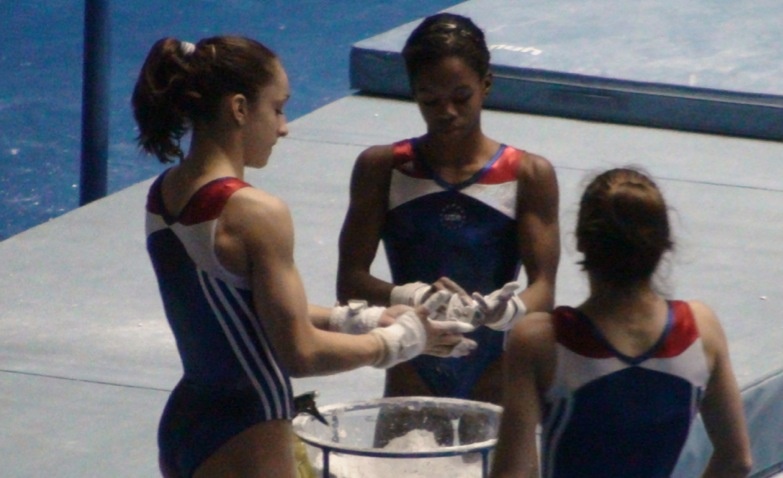 Many reporters in the mixed zone are working the rivalry angle with 2011 World Champion Jordyn Wieber and 2012 Olympic Trials Champion Gabby Douglas. Aside from one fall on beam (series) from Gabby, the pair does look capable of going 1-2 in the all around. Wieber agrees, "it's going to be a tough competition that really comes down to all the little tenths. It's going to be very exciting".
Komova is Ready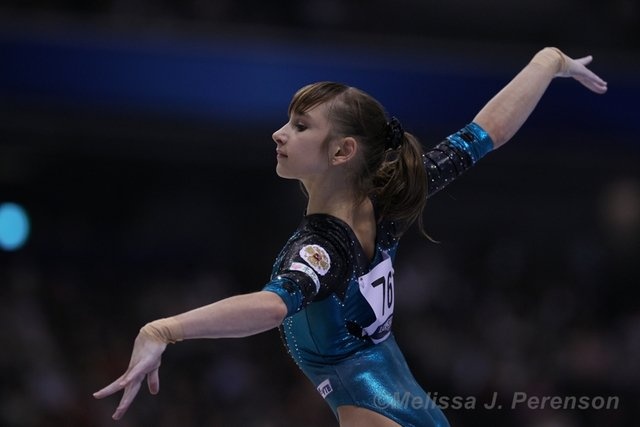 2011 World silver medalist Viktoria Komova of Russia is back in top form just in time for the Olympic Games. Not only has she upgraded on nearly every event, but her overall demeanor out there is lightyears different from what we saw in Tokyo. Today's Komova was confident, and had a spring in her step. Her gymnastics is both enchanting and difficult. She struggled on floor to begin her day, and sat down a Patterson dismount off beam, but the highlight from her today was that she stood up two very well executed Amanar vaults. As if we didn't all know it before, Komova will absolutely contend for the all around title in London.
Romanian Veterans Stole the Show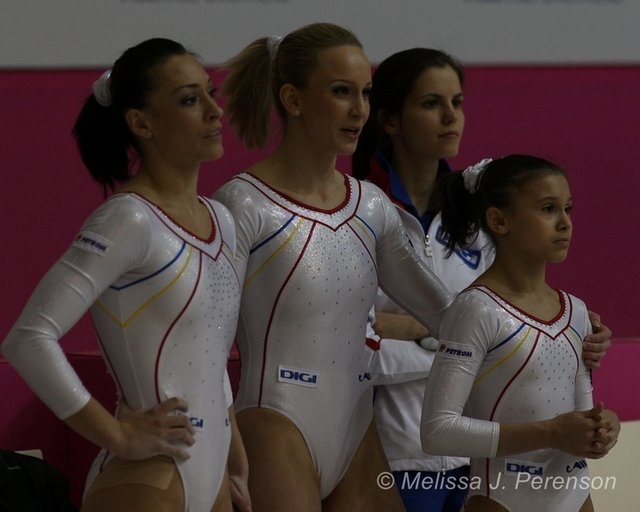 Catalina Ponor was downright impressive today! The triple gold medalist from Athens is back and looks as if she never left. She works beam like no one else with lightening quick connections, killer confidence, and a piked full in dismount that looks entirely too easy.
Ponor also has a secret weapon ready to come out for the floor final. She threw a full twisting double layout today. Add that to her whip+whip+back handspring to piked full in, and that is some world class tumbling.
Sandra Izbasa, 2008 Olympic Floor Champion back from an achilles tear, also looks incredible. She has a brand new floor routine and two huge vaults - a Cheng and a double twisting yurchenko.
Izbasa is back in the all around for the first time in years. She could be the Romanians' top all arounder here in London in the absence of Larisa Iordache whose all around status is looking unlikely due to foot injury. Iordache did not train floor today. She did, however, do beam and looked fantastic. If she repeats this performance Sunday, she will make event finals.
Team USA Dominated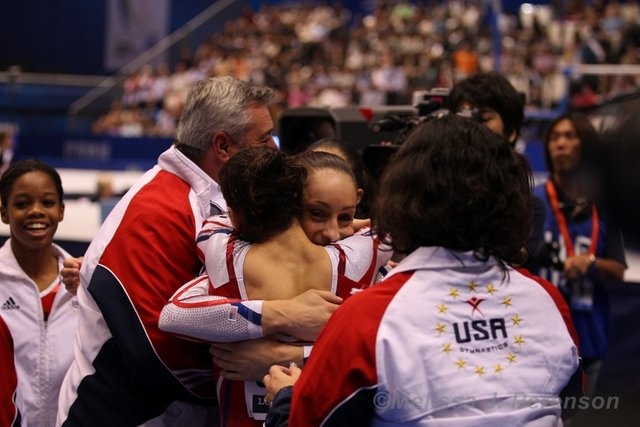 Team USA will begin on vault in the prelims, and of course practiced in that order today. Not only did the reigning World Champs hit their vaults, they put on a show. All eyes were on the Americans like I have never seen it before. It was Amanar after Amanar. The lineup for prelims looks to be Aly Raisman, Gabby Douglas, Jordyn Wieber, then World Champ McKayla Maroney - all with well executed yurchenko 2.5's. On top of that, Kyla Ross performed the best yurchenko double I saw all day, sticking it cold.
With the clean lines of Ross and Douglas, the power of Raisman, the competitive fire of Wieber, and the insane vaults from Maroney, the Americans look absolutely ready to capture their first Olympic team gold medal since 1996.