After the 2012 Olympic men's All Around Finals, there are three ways to describe Team USA's Danell Leyva.
1. Comeback King.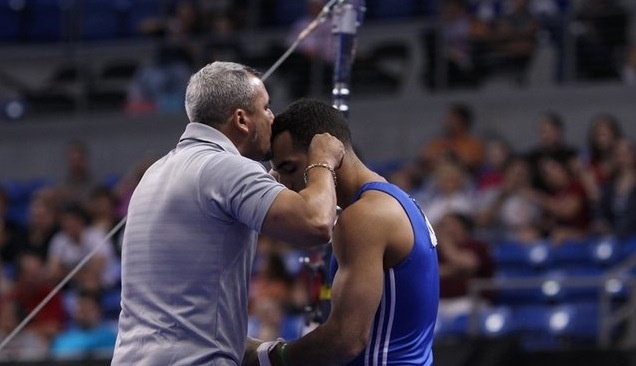 Leyva's Cuban immigrant step dad and coach Yin Alvarez has instilled in him an incredible amount of fight. Alvarez shared, "Danell is always coming from the bottom to the top. He's done it many times in his career, since he was a little kid. Our attitude is always that nothing is impossible."
Leyva came back in a big way during the Olympic All Around Finals. After a low pommel horse score in the second rotation (13.50), Leyva fought his way up to the bronze medal. He climbed from 11th to 6th after a world class parallel bar routine in the second to last rotation, then it all came down to high bar. Leyva showed why he is one of the best gymnasts in the world on the event, hitting his difficult set to score a 15.70 and secure himself a place on the podium.
2. Olympic Medalist.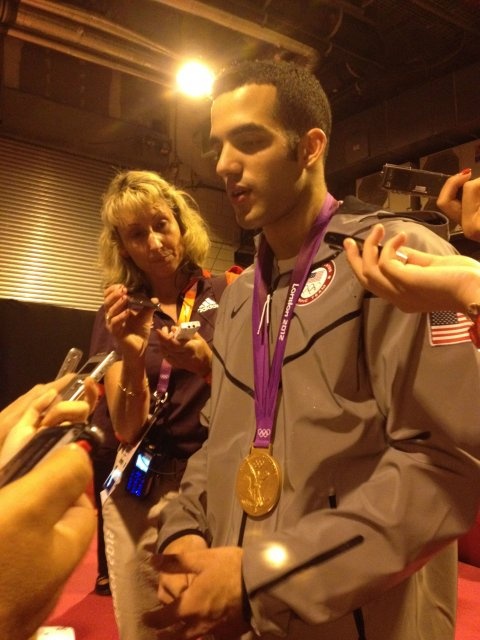 It's official. In his first trip to the Olympic Games, Danell Leyva is an Olympic all around medalist.
3. Budding Comedian?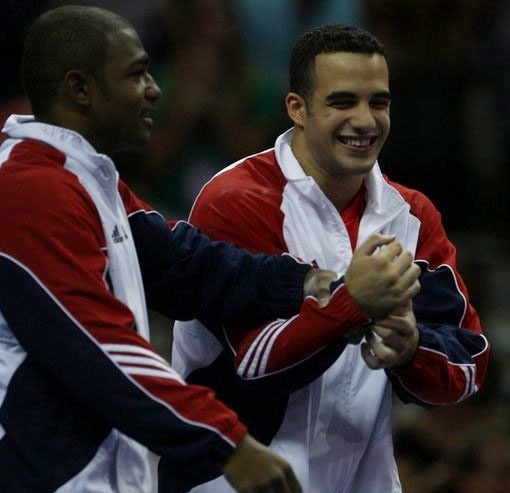 His U.S. teammate John Orozco thinks so. During last month's Olympic Trials, I asked Orozco who he thought was the funniest member of Team USA. He quickly replied, "Danell! He's like a comedian. He's hilarious!"
And after tonight's interview session, I'm convinced as well.
After a week of packing into the post-competition Olympic mixed zone with herds of reporters looking for that perfect sound bite, Danell was refreshingly entertaining, and had even the most serious reporters laughing.
Here's the conversation with Danell Levya, moments after receiving his first Olympic medal.
Can you describe your mentality going into parallel bars and high bar? Did you know how much was riding on those routines after pommel horse?
I really just had to relax. I kind of used it like a little kick in the butt, like a little motivation. Just trying to show off and doing the best routines that I knew that I could do.
I don't really look at scores. Well, I look at my scores personally but I don't follow the standings. I knew that it was bad after pommels because that score (13.50) isn't good at all! But, I knew that my strongest events were last and I just had to do what I do every day in training. You know, the last couple days on P Bars I wasn't really trusting the grip to do that skill that I kept coming off to the side, and today I just told myself, hey man, you do this so many times. I'm gonna slap you in the face if you don't do the routine the way you know how! And I mean I listened to myself, I didn't have to slap myself in the face!
Given the pressure, have you ever done a better high bar routine?
I don't think I've had this much pressure ever. This is my first Olympics. So many people say, yeah, it's just another competition. And you think when you're actually going that its just another competition, but then you look around and you see those Rings! But yeah, I felt really good on that high bar routine.
I kept thinking, just do what you do everyday. Just have fun. You're at the Olympics. Look around. Everything's pink, but so what? You're at the Olympics!
How satisfying is it to win the medal on the same event that almost killed you at Worlds last year?
Wow, that's, I forgot about that, thanks for reminding me! Nah, I'm just kidding, man. It's great. It's definitely a redemption for Worlds last year in the all around. I can't wait to do it again on Tuesday (in high bar finals).
What do you think about Kohei Uchimura winning the gold?
He's an amazing gymnast. If I could speak Japanese, I would tell him that he's the best gymnast that ever lived... for now.
I mean, his gymnasitcs is just beautiful, it's literally flawless. It's amazing to watch. And I was a little, not upset, but I wished he was in my rotation because I love, love competing next to him because he gives everyone motivation to do their absolute best. I asked him if he was coming back for 2016 and I was like, you better come back!
When you had the medal presented to you, what did you think?
Well first I was like, oh, this is heavy! But then, just looking at it and reading and seeing the Rings... it's crazy.
You've won World medals before. How much more gratifying is it to be an Olympic medalist rather than just a World medalist?

The Olympics is literally something you dream about, since you were little. You see it on TV, and think... wow. Oh, and by the way, TV undersells the whole Olympic experience so much, and that's saying something! But yeah, winning Worlds was very exciting, a very happy moment for me. But getting bronze at the Olympics is so amazing. It's literally one of the happiest moments of my life.
Your lucky towel has become famous..
Yeah, it's crazy! It started off as, well, I thought it was nothing and people would just kind of dismiss it, but I mean it has it's own twitter account! I don't know who made it, honestly. And it has quite a bit of followers!
What are you going do with your Olympic medal?