I've been home from London for about three weeks now and I feel like I'm still coming off the high! The opportunity to cover the Olympic Games was absolutely incredible. I've had numerous people request a "behind the scenes" type blog about my experience in London, and since things have temporarily died down in the gymnastics world, I've decided to oblige!
When I started Gymnastike in 2008, my driving force was to get to the London Olympic Games. Four years later, just being there was a milestone, and having a credential around my neck was a dream come true.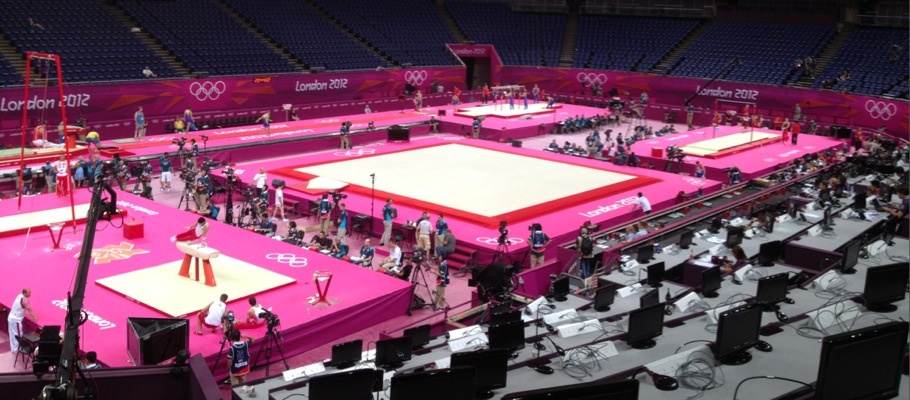 The first time I walked into the arena, after absorbing the shock of all the pink, I had a little moment. I reflected back on all I'd been through and how far Gymnastike had come. I felt incredibly grateful to be there. That lasted about a minute then it was back to business mode! I had work to do!
The first days on-site of any Championship are always exciting in that the stories are starting to develop as you get the first look at the soon-to-be stars of the upcoming competition. On my first full day in London, I juggled time between men's podium training in the venue and the women's training in the training halls down the road.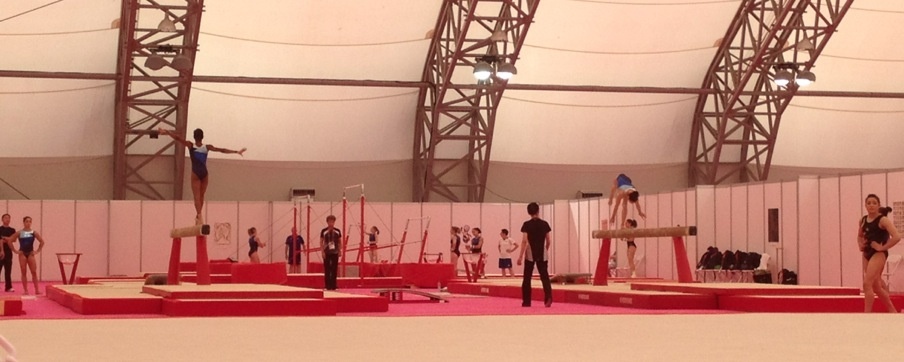 Inside the Olympic training hall
I always love watching training at big events, especially with the U.S. women. They are consistently business-like with precise, focused training. I remember noticing Gabby looking lighter than ever, saw the first signs of Larisa Iordache's foot injury, was enchanted by Canada's floor routines, and marveled at Catalina Ponor's beam training. Then I ran back over to the arena to take in men's podium training, and wrote a women's training report as well as a men's podium training recap later that day.
The first week there was intense. I had no time for jet lag, was constantly running from one thing to the next, and there were simply too many stories for one person to pump out. Our small team of interns and contributors back home was invaluable. On top of that, I couldn't do video interviews in the venue! Because NBC owns ALL video rights to the Games in the U.S., I was suddenly a print reporter. Nothing like changing the way you do things at the biggest event you've ever covered! Luckily, I picked it up quickly. And I must say, it's far easier to do an interview when you don't have to worry about audio, lighting, and holding a camera steady.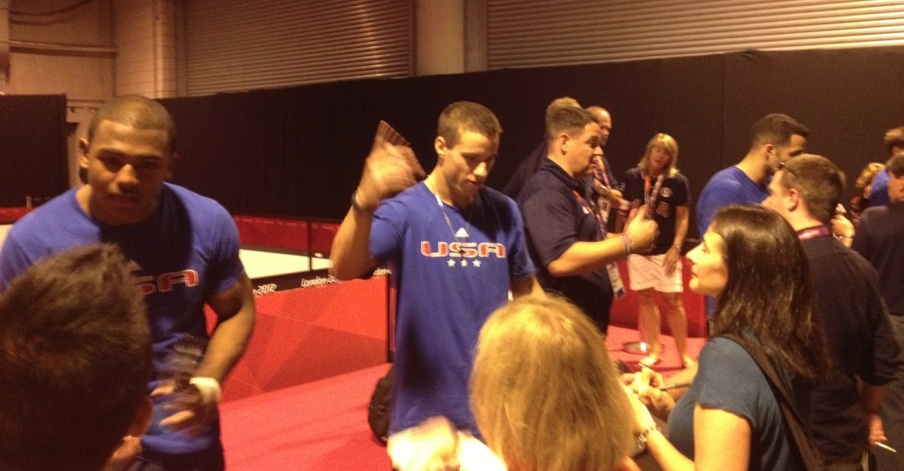 U.S. men in the mixed zone

My biggest takeaways from podium training have to be the total domination of the U.S. girls, a restored confidence in Viktoria Komova, and Superman Kohei Uchimura actually looking human for once. It was almost time for competition and I could feel the excitement building!
After the podium training days the gymnastics world had the day off so I got to enjoy the opening ceremonies and experience my first "queue". A couple of the guys from Flocasts had arrived in London that morning so we found our way to Victoria Park where they had huge screens set up to watch the opening ceremonies just under a mile from the stadium. The atmosphere was awesome and we met people from all over the world. Watch the video here.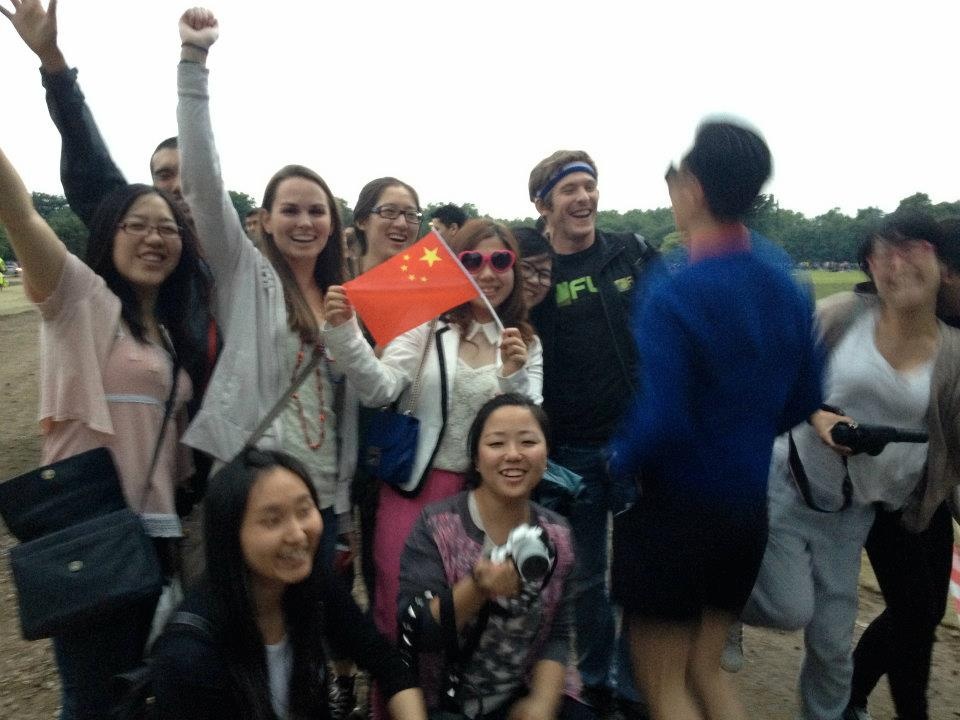 The next morning I was up and out the door by 7 for men's qualifications. It took about an hour to get anywhere, and each morning I would take a double decker bus to a train to a tube. The public transportation was surprisingly easy to figure out, and the Olympic organizing committee did a fantastic job placing volunteers throughout the stations who were happy to help if you ever got lost, which of course happened a few times.
2012 Olympic competition got off to a booming start as the British men shocked China to the delight of the home crowd and we experienced the first moving moment of the Games, Louis Smith's tears after rising to the occasion to nail his pommel horse routine. I live blogged all twelve hours of competition both days and I'm embarrassed to admit that my fingers were actually sore after that! Isn't that pathetic?!
When I think back on those days it seems like a grind. I was spending twelve hours at a time in the arena, getting home after midnight, writing stories late into the night, then the next morning I'd come back for more. And I'd do it all over again. It's amazing when you can "work" for 12-14 hours a day and love every second of it.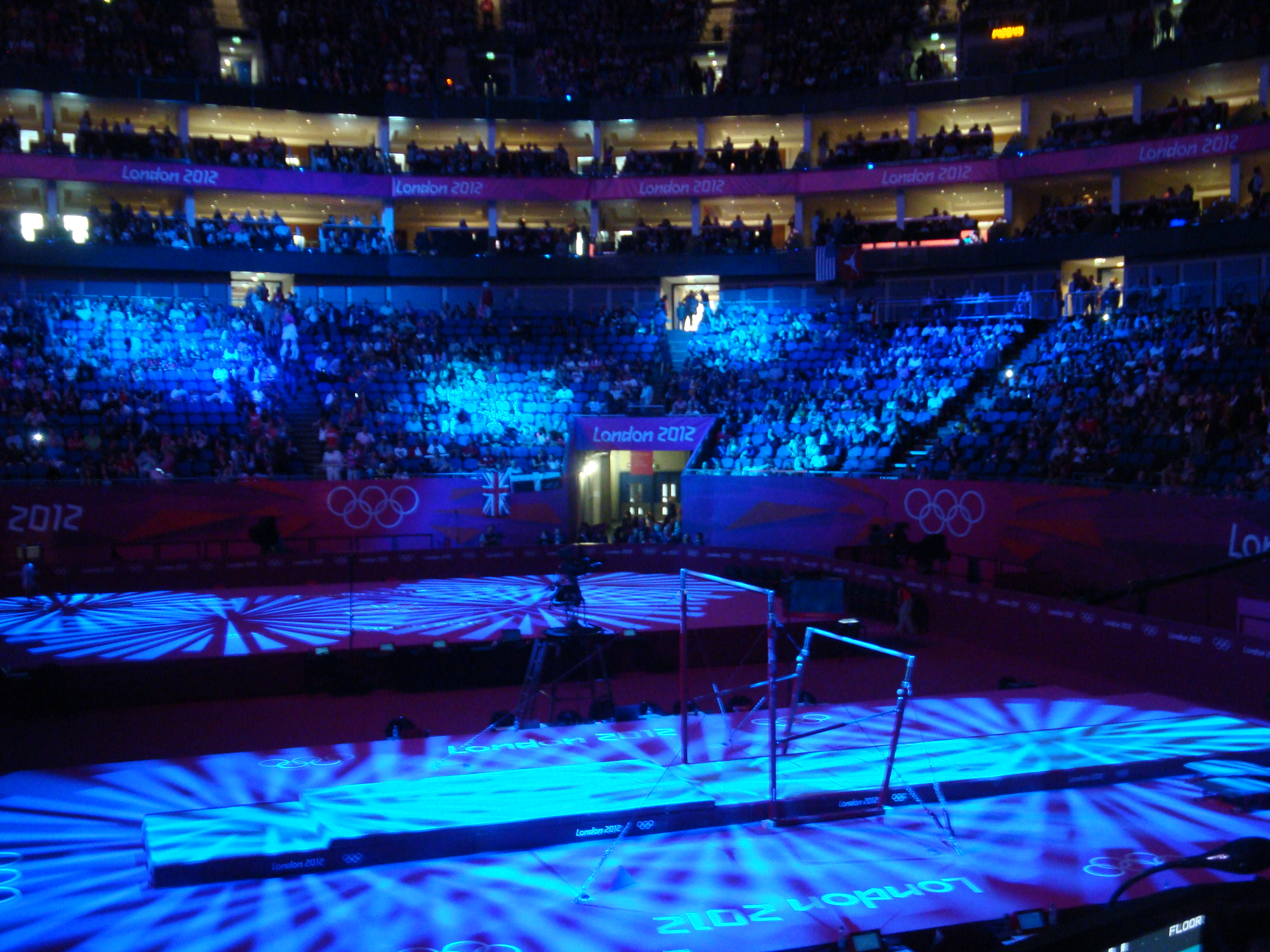 Overall, qualification competition was highlighted by Team USA. The women came out firing on vault for an easy first place, and the men led the competition heading into finals.

One totally random thing that sticks out for me from qualifications was 6-time Olympic legend Jordan Jovtchev telling us in an interview that he didn't want to make the ring finals because his body hurt and he was ready to be done. Then he casually told me, "yeah, my bicep is partially torn. Oh, and my wrist is half broken." He's amazing! Full story here.
But the biggest story of qualifications of course was Jordyn Wieber NOT making all around finals! This was heartbreaking. I remember looking at the scores as she walked up to the podium to compete her floor routine and being incredibly nervous for her and tyring to imagine what John was thinking, then as the final scores were flashed, I was in disbelief. How could we have an all around final without the reigning world champion who is both healthy enough to compete and had no major errors that day to finish 4th in the world? The situation was difficult to process. But more than that I felt sick for Jordyn and John.
Regardless, there was no time to dwell as team finals began the next day. Finally we were into the finals which meant the crowning of the first 2012 Olympic Champions, one session per day and actual sleep at night!

The women's team finals was the absolute highlight of my trip. The U.S. women were the clear favorites to win, but the men kept it interesting the day prior to remind us all that anything can happen in 3-up, 3-count format!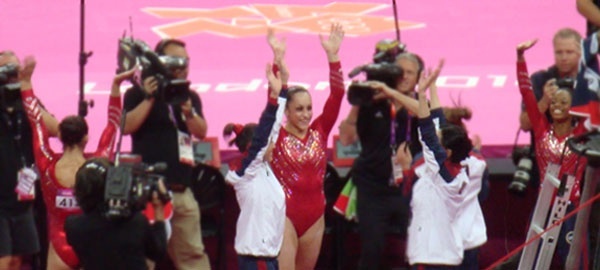 It was so great to see Wieber lead off her team with a strong performance on vault, and then I think I actually screamed when McKayla Maroney stuck her vault. That was THE performance of this Olympic Games. The Russians put up a good fight with flawless bar routines, but seeing the young American girls who I've been covering for the past four years change their lives by becoming Olympic Champions was indescribable.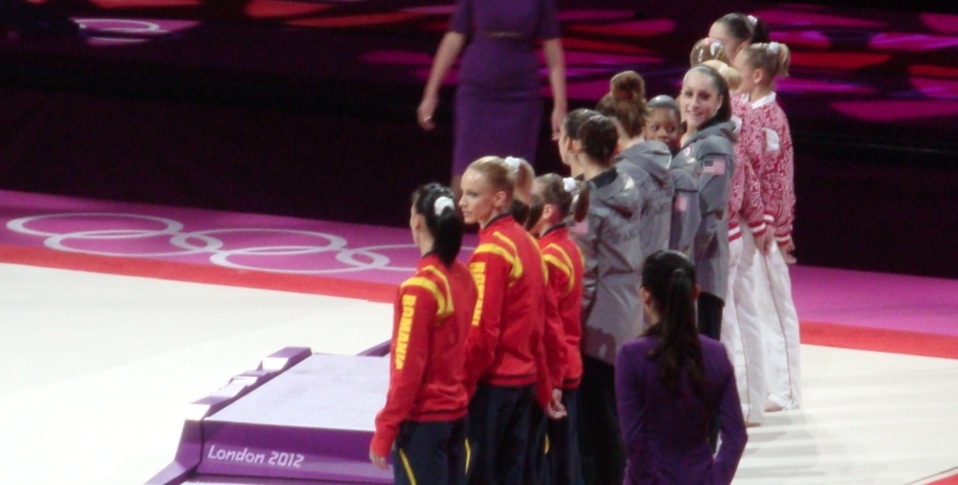 Rather than running down to the mixed zone immediately after the competition I stayed to experience the medal ceremony and thoroughly enjoyed it. Aly and Jordyn's parents and friends moved from their seats to a small open area right next to the press tribunes to watch the ceremony and the emotion on their faces were priceless. I saw extreme joy, relief, and lots of tears.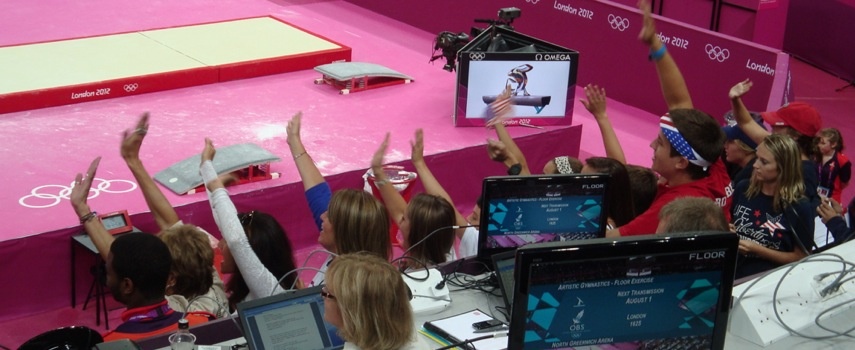 Team USA parents waving to their daughters on the medal podium.

I remember the mixed zone was packed that night. It's funny to compare the amount of journalists here to a typical Visa Championships in a non-Olympic year. The changes are drastic. For me, what stands out the most from the interviews that night was the pure happiness on the faces of the entire U.S. delegation and a fascinating conversation with Martha Karolyi. Read that here.
Of all the finals, event finals were the most stressful to cover. It ran event, medal ceremony and interviews down in the mixed zone, then the next event would begin immediately after the ceremony. When each event concluded I would literally run from my seat on press row, down 3 flights of stairs and through a couple hallways to the mixed zone located just off the competition floor, get some quotes from the gymnasts and coaches, then run back through the hallways and up the stairs to catch the next event.
The whole competition was run beautifully but they really stretched out event finals, spreading them over three days instead of two like at World Championships. But by the time the last day rolled around, I was sad to see it all end. It's quite the adjustment to go from nine thrilling days of live, world class gymnasts, to none! I think I'm still in the withdrawal phase!
In my time with Gymnastike I've covered everything from the level 6 state meet (yes, I actually did) to the World Championships, and nothing even comes close to this experience.
I want to thank you for following my coverage from London. And more importantly, I hope you'll stick with us for more gymnastics coverage because as you may know, gymnastics isn't just an every four year sport! Gymnastike covers gymnastics with this level of passion year in, year out and I'm looking forward to taking the momentum from this Olympics into a great 2013 season and beyond!