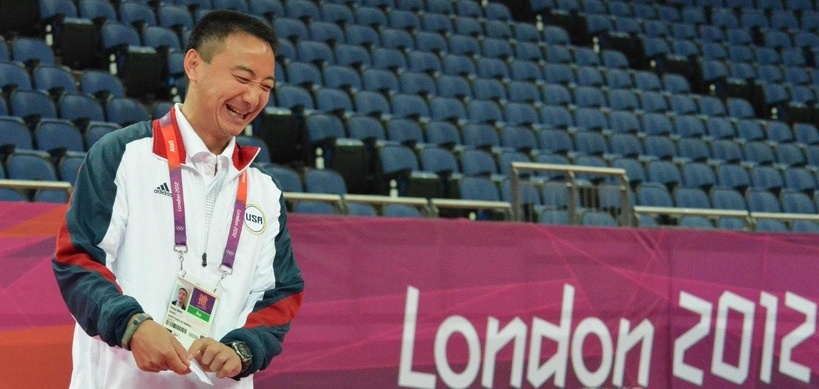 Gabby Douglas and Liang Chow at the 2012 Olympic Games. Photo by Larry Nassar
Coach Liang Chow is on top of the gymnastics world after coaching Gabby Douglas to the 2012 Olympic all around title just four years after he guided Shawn Johnson to the 2008 Olympic beam gold medal and all around silver.
Chow welcomed Douglas to his gym, Chow's Gymnastics and Dance, in 2010 after she showed promise and raw talent at the junior level. In less than two years, Chow, along with his wife Liwen Zhaung, have polished Gabby into the world's best gymnast.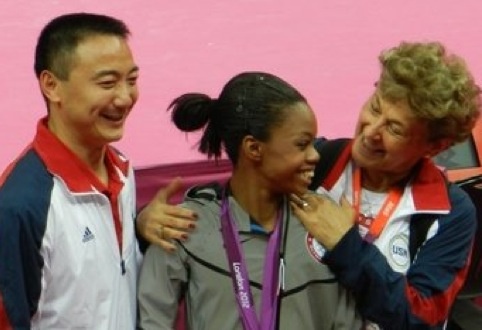 And now, Chow has even more talent waiting in the wings for 2016.
Currently, Chow has three hot shots on his level 10 team who will be in the pool of athletes aiming for the 2016 Olympic Games in Rio: Norah Flatley, Alexis Vasquez, and Rachel Gowey.

Flatley and Vasquez tied for 3rd place in the all around in the competitive junior a division at the 2012 J.O. Nationals, and Flatley won the beam title with a 9.725 (video here). Gowey placed 2nd all around in the junior b division and also captured the beam title for her age group (video here).

Let's take a closer look at these three up-and-coming gymnasts from Iowa.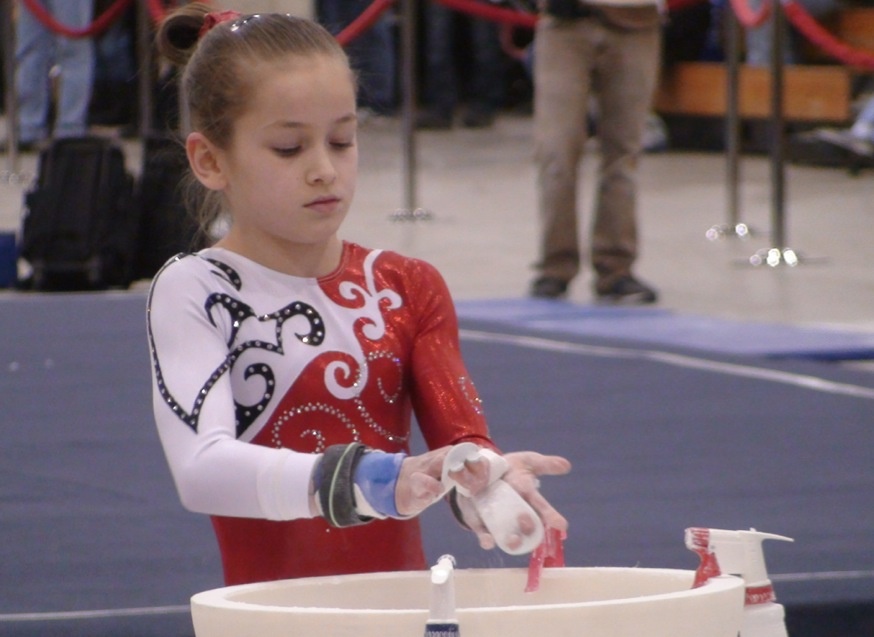 Norah Flatley chalking up at the 2012 IGI Chicago Style
Alexis Vasquez on beam at the 2012 J.O. Nationals

Vasquez made her Gymnastike debut during the 2012 season with an incredible 9.70 beam routine at the IGI Chicago Style. (video here)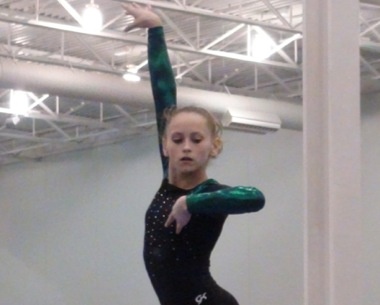 Rachel Gowey on beam at the 2012 J.O. Nationals


Gowey has also been honored with Gymnastike Routine of the Week. She stole the spotlight with for her loevely level 9 floor performance in 2011
(video here).
Gowey is a beautiful gymnast with long, clean lines.

Over in the elite world, Gabby Douglas showed off Chow's beam excellence and striking confidence this summer en route to her two
Olympic
gold medals. Douglas told us that beam training at Chow's is a lot different than at other gyms.

"
We do a lot of repetitions," Douglas admitted. "The training is a challenge, just a lot of numbers. I remember at my old gym we used to do like three beam routines, and that was it. And at Chow's we do like 12 beam routines! At first I remember thinking, 'Wow, what? Is 12 beam routines even possible?' But yeah, anything is possible. And now we think 12 beam routines is a piece of cake, and we just go out there and do it. And that's why I came here - to be trained by one of the best coaches in the world, so he's definitely shaped me up."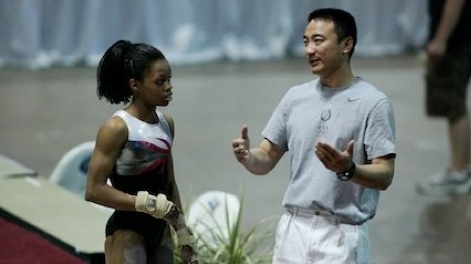 Before heading home from London, we sat down with a very smiley coach Chow for a fun conversation about their beam training, developing Douglas' competitive confidence, and his upcoming juniors.

Here is our interview with Chow:
How are your girls so good on beam?
"I like that question (laughs). You'll have to ask their beam coach. My wife Li does the beam work.
I can't speak for her, but they train really hard at home. My wife is a very nice, sweet lady, but when she's coaching she's a different person. She's a very strict coach. So I think, there's no magic, other than putting a lot more effort into the details."
Gabby's confidence level has improved tremendously over the past year. What went into that?
"I think it's much easier now because she's very confident as you can see the results in the arena here (in London). It was just building it little by little. She's getting more confident with more good repitittions."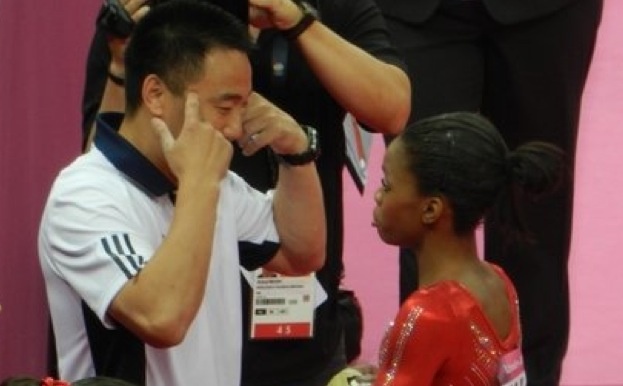 Was there any specific mental training that you did?
"Mental training, of course. You have remind her once in a while to pay attention or trust in herself. But I think that repetition and good technique built up the confidence majorly, because if you don't have the right technique or the right amount of numbers behind it, it doesn't matter how confident you are, you're gonna crash (laughs). You know what I'm saying? Then, with that behind you, when you're under the pressure you perform better."
You now officially have two Olympic gold medalists in back to back Games. In 2016, what's going happen?
"Talk to Norah! (laughs) Put pressure on her (laughs). No, just kidding! I just want to enjoy this moment for now. I'm very excited for Gabby and her achievements and I'm excited for the newer generations to come."
Do you think the girls back home are now feeling that it's more real after seeing Shawn and Gabby achieve this while in your program?
"I don't know, but Norah and Alexis are sending me emails (while away in London) updating me on how things are going. I think they do have pretty good potential. Right now it's way early, too early to tell. And a lot of work needs to be done - physically, mentally, and gymnastically. They're only 12 years old. But, I'm excited for the potentials ahead of them."
Liang Chow has coached the past two U.S. Olympic Trials Champions. Will he make it three in a row in 2016?