You must register before you may contribute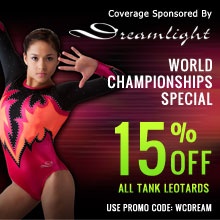 ---
More World Championships Videos & Info
LIVE Updates
Meet Schedule
News
Start Lists & Results

Photo Album - Podium Training
The video you are looking for has not finished processing.
Please check back in a few minutes.
Get notified with every new
Elisabeth Seitz

Video.
We will not share your email address with anybody for any reason. |
No Thanks!
Germany (Elisabeth Seitz) - New Skill! - PT
19496 views
X
After making your selection, copy and paste the embed code above. The code changes based on your selection.
320x180

400x225

480x270

560x315
Please login to add this video to your favorites. If you do not have an account, register here. It's free!
Uploaded by Anne From Gymnastike | October 4, 2011
*This skill was honored as "New Skill of the Year" in Gymnastike's Best of 2011 series. The skill was successfully named as "The Seitz", valued as an E, and has been added into the FIG Code of Points. This was the first element in 26 years to be named after a German gymnast.*
Elisabeth Seitz of Germany on bars during World Championships 2011 podium training. This is one of the most unique bar routines being competed at this year's World Championships with an original skill, a full twisting Maloney and a def! If Seitz successfully competes the full twisting Maloney here in Tokyo, she will get the skill officially named for her in the FIG Code of Points.