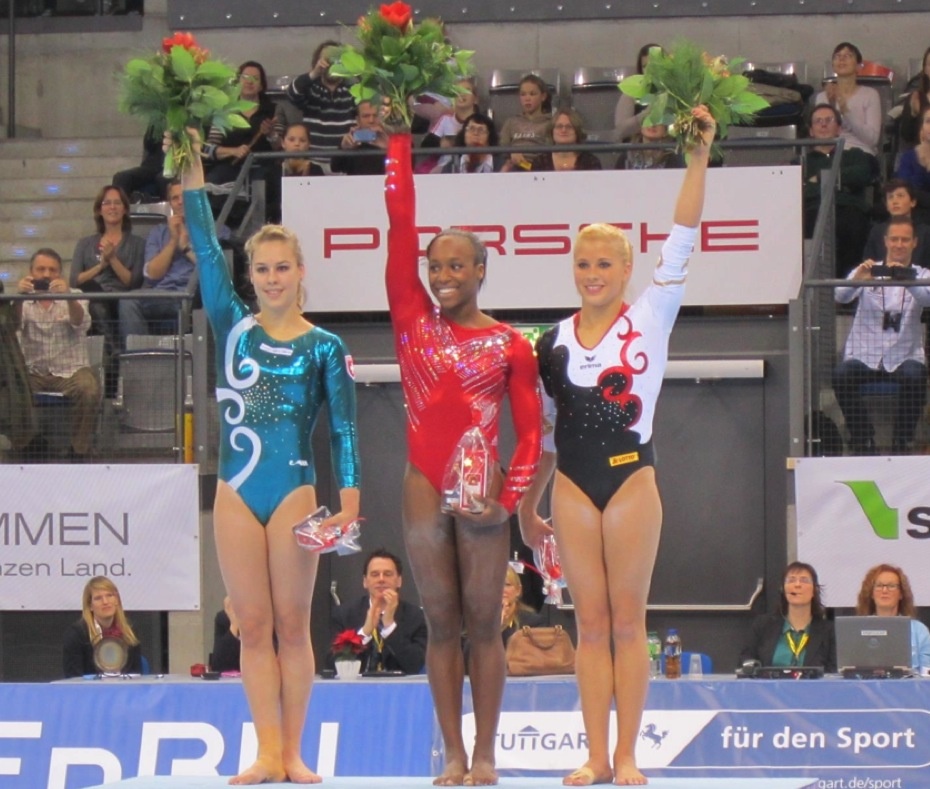 Photo: Parkettes

Elizabeth "Ebee" Price is the real deal. She dominated international competition today in the Stuttgart World Cup All Around competition, posting a 58.098 score to finish well ahead of Germany's Elisabeth Seitz (55.566).
Price has shown dramatic improvements over the past two years to be in this position.
She finished 13th and 11th all around respectively at the 2010 and 2011 junior Visa Championships. In 2012, Price made the jump to the senior division and made a statement with her floor and vault power and big bar routine at the Visa Championships, finishing 5th all around, advancing to Olympic Trials, and officially putting herself into the mix for the Olympic Team. Price then had her coming out party at the 2012 U.S. Olympic Trials, finishing 4th all around and bringing her Parkettes coach Bill Strauss to tears after nailing her floor routine on the high pressure national stage. In the end, Price was named alternate to the strong U.S. team and gained valuable experience from the situation.
It's no surprise that Price won the all around title today in Stuttgart. Let's look at the rest of the competition. With only eight competitors, the meet had an in intimate feeling and all of the girls rotated together, beginning on vault.
Price led from the start by competing the only Amanar of the day to score 15.733 (6.50/9.233) [video]. Switzerland's Giulia Steingruber impressed with a handspring rudi, 15.40 (6.30/9/10) [video], and Seitz earned a 14.533 for her double twisting yurchenko [video].
The group then went to uneven bars where the Germans had a strong showing; Kim Bui and Seitz both scored 14.033. Not surprisingly, Olympian Seitz competed a more watered down routine than what we saw in London.

However, they were outperformed by Price who earned a massive 14.933 for her upgraded bar routine which included a new piked tkatchev [video]. For comparison, 2012 Olympic uneven bars Champion Aliya Mustafina earned a 14.80 for her (watered down) routine in the very same arena the day prior [video].
Balance beam was the weakest apparatus of the day due to numerous falls. Seitz took the top score of 13.70. Russia's Kristina Goryunova was expected to lead the way on this event after posting a huge 14.850 (6.0 D) during yesterday's team competition. However, today she fell on her double pike dismount. Also, Steingruber dropped from second to third in the all around standings after a fall on her flight series.
London 2012 floor finalist Vanessa Ferrari of Italy looked excellent on floor, connecting her full twisting double tuck to back tuck. She earned the top score of the day, 14.366.
Price delivered a 14.266 on floor with a very open tucked double double, followed by a tidy double layout.
These eight gymnasts will face off once more at the Glasgow World Cup, December 8th in Scotland.


Full meet results: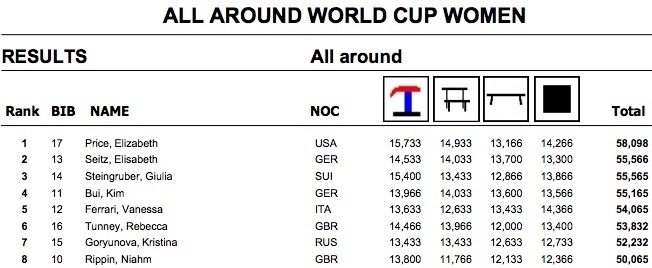 Find more information on the event here.

Watch videos from the event here.

Watch Elizabeth Price videos here.