How to earn points?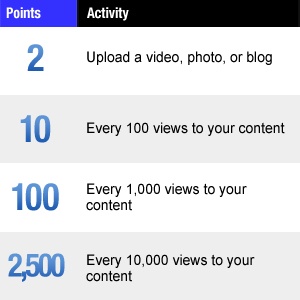 Overview
Gymnastike exists because we know gymnastics is the greatest sport in the world and it doesn't get a fraction of the media attention we need. Gymnastike is a platform where the gymnastics community creates and shares gymnastics media. The Leader Board scores this content and gives credit to the people who created it in the form of points.

Background
In the dark ages, gymnasts and their hundreds of thousands of fans had to beg the major media outlets and newspapers to give our sport ANY coverage. They would throw us a buried article on the back page or a broadcast once a year buried by the hundreds and thousands of professional football, basketball and baseball features.
Gymnastike has built a place to use our passion for the sport and organize it to do what gymnasts do best: Take our future into our own hands.

How it works?
You contribute the content and features that excite you, and we score it. The primary way to gain points is by doing awesome, engaging content and uploading it to the site. Gymnasts vote with their feet. The more "likes", "tweets" and conversations built around the content, the more people view it and the more points you get.
You can influence the type of content and stories we feature on Gymnastike.